This article first appeared in The Edge Financial Daily, on August 29, 2019.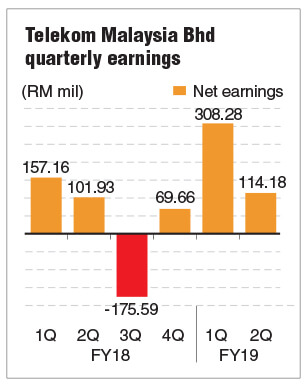 KUALA LUMPUR: Telekom Malaysia Bhd (TM) is confident it can deliver stronger earnings this year after achieving a 63% jump in net profit for the first half of the year.
At a press conference yesterday to announce the group's second quarter results, TM chief executive officer Datuk Noor Kamarul Anuar Nuruddin said he was bullish about the long term.
"For the short term, our earnings will be within guidance. For the [long term], I am bullish," he said.
"As we improve our mobile offerings… there is a high possibility that our earnings can grow further", he said, adding that for now the group's mobile network "is not that good".
"But as we put in more efforts into this, we will eventually be able to serve our customers better, as well as create more revenue," he added.
Noor Kamarul said the bulk of TM's revenue now comes from fixed line services and the group would be bolstering its mobile connectivity and its mobile network, Unifi Mobile (formerly known as Webe).
He said in the first half of this year, TM spent RM450 million or the equivalent of 8% of its revenue on capital expenditure (capex), with 19% on core network, 54% on access and 27% on support systems.
For the whole year, TM's chief financial officer Nor Fadilah Mohd Ali said the group expects to spend 18% of its revenue as capex. The investments would include improving access, and customer experience, as well as providing smart solutions.
Asked for an update on the sale of TM's Annexe 1 and Annexe 2 buildings, Noor Kamarul said it was still a work in progress.
He also said TM welcomes competition from Tenaga Nasional Bhd (TNB) in setting up its own fibre network, and that it would discuss the possibility of collaborating. TNB is carrying out trials for its fibre broadband in Jasin, Melaka, and expects the segment to start contributing to its earnings in 2020.
TM said the year-to-date convergence penetration of TM households increased by 56%, with broadband subscribers numbering more than 2.16 million. The group defines convergence penetration as a household using at least three or more of its products.
For the second quarter ended June 30, 2019, TM's net profit rose 12% to RM114.18 million from RM101.93 million a year ago — translating into higher earnings per share (EPS) of 3.04 sen versus 2.71 sen previously.
The group attributed the increase in net profit to optimised operation efficiencies.
Revenue declined 6% to RM2.77 billion, from RM2.94 billion previously, due to a decline in voice, Internet and multimedia services, as well as other telecommunications related and non-telecommunication-related services.
TM's cumulative net profit for the first half of the current year grew 63% to RM422.46 million, from RM259.09 million in the corresponding period last year, translating into a higher cumulative EPS of 11.24 sen against 6.89 sen previously. Half-year revenue fell 4% to RM5.55 billion, from RM5.78 billion.
"We continued to face challenges in the first half," said Noor Kamarul. "However, our cost optimisation efforts continue to show results and we will keep the momentum on profitability going."
"We shall navigate the challenges on revenue through a stronger focus on customers. We will also continue to serve as a strategic partner of the National Fiberisation Connectivity Plan backed by our solid network infrastructure," he added