This article first appeared in The Edge Financial Daily, on June 3, 2019.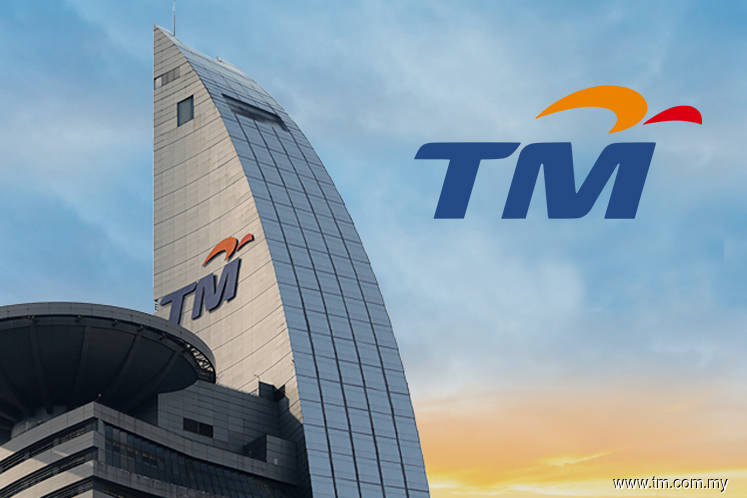 Telekom Malaysia Bhd
(May 31, RM3.61)
Maintain hold with a higher target price (TP) of RM3.40: Telekom Malaysia Bhd's (TM) 1QFY19 earnings before interest, taxes, depreciation and amortisation (Ebitda) climbed 24.5% year-on-year (y-o-y) (+5.4%  quarter-on-quarter [q-o-q]) as higher margin more than offset lower revenue.
This drove a 162.4% y-o-y spike in core earnings per share (EPS) (+163.4% q-o-q), which was further boosted by lower depreciation and effective tax rate. We estimate unifi mobile losses may have fallen sharply by about 80% to 85% y-o-y and q-o-q.
First quarter of financial year 2019 (1QFY19) core EPS was above expectations, forming 48% and 45% of our and Bloomberg consensus forecasted (FY19F) forecasts.
1QFY19 revenue fell 2.4% y-o-y (-10% q-o-q) from lower voice (-11.4% y-o-y) and Internet (-3.4% y-o-y), partly offset by higher data (+7.2% y-o-y) and other (+1.7% y-o-y) revenue.
Total broadband subcribers continued to drop by 39,000 q-o-q (-1.7%), with unifi net adds more than offset by the fall in Streamyx subcribers. As expected, unifi broadband average revenue per user continued to decline 2.7% q-o-q to RM179, due to i) free upgrades to unifi for Streamyx subcribers, ii) new sign-ups on lower-priced plans and iii) down-trading by existing subcribers, though TM says only a low single-digit percentage of its subs base has done so.
1QFY19 Ebitda margin rose a sharp 7.5% pts y-o-y (+5.1% pts q-o-q) to a 10-year high of 34.9%. This was mainly a result of lower i) webe domestic roaming fees paid to Celcom, ii) TM One customer project costs (seasonal), iii) content costs (contract renegotiation and channel optimisation) and iv) staff costs (benefit rationalisation and natural attrition).
We raise our FY19/FY20/FY21F core EPS by 56%/59%/44% to factor in lower domestic roaming fees, customer project costs and depreciation. Post-revision, we expect TM's core EPS to rise 41.8% y-o-y in FY19.
Sequentially, core EPS may decline in 2QFY19 to 4QFY19 as costs pick up (rising 4G roaming traffic, customer project costs, and higher capital expenditure). Thereafter, we expect core EPS to rise by a more modest 3.7% in FY20F, then ease 7.6% in FY21F, as revenue stays under pressure.
We raise TM's discounted cash flow (DCF)-based TP by 13% to RM3.40 (weighted average capital cost: 7.5%) after our earnings revision, but maintain "hold" due to the recent share price rally. We believe TM will continue to face competitive pressure in the broadband business.
Its FY19F enterprise value to operating free cash flow of 9.8 times is at a 42% discount to the Asean telco average, which we believe is justified due to regulatory risk. Assuming a 60% payout ratio, FY19F to 21F dividend yields are 4% to 4.3%.
Key upside/downside risks: unifi mobile turns profitable sooner-than-expected/keener broadband price competition. — CGSCIMB Research, May 30