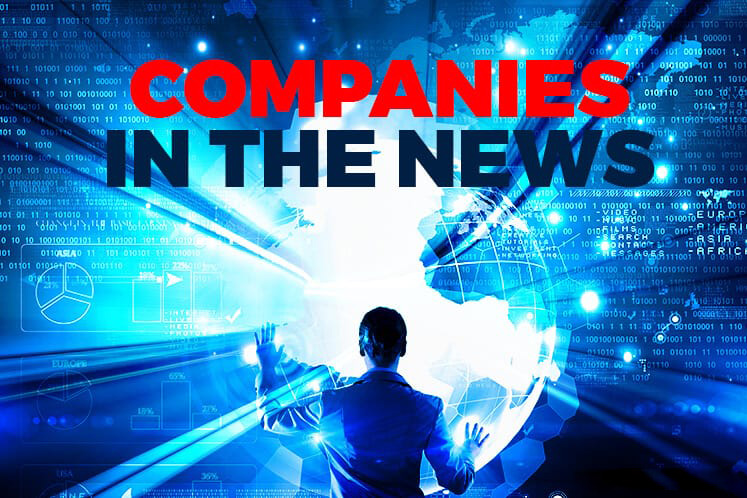 KUALA LUMPUR (March 18): Based on corporate newsflow and announcements today, stocks in focus on Tuesday (March 19) may include: Telekom Malaysia Bhd, Magni-Tech Industries Bhd, AMMB Holdings Bhd, YTL Corp Bhd, Barakah Offshore Petroleum Bhd, Malaysia Marine and Heavy Engineering Holdings Bhd, Kian Joo Can Factory Bhd, Can-One Bhd, Scientex Bhd, Daibochi Bhd, Tasek Corp Bhd, Berjaya Sports Toto Bhd, Metronic Global Bhd and Lotte Chemical Titan Holdings Bhd.
Telekom Malaysia Bhd has confirmed that it is no longer a sponsor of the Malaysian Football League (MFL). It however denied MFL's claim that it had failed to meet its obligations in the contract between the two parties.
MFL announced last Friday that it is ending the sponsorship contract with TM worth RM480 million. It accused TM of failing to meet its RM60 million annual sponsorship obligation before the M-League kicked off on Feb 1 despite several reminders.
TM denied the charge, saying both sides were unable to mutually agree on several fundamental commercial terms necessary for the intended collaboration.
Magni-Tech Industries Bhd's third quarter net profit rose 14.4% to RM35.62 million from RM31.14 million a year earlier, mainly on lower operating expenses. Quarterly revenue eased 1.4% to RM309 million from RM313.3 million previously on lower sales order received from both the garment and packaging plastic segments.
Magni-Tech declared a third interim dividend of eight sen per share, bringing total dividends for the first three quarters to 18 sen per share, from 15 sen in the previous corresponding period.
For the nine-month period, net profit rose 13% to RM80.84 million from RM71.23 million the year before, mainly thanks to lower operating expenses and higher foreign exchange gains. Revenue fell 2.4% to RM838.49 million from RM859.33 million.
AMMB Holdings Bhd (AmBank Group) will record an estimated net gain of RM229.94 million from the disposal of AmBank (M) Bhd's and AmBank Islamic Bhd's non-performing loans (NPLs) to Aiqon Capital Group Sdn Bhd's special purpose vehicles, which has been completed.
The net gain is expected to enhance the earnings per share and net asset per share of AMMB by 7.6 sen per share.
The disposal is part of the group's debt recovery strategy to strengthen both AmBank and AmBank Islamic's respective loan/financing management, resolution processes and to monetise the portfolios, which comprise 537,068 accounts.
YTL Corp Bhd has come under scrutiny after the Public Accounts Committee (PAC) urged the Transport Ministry to investigate the company's role in the failure of an RM24.27 million government-commissioned marina in Pulau Mentagor, Perak that has never been used since its completion.
The project was granted to YTL via direct negotiation by the then Barisan Nasional government. Construction was completed on July 31, 2007 and the project was set to begin operations on March 22, 2010.
In an immediate response, YTL clarified that its involvement in the project had ended in 2009 and hence it should not be held responsible for the project's failure.
Barakah Offshore Petroleum Bhd, which has been granted a 90-day extension on its restraining order from the High Court, said today that the amount of debts that it needs to restructure is not known yet.
Nevertheless, the oil & gas firm pointed out that its total borrowings (inclusive of its subsidiaries) were at RM335.6 million as at end-2018. Based on its balance sheet as at Dec 31, 2018, the company's long-term liabilities was at RM172.02 million and trade payables were at RM139.69 million.
Barakah's filing was in response to an article in The Edge Weekly for the week of March 18-24, 2019, which quoted sources as saying that Barakah alongside its two main subsidiaries — PBJV Group Sdn Bhd and Kota Laksamana 101 Ltd — are seeking to restructure RM726.53 million in debt.
Malaysia Marine and Heavy Engineering Holdings Bhd (MHB) has been slapped with a RM125.1 million claim by Kebabangan Petroleum Operating Co Sdn Bhd (KPOC) for alleged breach of contract to supply valves.
Noting that the financial impact of the arbitration initiated by KPOC on the group is dependent on the outcome, MHB said the expected loss arising from this claim is anticipated to be RM125.1 million or more.
MHB said it will vigorously defend the claims made by KPOC and is presently exploring its options to pursue a counterclaim against KPOC.
The mandatory take-over offer by Can-One International Sdn Bhd to acquire the rest of the shares in Kian Joo Can Factory Bhd it does not own has turned unconditional today.
Can-One Bhd  said that with the valid acceptances Can-One International has received, the offeror and ultimate offeror now holds a more than 50% stake in Kian Joo.
Scientex Bhd has garnered valid acceptance of 52.54% shareholding in Daibochi Bhd for its share swap deal.
Daibochi said the share-swap offer will remain open for acceptance up till April 1.
Last November, Scientex announced its intention to acquire a 42.41% stake in Daibochi from 14 shareholders for RM222.5 million or RM1.60 apiece via a share swap. Consequently, Scientex made a mandatory general offer to the minority shareholders in Daibochi.
Tasek Corp Bhd saw 7.6 million shares, representing 6.28% of the group's total 121.1 million outstanding shares, traded off-market at a discount today. Parties involved in the off-market transaction were not known at the time of writing.
Bloomberg data showed that the transactions were carried out in two tranches in the final minutes of trading today at RM4.76 apiece, which is a one sen discount to its open market closign price of RM4.77.
Tasek Corp has seen an 18% run-up in its share price, since hitting a seven-year low of RM4.05 on Dec 21, 2018.
Berjaya Sports Toto Bhd's (BToto) net profit for its third quarter ended Jan 31, 2019 came in flat at RM59.07 million, compared with RM59.23 million in the year-ago quarter.
Revenue contracted 3% to RM1.36 billion from RM1.4 billion previously, due to lower sales from the used car segment at HR Owen, and lower contribution from Philippine Gaming Management Corp.
The board declared a third interim dividend of 3.5 sen, payable on May 10, bringing its to-date cumulative dividend to 11.5 sen from 12 sen in the previous corresponding period.
For the nine-month period, Berjaya Sports Toto's net profit grew 5.6% to RM206.25 million from RM195.28 million a year ago, although cumulative revenue contracted 1.1% to RM4.21 billion from RM4.26 billion.
BToto anticipates its number forecast operator business to perform satisfactorily for the remaining quarter of its financial year ending April 30, 2019.
Metronic Global Bhd is aiming for US$1 billion worth of 5G technology smart city solution projects in the next three years both within and outside the country.
The total building management engineering solutions provider said it is in the midst of finalising tenders for several huge potential engineering projects worth up to RM300 million in Malaysia and across Southeast Asia. The group is also eyeing projects in Europe, the US and the Middle-East.
Today, its subsidiary Metronic Engineering Sdn Bhd inked a Memorandum of Understanding with Hong Kong-listed Zhuhai Singyes New Materials Technology Co Ltd to offer world-class proven smart city technology solutions, connecting infrastructure with Internet of Things and 5G capabilities.
Lotte Chemical Titan Holdings Bhd's new petrochemical project in Cilegon, Indonesia, the Lotte Chemical Indonesia New Ethylene (LINE) project, will now undergo land preparation work for 1.31 trillion Indonesian rupiah or RM377.16 million.
The job will be undertaken by its sister company, Lotte Engineering & Construction Co Ltd (LEC), with Indonesian construction company Hans Enjiniring dan Konstruksi (HEK) at the above contracted value. LEC is 43.79% owned by Lotte Chemical Corp, the major shareholder of Lotte Chemical Titan.
The group's wholly-owned PT Lotte Chemical Indonesia inked the land preparation contract with LEC and HEK last Friday.