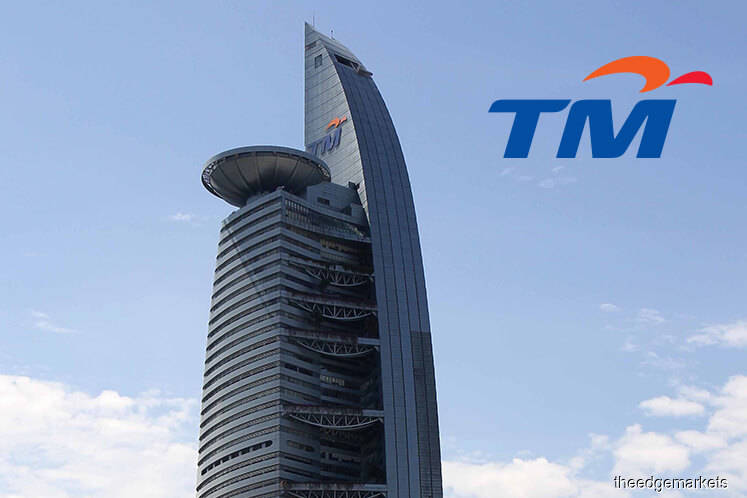 KUALA LUMPUR (Feb 27):Telekom Malaysia Bhd (TM)'s share price heads south this morning — down 3.64% after Bursa Malaysia opened today — on the telco's warning of lower revenue in its financial year ending Dec 31, 2019 (FY19) as it sees competition continuing to be fierce amid increasing customer expectations.
The revenue warning came after the group announced yesterday that its net profit for the fourth quarter ended Dec 31, 2018 (4QFY18) plunged 75% year-on-year (y-o-y) to RM69.66 million.
At 11.54am today, the stock was traded at RM2.95 — still 7 sen or 2.32% down — putting it among the top 20 decliners on the local bourse thus far today.
TM, now valued at RM11.09 billion, saw a total of 1.88 million shares done at the time of writing.
The group released its net profit for the fourth quarter ended Dec 31, 2018 (4QFY18) which slumped 74.9% to RM69.66 million, from RM277.01 million a year ago, after a year that the group's acting group chief executive officer/chief operating officer Imri Mokhtar described as "one of the most challenging" TM has ever faced. Revenue was also 3.5% lower at RM3.09 billion, compared with RM3.2 billion a year ago.
Imri said at a media briefing TM will focus on various cost optimisation initiatives to increase earnings before interest and tax in FY19.
For FY18, TM's net profit fell 83.5% to RM153.15 million from RM929.75 million in FY17, while revenue declined 2.2% to RM11.82 billion from RM12.09 billion.
Kenanga Research said in a note today, TM's FY18 core profit after tax and minority interests (PATAMI) of RM632 million came in below the research house's estimates (92%) but within consensus full-year estimates (105%).
Hence, the research firm has downgraded its call to "underperform" on the stock with an unchanged target price of RM2.50.
Kenanga said the group's outlook and competitive landscape is expected to continue to remain challenging with peers getting more aggressive to penetrate into TM's core segments.
"Minor tweak to FY19E PATAMI by -1% to RM610 million, post the result review and introduced our FY20 numbers, where we expect TM to record relatively flat top-line and bottom-line growth," it added.
MIDF Research, which has maintained its "sell" call and raised the target price to RM2.33 (from RM1.89), said, "TM's financial performance failed to kept pace with our expectation, accounting for 87.7% of full-year FY18 earnings estimates."
The research house said it is revising downwards the contribution from data and revising upwards the net finance costs to be reflective of the group's results thus far.
"As a result, FY19 earnings estimates have been revised lower by -4.0% to RM665.2 million," MIDF added.
"Due to the earnings pressure and the group's commitment capex commitment for long-term growth, we expect the dividend payment to decline as well," it said.
TM had previously revised its dividend policy to 40% to 60% of PATAMI, the research house said.
The group has declared a dividend of 2 sen per share for FY18. This represents a sharp decline as compared to 21.1 sen announced in FY17.