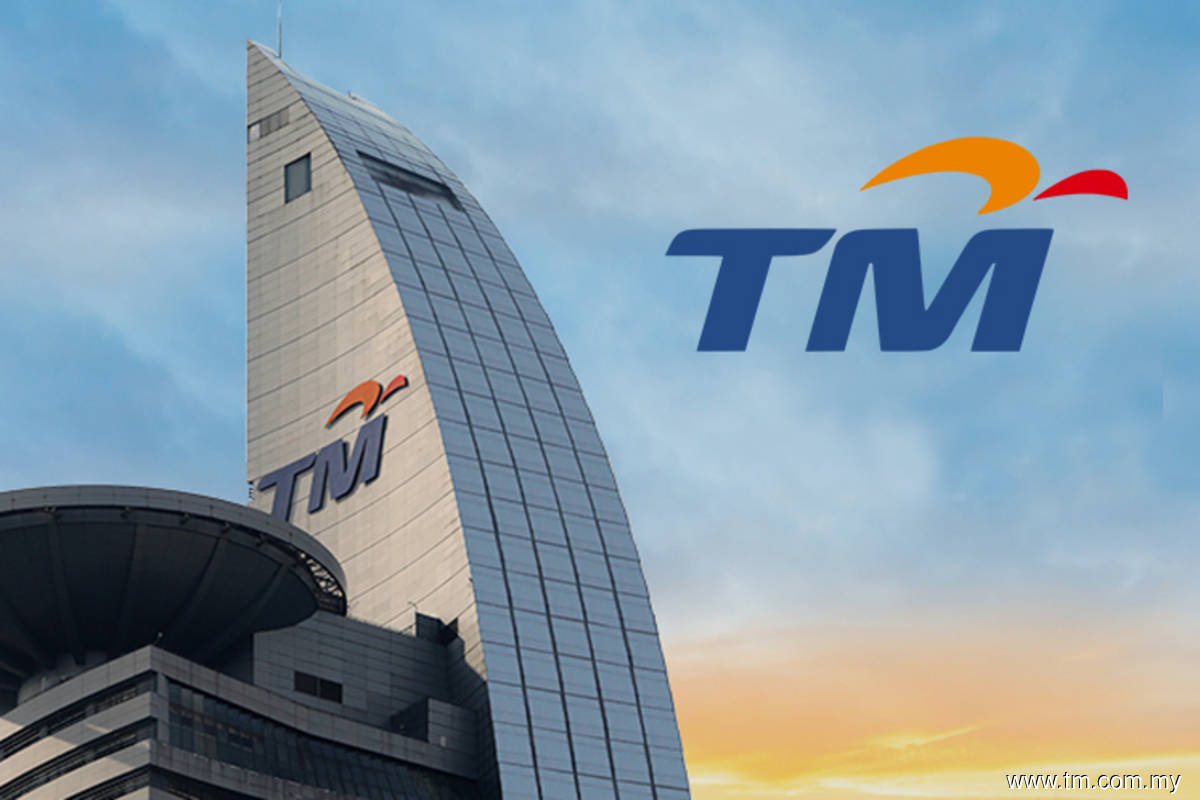 KUALA LUMPUR (Feb 24): Telekom Malaysia Bhd (TM) returned to the black in the fourth quarter ended Dec 31, 2020 (4QFY20), registering a net profit of RM259.44 million from a net loss of RM51.09 million recorded a year earlier due to lower operating costs and net other gains, the telco said.
The improvement in its bottom line was despite the fact that TM saw its revenue fall slightly by 1.1% to RM3 billion from RM3.03 billion a year earlier, underpinned by lower revenue in its voice, data and non-telecommunication services, noted the company in a filing with Bursa Malaysia.
Its earnings per share (EPS) jumped to 6.87 sen in the quarter from -1.37 sen a year earlier.
TM also declared a final interim single-tier cash dividend of 7.5 sen, to be paid on March 31.
For the full year, TM has proposed 14.3 sen for FY20 versus 10 sen in FY19.
For its full year earnings in FY20, the telco reported a decline in revenue of 5.2% to RM10.84 billion against RM11.43 billion registered last year due to lower revenues from all lines of products.
TM's full year profit surged 61% year-on-year to RM1.02 billion in FY20, contributed partly by lower tax charges as well as contribution from the group's share of improved performance of subsidiaries with non-controlling interests.
TM added that for 4QFY20, its revenue for the Unifi segment rose 8.6% to RM1.22 billion for both fixed and mobile with cumulative fixed internet subscribers increasing 6.8% in the current quarter.
However, its TM One segment reported a slight decrease in revenue to RM1.11 billion as its voice, data and internet services were affected by the Movement Control Order (MCO) through reductions in usage volume.
Similarly, its TM Wholesale segment's revenue fell 19.2% to RM163.6 million due to reductions in data and voice services.
"We are pleased to report a resilient overall business performance in 2020 as we navigated through the challenges of the pandemic and macroeconomic environment. These uncertainties have required us to change the way we work, becoming more efficient in execution and being more prudent in managing resources.
"We are excited for the next phase of our journey with the 'New TM' Transformation Programme (2021-2023) — guided by our compass of Purpose, Customers, Performance and People," said TM group chief executive officer Imri Mokhtar in a statement.
Moving forward, the group reiterates its support for MyDigital — Malaysia Digital Economy blueprint and other government's digital and stimulus plans, and believes that such public and private collaboration will propel the country towards a full-fledged Digital Malaysia by 2030 — a more digital society, digital business and digital government.
"TM Group will be at the forefront in this new economy towards improving the quality of life of our customers and supporting nation-building programmes including MyDigital and other stimulus plans. We remain confident to bring value for our customers and shareholders in 2021 and beyond," said Imri.
In its announcement to Bursa Malaysia, TM noted that in the face of a challenging economic environment, the group sustained its resilience throughout 2020, anchored firmly by its cost optimisation initiatives and cautious spending, which were critical in adjusting to pressure on the group's revenue.
"Despite an expected recovery in the economy, uncertainties will remain and competition heightened in 2021. New cases of Covid-19 at record highs and the implementation of MCO 2.0 are examples of this. The group is optimistic that the impact is not expected to be as adverse as the first MCO in March 2020, as evident from higher levels of economic activities allowed and the relevant economic stimulus from the government's various policies and initiatives. In light of all the above, the group shall remain prudent in its spending and financial management, whilst continuing to source for growth in our revenue stream," it added.
At noon break today, shares of TM closed one sen or 0.16% higher at RM6.46, valuing the company at RM24.38 billion. In over 1.5 months, the stock has risen 19.22%.