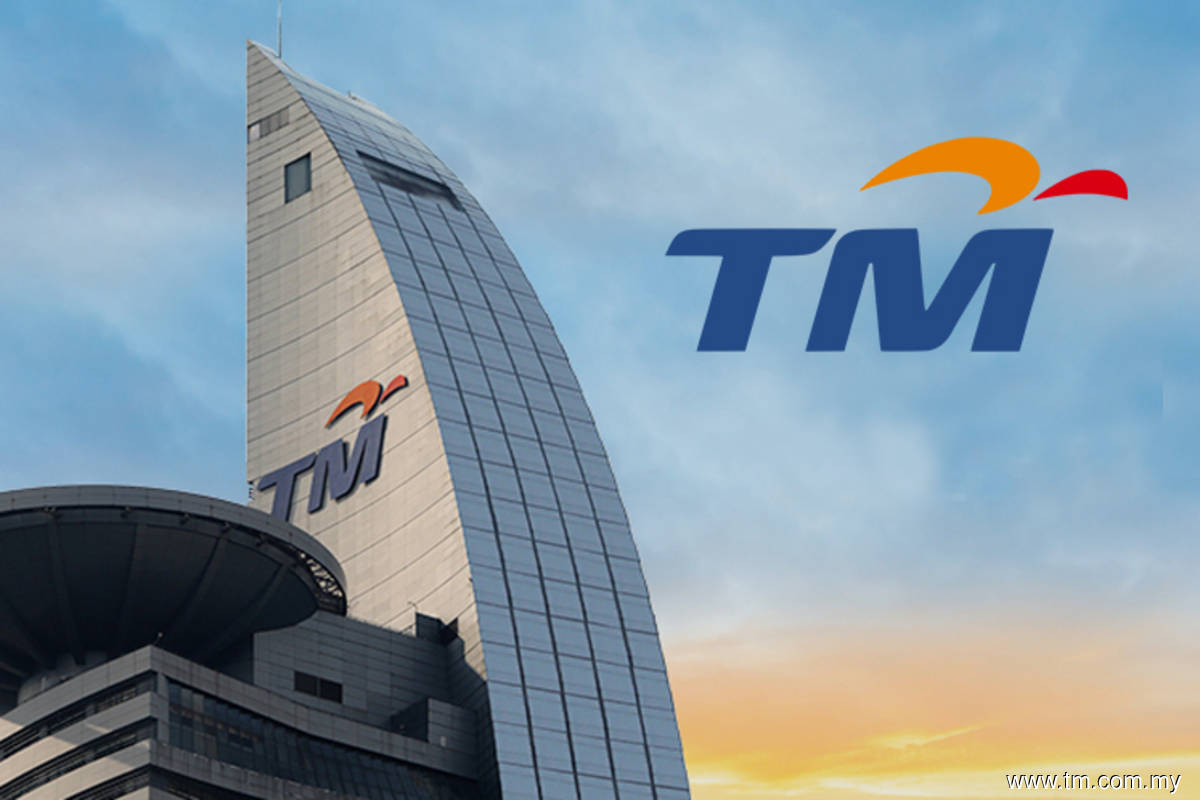 KUALA LUMPUR (May 27): Telekom Malaysia Bhd (TM) saw its net profit for the first quarter ended March 31, 2021 (1QFY21) more than doubled to RM325.47 million, from RM152.52 million in 1QFY20.
In a bourse filing, the telco said the higher net profit was due to higher revenues across all of its segments apart from its other telecommunications services.
TM saw its revenue increase 9.9% to RM2.81 billion, from RM2.56 billion in the corresponding quarter last financial year.
It did not declare any dividend this quarter.
The group noted that its unifi segmental revenue increased by 7.5% to RM1.21 billion, from RM1.12 billion year-on-year (y-o-y) for both its broadband and mobile services, with cumulative fixed internet subscribers increasing y-o-y.
Lower operating costs contributed to an improvement in earnings before interest and tax (EBIT) to RM258.3 million for the segment, from RM82.8 million in 1QFY20.
Meanwhile, its TM ONE segment saw a 2.2% increase in revenue to RM981.3 million, from RM960 million on data and other telecommunications services. However, higher direct costs on customer projects and operating costs brought down EBIT by 6.1% to RM266.1 million, from RM283.3 million in 1QFY20.
As for its TM Wholesale revenue, it came up 33.7% to RM625.4 million, from RM467.8 million, on higher data revenue. Segmental EBIT increased to RM139.9 million, from RM58 million in the corresponding quarter last year.
On a quarter-on-quarter (q-o-q) basis, the group saw a 6.4% decline in revenue to RM2.81 billion, from RM3 billion in 4QFY20, with declines in voice, other telecommunications and non-telecommunications services whilst internet and data services continued to record q-o-q increase.
Net profit increased by 25.45% q-o-q to RM325.47 million, from RM259.44 million in 4QFY20.
In a separate statement, the group noted that its ongoing cost improvement initiatives continued to show results with total operating cost ratio (the percentage of the cost to revenue) improving to 79.7% in 1QFY21, from 88.1% in the corresponding quarter last year.
TM chief executive officer and managing director Imri Mokhtar noted that under its 40+ Value Programmes, TM is reshaping its workforce into a stronger execution engine, embracing a more agile work culture with future-ready skills; focused on growing with its customers towards a more digital society, businesses, public sector services and technology industry.
"TM reiterates our leading role in accelerating Digital Malaysia through digital connectivity, digital infrastructure and a digital workforce. As an essential enabler, we are ready to play a leading role in the execution of both, the JENDELA implementation plan and the realisation of the Malaysia Digital Economy Blueprint (MyDIGITAL); leveraging on our comprehensive connectivity, digital infrastructure and innovative solutions.
"We are also committed towards sustainable growth, with increased emphasis on ESG by our board and management. We remain focused on our ESG sustainability journey. I am pleased to update that we maintained our track record as one of the 75 Bursa companies on the FTSE4Good Bursa Malaysia Index, with a full rating of 4/4.
"With this encouraging set of overall results, we are on track to meet our 2021 market guidance and look forward to delivering greater customer experience and shareholder value with our New TM Transformation Programme," he said.
Shares in TM were unchanged at RM5.91, valuing it at RM22.3 billion.