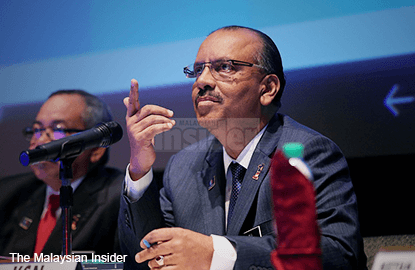 (Dec 2): Putrajaya has sacked only one civil servant after investigations into wrongdoings highlighted in the 2013 Auditor-General's Report.
Chief Secretary to the Government Tan Sri Ali Hamsa also said the amount recovered from the total losses pointed out in the report was only the "tip of the iceberg".
"Basically we have a formula we use, a surcharge system, but we cannot recover the actual amount from the respective officers," he said in a town hall meeting with the media on the findings of the third series of the 2014 Auditor-General's Report.
Ali was responding to a question on the steps the government would take to recover RM501,524.33 lost through mismanagement of two projects highlighted in the third series of the report.
"It's always a token. So what we get is the tip of the iceberg," he said.
"After a long process, if the officers involved are found to have done some wrongdoing based on our circular, then one of the punishments is that they can be surcharged."
Public Service Department director of services Datuk Mokhtar Abdul Rahman earlier said the government had recovered RM86,000 in surcharge from the 2013 report.
He said 399 officers in the civil service were identified as being involved in 211 cases, from which 200 were acquitted of any wrongdoing.
"I can assure you we are taking action, we have dismissed one officer so far."
He said other actions include reduction of salary (3), deferment of salary movement (13), fine (7), fine and surcharge (2), warning and deferment of salary (1), ?warning and fine (2), warning and surcharge (9), ?warning (65) and surcharge (29).
The losses highlighted in the third series of the A-G's Report 2014 includes RM416,433.33 lost through work contracts in the Works Ministry and RM85,091 lost in the construction of religious schools by the Education Ministry.
Ali said there were 708 reprimands, including 26 punitive and 682 corrective reprimands highlighted in the report.
"The government has taken proactive measures by forming four special probe committees to investigate 12 of the punitive reprimands involving four ministries.
"As a summary, in the three series, there were 1,662 reprimands and only 2.9% are punitive reprimands."
But despite that, he said, the government would still act against any misappropriation and embezzlement.
"For the previous two series, disciplinary proceedings have been initiated against 16 officers, where nine have had action taken against them.
"One officer is being considered to be sacked or demoted, while six are in the process of being handed out punishments." – The Malaysian Insider