This article first appeared in The Edge Financial Daily, on November 9, 2018.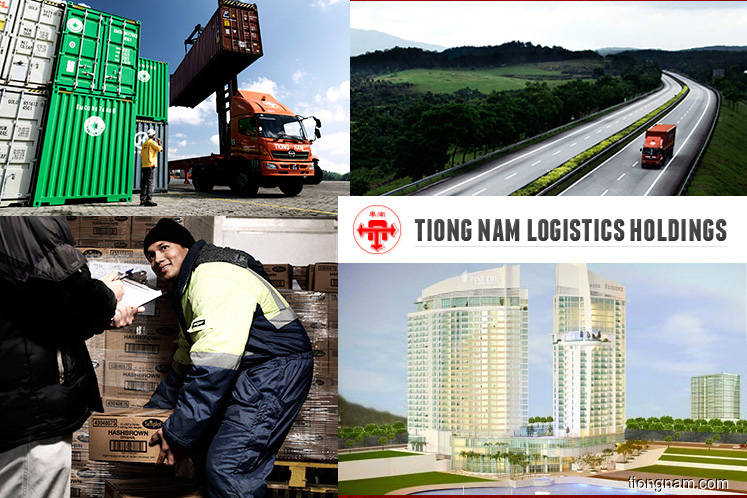 Tiong Nam Logistics Holdings Bhd
(Nov 8, 86.5 sen)
Maintain neutral with a lower target price (TP) of 92 sen: Initially, Tiong Nam Logistics Holdings Bhd planned to expand its warehouse capacity to seven million sq ft from the current 5.5 million sq ft by financial year 2020 (FY20). However, the management noted that only an additional 0.4 million sq ft of capacity will be added by FY20, bringing the total capacity to approximately 5.9 million sq ft. The capacity expansion will be carried out at Laos (0.03 million sq ft), Kulim (0.1 million sq ft) and Seelong (0.3 million sq ft). The scale back on warehouse expansion plans would enable Tiong Nam to focus on attaining a larger clientele to optimise the existing warehouse capacity. Moreover, the occupancy rate for Tiong Nam's warehouses is expected to hit nearly 80% for FY19 due to the addition of new multinational corporation (MNC) customers involved in the fast-moving consumer goods sector.
Meanwhile, Tiong Nam's overseas distribution centres have yet to deliver meaningful earnings contribution as the company is focusing on gaining a reputation with certain customers before expanding service offerings to others. Currently, countries like Myanmar are supported by a large local telecommunications company while Vietnam has not seen much traction in terms of volume. Likewise, its e-commerce delivery segment, Instant, will still be loss-making in FY19. Tiong Nam cited that it will maintain Instant while waiting for the market to consolidate before making any huge expansions.
The profit before tax (PBT) of the property segment in the second quarter of FY19 (2QFY19) is expected to be weaker than 1QFY19 due to lower unbilled sales and the completion of the Pinetree Marina Resorts. To recall, the PBT of the property development segment declined by -27.9% year-on-year (y-o-y) to RM6.4 million in 1QFY19. Moving forward, the new project that Tiong Nam is left with is the Kota Masai township which is expected to be launched towards the end of FY19/1Q of calendar year 2019 with an estimated gross development value of RM150 million. Overall, Tiong Nam is targeting to sell RM100 million worth of unsold properties in FY19.
While the logistics segment will be driven by new MNC clients, we reckon that this would be weighed down by: i) the sluggish performance of the property segment with no new projects in sight except Kota Masai; and ii) the overseas distribution centres and e-commerce delivery segment, which have yet to deliver meaningful earnings contribution. Therefore, we are lowering our revenue contribution from the property segment, which leads to a reduction in our FY19 profit after tax margin forecast to below 15% from above 20% previously for the segment. As such, our earnings forecasts for FY19 and FY20 are being revised downwards by -19.9% and -19.6% to RM33 million and RM40.5 million respectively.
Our adjusted TP of 92 sen (previously RM1.02 per share) post earnings revision is based on its sum-of-parts, consisting of its core logistics and warehousing business, its property development arm, and the investment arm. A rerating catalyst would be: a) the inclusion of Tiong Nam into the Securities Commission Malaysia's list of syariah-compliant securities; and b) the relocation of companies from China to Southeast Asia to circumvent the effects of the trade war. —MIDF Research, Nov 8