This article first appeared in Capital, The Edge Malaysia Weekly, on February 10, 2020 - February 16, 2020.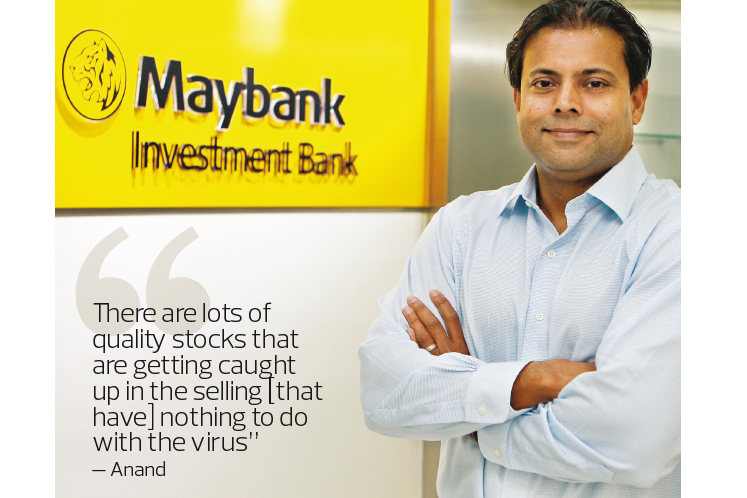 Photo by Patrick Goh/The Edge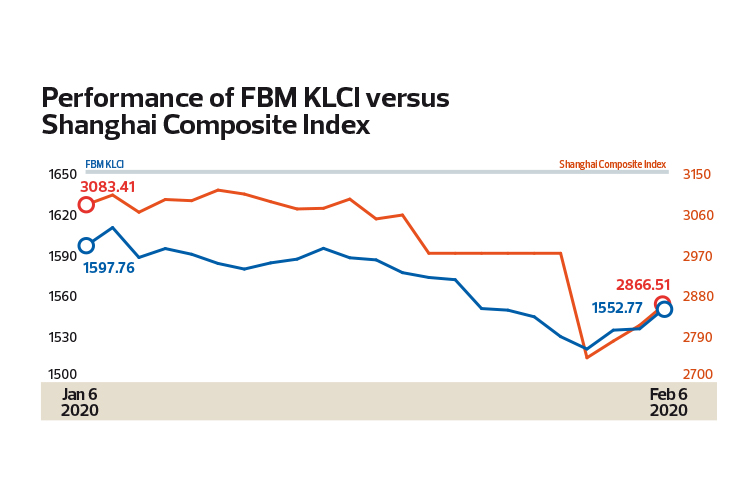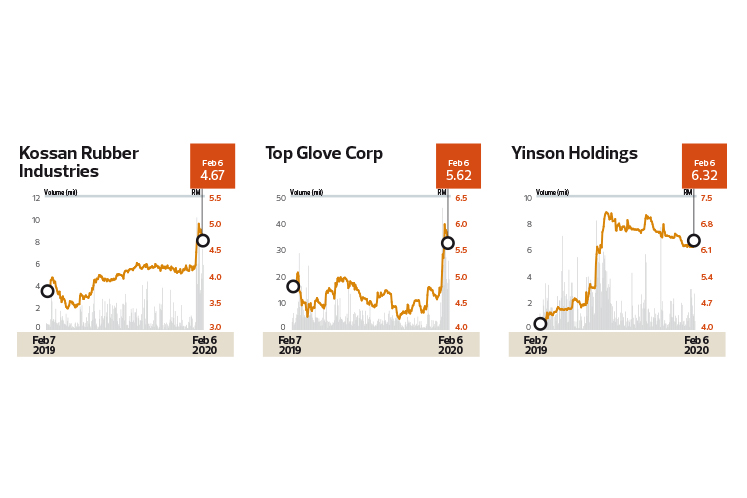 IT was nothing short of a bloodbath when stock markets in mainland China reopened last Monday after the Lunar New Year. An estimated US$370 billion (RM1.5 trillion) in market capitalisation was wiped out when the Shanghai Composite Index tumbled 7.72% as investors fled the Wuhan coronavirus.
A common question now asked of sell-side analysts such as Maybank Investment Bank Head of Research Anand Pathmakanthan is whether the coronavirus fallout will hit the stock market as hard as the Severe Acute Respiratory Syndrome epidemic did. To put things into perspective, the FBM KLCI fell as much as 6% during the SARS outbreak in 2002/03.
So far, investors in Malaysia have been less jittery, but to be clear, the local stock market has also been a star underperformer for a number of years already.
On Monday, the benchmark FBM KLCI shed 9.11 points, or 0.6%, to close at 1,521.95 points, marking its lowest level since January 2011. But year to date, the KLCI is down only 2.3%. It closed at 1,552.77 points last Thursday.
Anand says it is too early to make an assessment of the impact, as everyone is still keeping a close eye on coronavirus developments.
"During the SARS outbreak, the government unveiled a package of measures to support the economy, including a RM7.3 billion stimulus package. Also, Bank Negara Malaysia made a substantial 50bps cut to the overnight policy rate to support the economy.
"We expect that if the [Wuhan] virus issue gets more severe, you can expect to see the same kind of support measures come into play."
As such, Anand believes the situation does not warrant hitting the panic "sell" button yet.
He tells The Edge: "It's ironic that, when things are bad, people don't want to buy [stocks], because that's actually the best time to buy. When you look at the SARS episode, there was a lot of selling as well, but things did snap back pretty quickly, in terms of both economic growth as well as markets.
"So, I wouldn't necessarily subscribe to [the notion of] 'don't buy in a period of caution'. I would instead be more selective in terms of what I buy. There are lots of quality stocks that are getting caught up in the selling [that have] nothing to do with the virus."
Many sectors unaffected
Anand says many parts of the Malaysian economy — such as the oil and gas sector — are completely unaffected by the virus.
"If you look at things like the oil and gas sector and its capex, it really has nothing to do with the virus. The same goes for construction projects; these things will carry on. So, when these kinds of stocks get sold down because of a selloff in the broad market, that is the time we look for bargains, and it presents an opportunity [for investors] to bottom fish and buy."
He says Maybank's view on most sectors remains the same post-outbreak, with the exception of gloves.
"Even before the virus, there was already an organic story to back up our overweight call on the sector, with the US-China trade tariffs resulting in increased purchases of Malaysian gloves — as opposed to Chinese gloves — by US companies.
"With the coronavirus, we have upgraded our demand projections quite substantially, and have raised the ratings on some of these stocks. Before the virus scare, we had a 'buy' on Kossan Rubber Industries Bhd and we were 'neutral' on Top Glove Corp Bhd, but we upgraded Top Glove after the outbreak primarily because it has the available capacity to ramp up production quickly."
Maybank has a "buy" call on Kossan, with a target price of RM5.30, an upside of 13% to its closing price of RM4.67 last Thursday, and a "buy" call on Top Glove, with a RM5.65 target — a meagre 1% upside.
"We maintain our calls on hospital stocks such as IHH Healthcare Bhd, as we do not think this is the kind of crisis in which you would see a great number of people being hospitalised," says Anand of the bank's "hold" recommendation on IHH Healthcare, and RM5.80 target price.
The virus scare has also not changed its views on the aviation sector.
"We were already underweight on airlines before the entire virus episode, because the airline industry to us was already facing massive oversupply in a very competitive environment, and yields were under pressure."
Maybank recommends a "sell" on both AirAsia Group Bhd, with a target price of RM1.66, and AirAsia X Bhd, with a target price of 12 sen.
"We don't really have a strong view on tourism-related sectors for Malaysia, notwithstanding Visit Malaysia 2020. We feel there is probably convincing growth elsewhere in the market than tourism players at this point — that was the view before the virus impact and, obviously, that view will not change now," he says.
Positive on O&G and banking
Corona virus-related stocks aside, Maybank is positive on oil and gas, and banking.
"We feel that Petronas capex and global capex are picking up, and although there are some concerns about the price of [crude] oil at this point, the fact is most of the Malaysian [public-listed companies] are not upstream players. They are oilfield services companies and able to fish from a very big pond in terms of potential contracts."
The bank has a "buy" call on Yinson Holdings Bhd, with a target price of RM9.45, an upside of 49.5%.
"We like the banking sector, as we feel there is room for banks to bring down their funding costs, or, in other words, bring down their deposit rates to compensate for the [overnight policy rate] cut impact on asset yields. Knee-jerk selling of banking stocks because of the OPR cut impact on net interest margins is too simplistic."
Among Maybank's top picks for the banking sector are BIMB Holdings Bhd (target price: RM5.25), CIMB Group Holdings Bhd (target price: RM5.80), RHB Bank Bhd (target price: RM6.50) and AMMB Holdings Bhd (target price: RM4.40).
The OPR cut, however, makes yield stocks such as real estate investment trusts (REITs) more attractive.
"With the OPR cut in January, many investors are wondering whether there are more cuts in the pipeline. Our view has always been one cut for 2020, but, now that it has happened so early and, with the virus issue being an economic growth risk, Bank Negara may have to respond to that and we could see interest rates come down more. In that sense, yield stocks such as REITS that have general yields of 7% to 8%, would be more attractive." Maybank has a "buy" call on YTL Hospitality REIT, with a target price of RM1.50, an upside of 15% to its closing price of RM1.30 last Thursday.
Prior to the coronavirus outbreak, the bank had a year-end KLCI target of 1,700, supported by a 9.5% cyclically led earnings recovery.