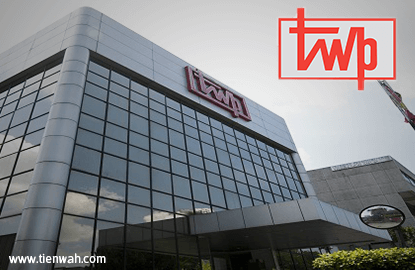 KUALA LUMPUR (May 16): Printing firm Tien Wah Press Holdings Bhd is proposing to jointly partake in a mixed-use commercial development in Petaling Jaya (PJ), Selangor, with Singaporean firm Kemensah Holdings Pte Ltd.
Kemensah is a wholly-owned subsidiary of Singapore Exchange listed Lum Chang Holdings Ltd, which engages in construction, project management, property development, and investment activities in Singapore and internationally
In a filing with Bursa Malaysia today, Tien Wah said its subsidiary Tien Wah Properties Sdn Bhd (TWPSB) had entered into a shareholders agreement with Kemensah to form and operate a joint venture (JV) company currently known as Sterling Model Sdn Bhd for the proposed development at No 9&11, Jalan Semangat, PJ.
The JV company will be a 50:50 venture between TWPSB and Kemensah. The JV company, with the intended principal activity of property development, will be applying to the Companies Commission of Malaysia for the change of company name to Lum Chang Tien Wah Sdn Bhd.
On the same date, TWPSB has also entered into a sale and purchase agreement with Sterling in respect of the sale of land measuring 13,040 square metres (3.22 acres), which is currently held by TWPSB on a 99-year lease from the Selangor state government, for a sale value of RM63.75 million.
The land was acquired by TWPSB in 2005 and the total net book value of the land based on the latest audited financial statements of TWPSB as at Dec 31, 2015 is RM26.5 million. The expected gain in the consolidated financial statements of Tien Wah is approximately RM29.5 million.
Tien Wah said the proceeds from the proposed land sale are intended to be used for the proposed development.
The group added that the rationale and benefits for the proposed JV and proposed land sale are to maximise the usage of the land it owned, with the long-term intention of maximising shareholders' value.
"It is also intended to deliver additional income stream for the group, and are in line with the group's strategy to grow and diversify its business operation with sustainable growth as well as to balance its income stream from the traditional source as a result of diversification," said the group.
Tien Wah's shares closed down one sen or 0.43% to RM2.34 today for a market capitalisation of RM225.8 million.