This article first appeared in The Edge Malaysia Weekly, on March 12, 2018 - March 18, 2018.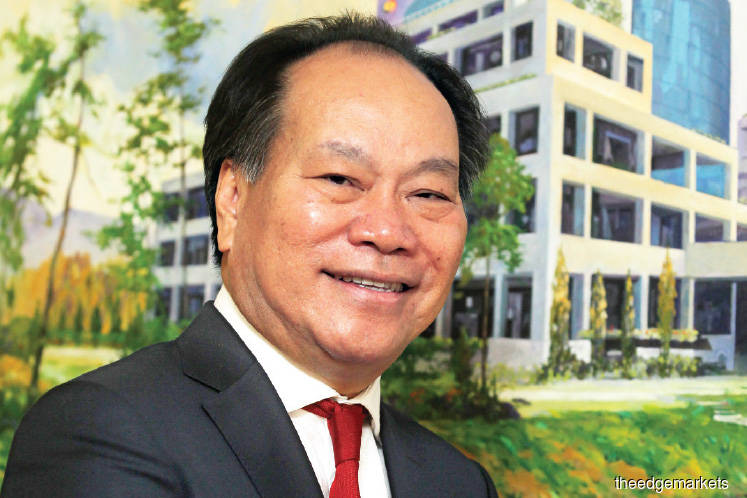 THE ringgit's resurgence against the US dollar was among the highlights of 2017 for Malaysia. But it was another setback for Cahya Mata Sarawak Bhd (CMS).
Asia's second best performer, the local currency appreciated 10.9% against the greenback, delivering heavy foreign exchange losses to CMS' 25% associate OM Materials (Sarawak) Sdn Bhd and derailing expectations for breakeven at least.
CMS' share of the unrealised forex losses was RM28 million, translating into a share of losses from OM Materials of RM4.5 million for the financial year ended Dec 31, 2017 (FY2017).
"That was a disappointing set of results. We were really looking forward to seeing a maiden profit for OM Materials," says Datuk Isaac Lugun, group CEO for corporate at CMS.
To recap, the US$500 million (RM1.9 billion) ferrosilicon and manganese alloys smelting plant is a joint venture with Australia-listed OM Holdings Ltd. To date, CMS has ploughed RM286.06 million into the project, which is categorised as the group's strategic investment.
It was the second straight year that the ringgit became an unexpected speed bump for OM Materials, which has been loss-making since it was first commissioned in phases beginning September 2014.
In 2016, the currency's sharp drop against the US dollar caused heavy hedging losses, of which RM35.17 million was shared by CMS.
But OM Materials turned the corner in the fourth quarter of last year, says Isaac. The company booked a profit of US$11 million then and has fired up 15 of its 16 furnaces.
"If you look at the entire year, the fourth quarter is more representative of the full performance of the plant.
"I think it's reasonable to extrapolate the 4QFY2017 results to get some indication of how it will perform in 2018, subject to the price of the commodity and production output levels remaining the same."
Isaac took charge as one of two group CEOs beginning Jan 1 after former managing director, Datuk Richard Curtis, stepped down on Dec 31 last year.
He oversees strategic investments and corporate affairs while the other group CEO, Goh Chii Bing, manages four core business operations — cement, construction and road maintenance, construction materials and trading, and property.
Isaac acknowledges that investors have expressed concern whether the dual leadership role will work. However, he stresses that both men have worked closely together for the past two decades.
"And the more refreshing point is, for the very first time, you have two Sarawakians running the company. With the change in political landscape, I think that augurs well for the group," says Isaac.
Better times ahead
If FY2018 proves to be a better year for OM Materials, it may coincide with a possible further uplift in earnings from CMS' core operations.
The group expects the construction of the Pan Borneo Highway to pick up pace and translate into rising demand for cement and aggregates beginning in the second half of this year.
According to Isaac, the RM16 billion project for the Sarawak portion will require an estimated one million tonnes of cement and 20 million tonnes of aggregates.
Meanwhile, the RM8 billion Baleh hydroelectric dam project by Sarawak Energy Bhd, slated for full commissioning in 2025, is expected to require 300,000 tonnes of cement, he says.
"To me, the peak [for the Pan Borneo Highway] will probably be seen in 2H2018 and 1H2019. Then, as soon as that tapers off, demand from Baleh dam will kick in — that will come in beautifully after the highway," Isaac opines.
In anticipation of this, CMS is adding another production line at the Sibanyis quarry, the state's largest. When commissioned next year, the new line will add 1.5 million tonnes in capacity to the existing 2.4 million tonnes.
On CMS' road maintenance business, he says the group is currently finalising the renewal terms for its 15-year concession, which expired last December. It is currently on a six-month extension until June to facilitate discussions.
Isaac says the concession renewal may see some performance-based clauses being strengthened further, but declines to elaborate.
When asked if that could mean a margins compression for the road maintenance division, he says, "That depends on how you look at the bottle — whether it is half empty or half full."
The group is also looking to sell some 4,000 acres of land in Kuching this year, to the tune of RM40 million to RM50 million, to sustain the property division's performance.
Last year, that division saw pre-tax profit double to RM47.22 million, thanks to profit recognition from its key projects, but sales will not be as good this year, concedes Isaac.
CMS has a further 2,000 acres in Samalaju, which it intends to hold on to for now.
Other potential boosts could come from roadworks, which saw some activities worth RM10 million deferred last year. Isaac expects the delayed works to spill over into this year.
Additionally, there could be some write-back from CMS' RM12 million share of provisions for slope failure mitigation works at the Penkuari quarry, which had to be closed permanently.
Last Thursday, CMS closed at RM4.14, giving it a market capitalisation of RM4.45 billion. Its one-year return is -0.3%.
Gearing up
Looking ahead, CMS is turning its attention to another strategic investment — a RM2.2 billion joint venture to build Southeast Asia's largest integrated phosphate additives plant. To recap, in 2013, it announced the partnership with Malaysian Phosphate Additives Sdn Bhd and Arif Enigma Sdn Bhd in a 40:40:20 venture.
The plant's expected annual production capacity is about 500,000 tonnes of phosphate products, 900,000 tonnes of coke and 100,000 tonnes of ammonia, CMS previously said.
To date, shareholders have invested over RM200 million and earthworks have begun on the 350-acre site, says Isaac. At present, the partners are in the midst of finalising the financing structure with banks, he adds.
"Typically, for a project like this, you have a loan-to-equity ratio of 70:30, maybe 60:40 when the project is more challenging," Isaac continues.
According to him, the project may be carried out in stages if the financing falls short of expectations. The commissioning target is 2020 and the full impact from the plant may only be felt in 2022, he says.
In preparation, CMS had drawn down RM500 million from its RM2 billion sukuk programme and had RM977.84 million in cash as at end-FY2017 — more than what it had at end-FY2016.
That bumped its long-term borrowings to RM584.63 million, raising its gearing to 0.24 times as at end-FY2017 (FY2016: 0.10 times). However, it remains in a net cash position.
Barring unexpected hiccups, CMS is banking on the two plants to lift its earnings significantly by 2022.
"Our target for the long term is for these strategic investments to contribute profit after tax of as much as RM250 million, maybe in five years' time," says Isaac.
If that happens, the contribution would nearly double the group's bottom line.
In FY2017, its four core business operations saw a pre-tax profit of RM298.46 million in total. Strategic investments contributed a pre-tax profit of RM6.08 million that year.
"It is ambitious but it's the target we are setting," says Isaac.
Save by subscribing to us for your print and/or digital copy.
P/S: The Edge is also available on Apple's AppStore and Androids' Google Play.