This article first appeared in The Edge Financial Daily, on August 9, 2018.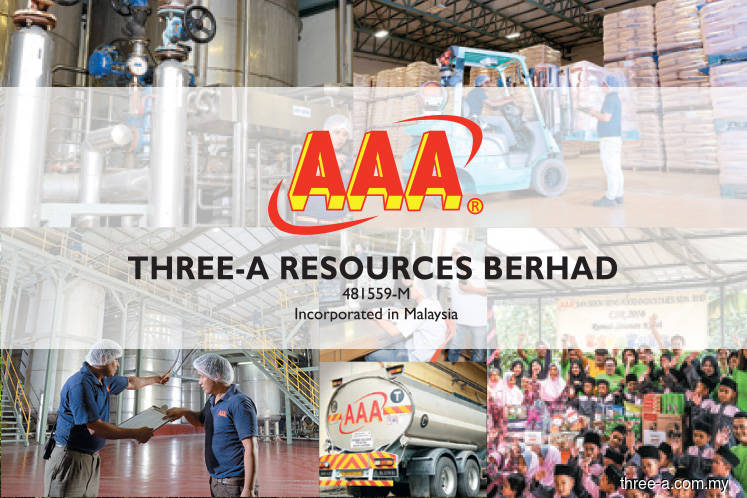 Three-A Resources Bhd
(Aug 8, 91 sen)
Maintain outperform with a target price (TP) of RM1.15: Three-A Resources Bhd reported another weak quarter, as second quarter of financial year ending Dec 31, 2018 (2QFY18) net profit declined by 42.4% year-on-year (y-o-y) to RM5.3 million, hampered by higher raw material prices resulting in lower margins. In view of the lower sales volume and stronger impact of operational costs, we adjust our earnings estimates by -17% for FY18 forecast (FY18F) but keep FY19F and FY20F as we expect more significant contributions from the new maltodextrin production line. We maintain our "outperform" call with a TP of RM1.15, based on 15 times FY19F earnings per share.
 
Though we remain cautious on near-term challenges from higher raw material costs, we continue to favour Three-A's long-term potential, in view of its: i) consistency in supplying varied types of food and beverage (F&B) ingredients at great quality, gaining confidence from large multinational corporations within the industry; ii) production capacity and office space expansion plans, with an allocation of RM40 million capital expenditure over the next two years; iii) clean balance sheet with net cash position; and iv) continuous emphasis on research and development initiatives resulting in new product developments.
2QFY18 revenue was marginally weaker by -1% y-o-y, attributed to lower sales volumes across its geographical markets. Malaysia and Singapore sales grew by 3% and 2.3% respectively, though weighed down by Other Countries' -10.4% y-o-y. For cumulative first half of FY18, the Malaysia segment revenue increased by 4.5% y-o-y.
Going forward, we are looking at a 4% to 6% growth in FY18F to FY20F, on the back of overall diversity in product offerings and continuous investment in capacity expansion plans. We believe that as an ingredient producer, Three-A would be benefiting from steady growth in the F&B industry, acting as a feeder to the industry with its products being widely used in food processing.
Net profit for 2QFY18 decreased in tandem with higher raw material prices, particularly tapioca. The global tapioca price is currently around 12% higher than it was in January this year, having slightly trended down after reaching a peak of around 26% in May. As we have cautioned, this should be reflected in Three-A's overall performance this year, unless it is able to pass on the costs to customers.
For 2QFY18 alone, the unfavourable raw material prices have weakened gross margin to 14% (2QFY17: 21%), while operating, pre-tax and net margins were lower at 7.1%, 6.8% and 5.2% respectively (compared with 12.1%, 10.8% and 9% in 2QFY17). We, however, expect to see improvement in margins in the longer term in view of a down cycle in global tapioca price, on top of better contribution from the ramping up of its third plant for maltodextrin. — PublicInvest Research, Aug 8