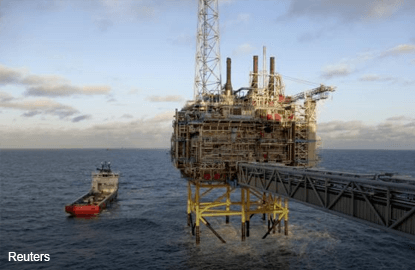 SINGAPORE (June 28): Risk-off sentiment resulting from the Brexit decision is likely to continue to weigh on oil prices, making it it more difficult for oil to trade sustainably above the US$50/bbl level in the near-term, says DBS in a Monday report.
Following Britain's vote to leave the EU, Brent crude oil futures fell by 5%, or US$2.50/bbl, on Friday alone. The US dollar also rallied close to 2%, putting additional downward pressure on US-dominated oil prices.
Here are 3 updates on the O&G sector from DBS lead analyst Ho Pei Hwa:
European banks scale down exposure to oil & gas
Lenders have begun winding down some loans made to oil and gas companies; UniCredit is said to have sold its US$100 million (S$136 million) loan made to Prosafe at a 55% discount. New loans have also declined 50% this year.
The research house believes that a credit crunch will lead to greater consolidation within the sector and drive up M&A activity, marking a return to profitability for oil companies which have been hit by persistently low oil prices.
China and Russia ink major oil deals
Continued support from China has helped propped up the Russian oil industry, even in the face of sanctions from the West. 
ChemChina has purchased a 40% stake in Rosneft's planned petrochemical project VNHK. A new one-year contract has also been signed for Rosneft to supply 2.4 million tonnes of crude to ChemChina while a JV framework agreement was signed between Sinopec and Rosneft for the construction of a gas processing plant in East Siberia.
US crude storage capacity up, but utilisation increases
While the US added 34 mmbbls of storage capacity from Sept 2015 to March 2016, the utilisation rate at 
Cushing jumped from 81% a year ago to 87% as of June, says Ho.
The research house believes that oil prices may see some short-term pressure as producers may be forced to sell at lower prices to offset increases in capacity.