This article first appeared in The Edge Financial Daily, on November 7, 2019.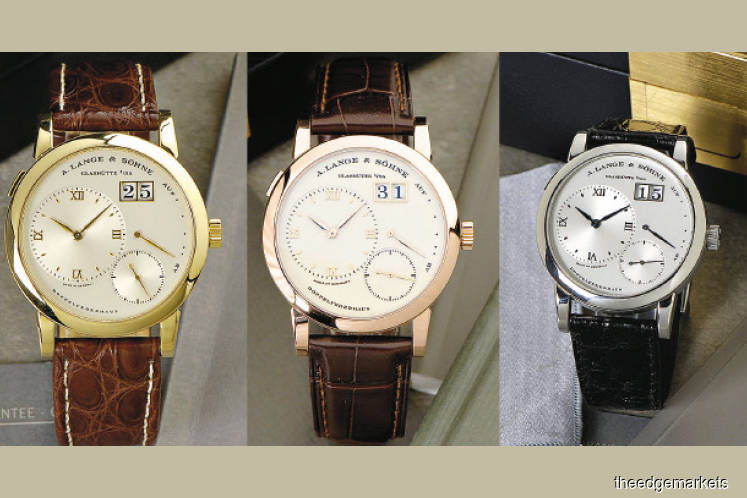 Three of the most interesting Lange 1 watches ever made are up for sale in just a few weeks at Dr Crott. Photos by Bloomberg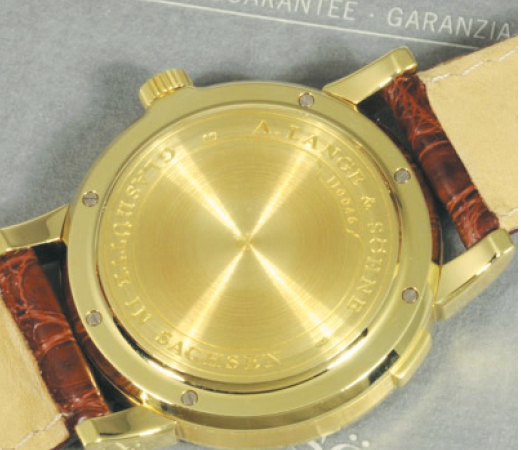 The Lange 1 reference 101.001 in yellow gold with a closed caseback.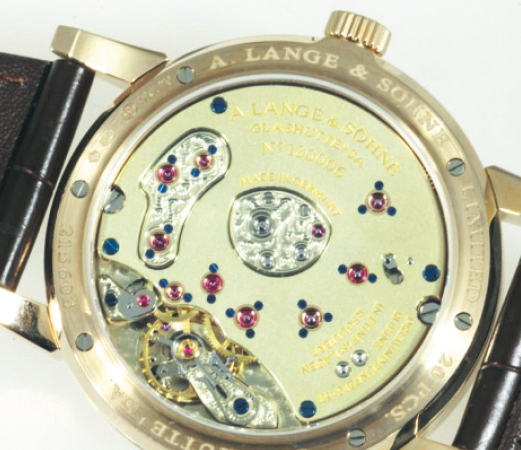 This series has a far more complex dial with a granular finish and recessed subregisters.
Last week was a big one for A Lange & Soehne, which celebrated 25 years since its introduction to the world with an entirely new line to drive it towards the 50-year mark. No matter what you think of the new Odysseus — or frankly, any watch from the Saxony-based manufacturer — Lange watches are made with the absolutely highest quality of any series-made watch. Period.
Over the past few years, I have noticed a small, but growing and exceptionally dedicated group of young collectors paying attention to special Lange 1 watches. The Lange 1 is Lange. It is, as I have said many times, one of the only true icons of horology introduced in the last quarter-century. It is, as I have also said many times, the watch I would be wearing every single day if, well, I were not me but an alternative version of me working in a more traditional field.
Coming up for sale in just a few weeks, and all at the same auction house, are three of the most interesting Lange 1 watches ever made. That auction house is not Phillips, Christie's, Sotheby's, or Antiquorum. They are coming from Dr Crott, and they are all awesome.
Lange 1 reference 101.026 in stainless steel
Let us start at the top. Dr Crott is offering up what remains to this day the most collectible Lange in the world: a Lange 1 in stainless steel. Until last week, Lange made precisely zero watches in stainless steel, in any series. There were some special cases, and the Lange 1 in steel is likely the only one that ever made it to retailers. They are exceptionally rare, and came with either silver or the rarer — but in my eyes, less attractive — black dials. This example is just the sixth ever to appear at auctions and comes with a presale estimate of €100,000 (RM458,810) to €130,000. The price feels right, considering that there are both hammer fees and likely import duties, depending on the final destination.
The 101.026 is one of my favourite watches, and I owned one for many years. It remains one of the best "sleeper" watches of all time, and I am excited to see how this one does. It is the first to appear on the market for a while, and it dates to 1998, coming through a German retailer. We do not know exactly how many were made, though it is generally thought to be 20 pieces. They represent such an interesting time for Lange, and are one of the most wearable "super" watches one can imagine.
Lange 1 reference 101.050 in honey gold
This, my friends, is my absolute favourite Lange 1 of all time. Before we get into why, I have to say that I have owned one of these since it was new, and I will absolutely, positively never sell it. The 101.050 was introduced with hushed breath in fall 2015. This was after the new Lange 1, with a completely redesigned calibre, was shown at the 2015 Salon International de la Haute Horlogerie. There is very little about this reference online because collectors were asked not to speak about it, but Su Jiaxian or SJX does have a nice post on it here.
The watch is basically the ultimate Lange 1 in that it is cased in honey gold, a proprietary alloy that sits between yellow and rose gold but with a hardness that is dramatically more ding-resistant than normal gold. Honey gold was first used in 2010 by Lange and has since been used regularly but sparingly. To me, it is the quintessential Lange material — one I just adore. These watches are the very last to use the original Lange 1 calibre, but they are far more elaborately finished than any other Lange 1 in production history. The German silver three-quarter plates here are frosted, while details are hand-engraved, much as you would find on the balance cock of any Lange. Finally, on the dial side, you have a far more complex dial with a granular finish and recessed subregisters.
Ultimately, reference 101.050, with its proprietary case material and final use of original Lange 1 calibre, but finished to a much higher degree — plus the fact that it is limited to just 20 pieces for the world and was launched under a veil of secrecy — make this an incredibly compelling, rare modern watch. In many ways, the 101.050 feels as if it anticipates the Handwerkunst category of Lange watches, which for many years was considered the pinnacle of Lange watchmaking. It is certainly the most "handmade" of any Lange 1s to date. Its estimate is set to fetch €66,000 to €76,000.
Lange 1 reference 101.001 in yellow gold — with a closed caseback
The final Lange 1 from Dr Crott's upcoming auctions is in a separate sale — an all online sale the following day. But do not think this one is any less special, though it should sell for significantly less. This is the Lange 1 reference 101.001, the very first Lange 1 reference. For the uninitiated, that means this ur-Lange 1 has a solid caseback.
Yes, several of the original batch of Lange 1 watches came with screwed down, solid gold casebacks! These watches are quite rare and interesting, because they are generally very early production watches. The watch at Crott, for example, features movement number 53. It was sold on Dec 23, 1994, less than two months after Lange was reborn at Wempe, Germany. Some might ask "Why buy a Lange when you cannot see the best part?" That is fair enough. But this watch is likely to appeal to the more advanced collector looking for early production watches from the brand's great formative years. It is expected to sell from €10,000 to €15,000.
While these three Lange 1s were all created before the 2015 changeover, it is worth noting how much more refined the current model is, compared with these earlier watches, technically speaking. (It features a thinner movement, which most people do not know.) As only he can, Jack wrote a detailed look comparing the old Lange 1s to the new ones; as you will read, there is a lot to love both ways. — Bloomberg
---
This article was originally published on Hodinkee.