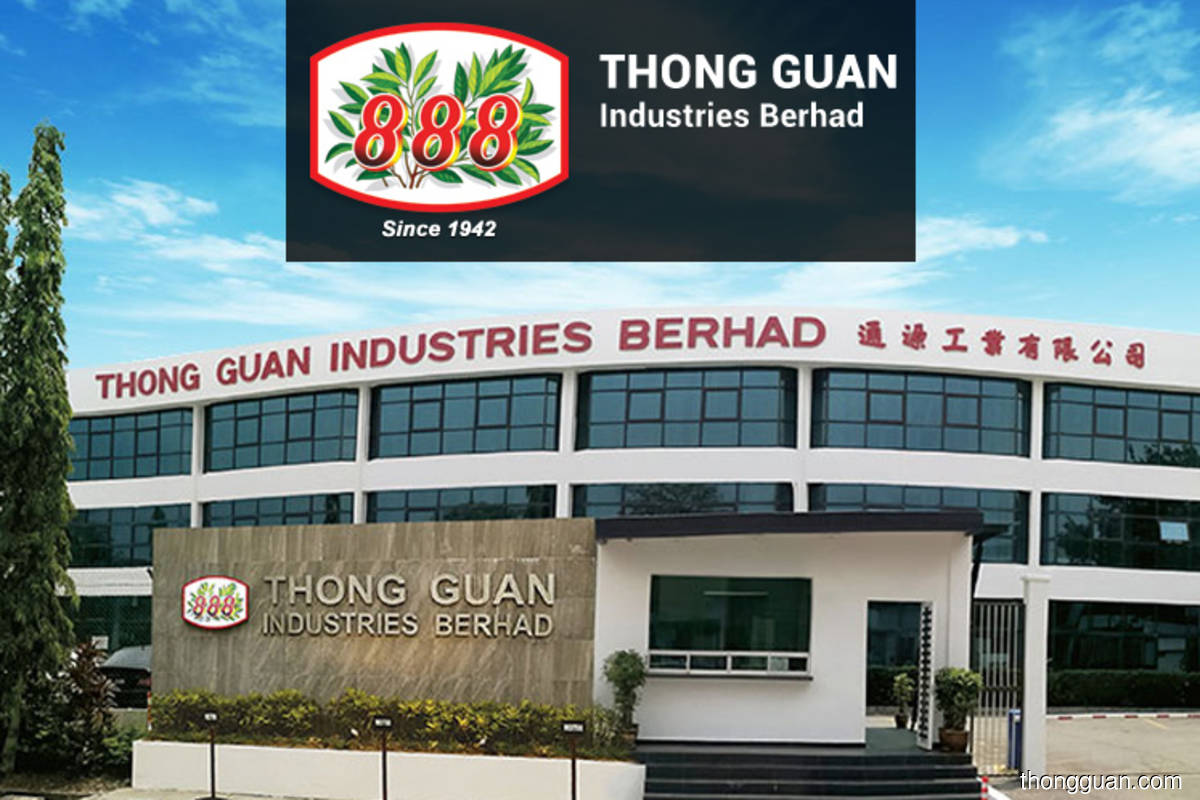 KUALA LUMPUR (May 26): Thong Guan Industries Bhd's net profit for the first quarter ended March 31, 2022 (1QFY22) rose 13% year-on-year (y-o-y) to RM24.6 million from RM21.77 million, on higher average selling prices of its products. 
This resulted in higher earnings per share of 6.39 sen from 5.71 sen a year ago, the manufacturer of stretch film said in a filing on Thursday (May 26).  
Revenue rose 18.03% y-o-y to RM333 million from RM282.14 million, contributed by its plastic packaging products segment, as well as food, beverages and other
consumable products segment. 
Thong Guan also declared a first interim dividend per share (DPS) of 1.25 sen, payable on July 18. This is higher that the DPS of 1 sen in 1QFY21.
According to the group, its plastic packaging products segment registered a higher revenue of RM308.07 million as compared to RM259.32 million recorded in the
corresponding quarter, mainly due to the increase in average selling price of stretch film, industrial packaging, garbage bags, pvc cling film and courier bags in the current quarter. 
Revenue from sales within its food, beverages and other consumable products segment increased to RM24.93 million from RM22.82 million, amid the overall increase in sales of other consumables products.
Profit before tax (PBT) at its plastic packaging products segment improved 11.92% to RM29.95 million. Meanwhile PBT at its food, beverages and other consumable products segment fell 26.74% to 1.37 million due to a drop in sales of tea products.
As the economy recovers from the pandemic, the group said it continues to face an increasing acute shortage of manpower, as foreign workers ended their contract without new replacement and increase in minimum wages and other costs. 
It added that the Russia and Ukraine war and lockdown in China created uncertainty to the global economy and affected the group in many ways.
"In 2022, the group's capacity expansion plan will include the installation of six production lines comprising three premium stretch film lines and three premium blown lines. Upon their full commission, the group's yearly production capacity will increase by 50,000 tonnes.
"Barring any unforeseen circumstances, the group expects to continue to grow all of its business units," it added. 
Thong Guan shares ended up three sen or 1.3% at RM2.33 on Thursday, valuing it at RM903.97 million. The stock has declined 19.78% year-to-date from RM2.81.