This article first appeared in The Edge Malaysia Weekly, on July 30, 2018 - August 05, 2018.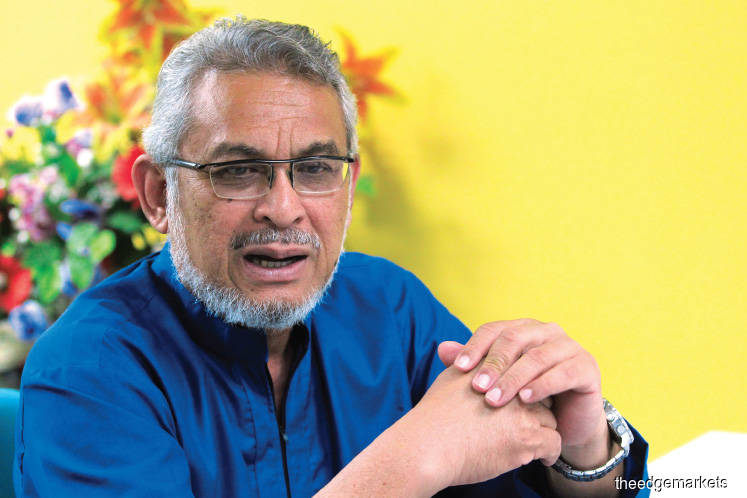 IN an interview with The Edge, Federal Territories Minister Khalid Abdul Samad speaks slowly, weighing his words. This could be because the subject of the interview — land grabbing in Kuala Lumpur — is a sensitive one. Also, it is being investigated by the Malaysian Anti-Corruption Commission (MACC) and may implicate a number of prominent individuals from the previous government.
Or could it be because the new minister is still trying to find his footing in the ministry? Nevertheless, Khalid has promised changes at Dewan Bandaraya Kuala Lumpur.
Here is an excerpt from the interview.
The Edge: We had some difficulty with DBKL; we couldn't get a list of how much land it even has. There seems to be so much secrecy...
Khalid: All the [reports on the] 64 pieces of land have been submitted to MACC officially for investigation. Because of that, we are under instructions not to talk about it.
A gag order?
In a way. We are aware that MACC has taken all the files and is doing the investigations, so it's normal for us not to make any comments about it. We will wait for MACC to come back with its report.
At that point, maybe I will make a statement if MACC's investigation is not to my satisfaction. If certain areas are not covered or no proper explanation is given, then I will make comments.
The investigation was slated to start after Hari Raya. Has it?
All the files have been submitted.
Was the land grabbing rampant?
(Laughs) A lot, all the time. In the past, there was no transparency, so when there are no checks and balances, it's very likely that it was something of a normal practice. When you give people so much freedom and authority, there is always a tendency that it will be misused.
Is there any figure to show how much land DBKL has now, after parting with the 64 parcels? What about other government agencies? Is there a figure to show how much land the government has? Is it difficult to obtain?
I asked for it. I think they (DBKL) gave (me) a number but I don't have it with me now, the one that excludes the transactions that have been done.
On the list of the 64 parcels that were sold, there are also some land acquisitions by Datuk Bandar Kuala Lumpur. Is that common practice?
That is also something that is rather odd. But then again, there may be a need — when developers are not able to develop it (the land), then DBKL may decide to increase its land bank, depending on the details of the deal. It may be something that is advantageous to DBKL.
Have you investigated this?
No, I have not. I have only been here for two weeks. And I don't see myself taking the role of MACC. So I believe I have to strengthen the safeguards and plot the direction for the future. This includes the question of cleanliness, services, utilities, the back lanes, hawkers, the river of life, a lot of things, and these are my responsibilities.
More people-centric measures as opposed to business…
Yes, more people-centric with the emphasis on making the quality of life better as opposed to all this over-development.
Sorry to bring this up again but we hear that plots of land under KTM — Railway Asset Corp Sdn Bhd, to be exact — with some belonging to Indah Water (Konsortium) Sdn Bhd, where 18 sewage ponds are located, have been sold. Have you heard about it?
Yes, yes, but I believe RAC is under the Minister of Transport as KTM is under him, but Indah Water may be under the Ministry of Environment. Maybe, some land was allocated to it for the building of treatment plants but it sold the land. I am not sure. Give us time to sort out all these issues.
We can only handle the complaints. Once we receive them, we direct them to the correct investigating authority.
So, are you going to look into the sale of the 64 parcels?
I will let MACC carry out its investigation and I will see the explanation given.
YB Lim (Lip Eng) suggested that if the developers underpaid for the land, they will have to fork out the excess to Tabung Harapan Rakyat…
It could happen … I will get the suggestions and it's subject to what MACC finds out and recommends.
Are there other plots of land around that have also been sold?
Yes, there are. We are also compiling. The actual number, I am told, is more than 90 plots.
Any value to the land sold?
I don't have it off-hand. I can get the information, if and when necessary, but the ones we have not handed over to MACC, we are doing our preliminary investigation. If it needs to be submitted, we will.
Were the additional plots owned by DBKL as well?
In most cases. This is land that should have been kept as our land bank, for future development, but it was sold for various reasons.
How about the pricing? Was it friendly?
That's what makes it a scandal, No 1. No 2, the approvals after that and what it was supposed to be used for — the land use was for something else. So, these are all issues that have to be sorted out.
I have not gone into the land issues in detail; I have the list.
So, more land was sold, more than 64 parcels…
The ones mentioned by YB Lim, the 64, have been acted upon. We will follow up on the balance.
Were the parcels sold to the same groups?
The issue became sensitive because the buyers of the land were the same people. That was the big question mark, the first red flag, I suppose. I can't comment too much on it; it is being investigated.
Is getting to the bottom of this a priority of yours?
My priority is to get this investigation done by MACC, which I have done. We are giving priority, getting to the bottom of things indirectly, which is the right way, I think.
Anyway, I think the biggest challenge is to tighten all the safeguards, to make sure this doesn't happen anymore … that is my role … to investigate is MACC's role.
Sounds challenging…
Of course. It starts from the top, then it trickles down … we have to start somewhere. That's where some of the institutional reforms come in. And then we need to get the civil servants, all the staff in DBKL, to be with me on this agenda. That is very important.
How have you been received so far?
So far, it has been okay. They are very happy that I'm not acting like a mad man with an axe, chopping off people's heads according to my whims and fancies … I give them the opportunity to get on board with this agenda … I understand that most, especially the lower-ranking staff, were forced into certain actions that they were not completely in agreement with.
So, that is what happened in the past?
Yes, but the top management cannot use that as an excuse, even though that is what they are saying now … when you are top management, you are supposed to speak out against this [kind of actions], but we will have to see on a case-by-case basis.
If they themselves were getting kickbacks, then they were accomplices to the crime. If not, if they were doing it because they were instructed to do so, then maybe there is some room [to negotiate].
Has anyone spoken to you … from the ministry or DBKL?
A few have. At DBKL, they told us that the way in which they operated in the past was [there was] just an instruction from the minister, and that's it … nobody questions, [at least] that's what they say.
Save by subscribing to us for your print and/or digital copy.
P/S: The Edge is also available on Apple's AppStore and Androids' Google Play.