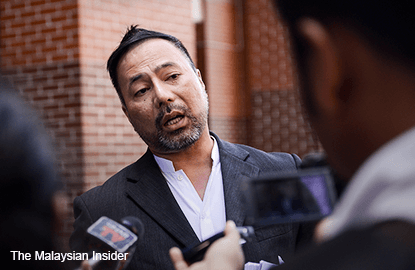 (Dec 2): Recently released after being detained two months for lodging reports overseas against 1Malaysia Development Berhad (1MDB), Datuk Khairuddin Abu Hassan said he was driven to do so because Malaysian authorities did not seem to show interest in investigating the scandal.
The former Umno division leader lodged reports with five foreign authorities, saying his numerous complaints filed here had not been taken seriously.
"I made seven police reports at the Dang Wangi police station but no action was taken by the police. I made them beginning December 12, 2014 to July this year," the 53-year-old Penangite, who was Batu Kawan Umno division vice-chief, told The Malaysian Insider, adding that reports were also lodged with the Malaysian Anti-Corruption Commission (MACC).
After lodging reports with agencies in Switzerland, Hong Kong, France, Singapore and the United Kingdom, he was prepared to meet the Federal Bureau of Investigations (FBI) in New York.
But one day before his flight, he was arrested, and subsequently jailed.
Khairuddin, a vocal critic of the 1MDB scandal, and his lawyer Matthias Chang, are among the few to be detained under the Security Offences (Special Measures) Act, or Sosma, a law meant to stop terrorists and militants.
Rights groups have condemned their detention as proof that the Najib administration was abusing Sosma.
They were released on bail on November 18, after the Kuala Lumpur High Court ruled that Sosma was not applicable to detain them any further.
Khairuddin, a father of four, said he felt compelled to go to foreign agencies after Putrajaya made changes to its 1MDB probe as well as the Public Accounts Committee's (PAC) investigation.
This followed the removal of Attorney-General Tan Sri Abdul Gani Patail, while heading a special task force investigating 1MDB and the RM2.6 billion channelled into the prime minister's personal accounts.
Putrajaya also promoted three PAC members to the Cabinet in a reshuffle, temporarily halting the investigations.
PAC chairman Datuk Nur Jazlan Mohamed, known for his stance against misuse and misappropriation of public funds, was made a deputy minister.
"I was perplexed why three PAC members, including Datuk Nur Jazlan, were appointed deputy ministers. Why did Najib appoint them when they were in the midst of their investigation of 1MDB?
"They should have finished the probe first and then they could accept those posts.
"They accepted the posts and the PAC investigation stopped, what was the motive? So when there was no action, I was confident that money was being laundered overseas.
"That is why I went to London, Switzerland, France and all these places to lodge police reports."
Khairuddin said his actions were his responsibility to the country and his right as a citizen.
"It is allowed under the law and the Constitution. I did it to urge the police to investigate the current situation like what the Sarawak Report and The Wall Street Journal reported."
Prison, he said, has only bolstered his spirits to pursue the 1MDB issue and campaign against Prime Minister Datuk Seri Najib Razak.
"Imprisonment is a process that is part of the struggle. This is the risk that we have to take. I thank God that while I was in jail I did not become weaker but stronger and tougher," he said.
TMI: Can you tell us your experience being in prison for two months?
Khairuddin: The experience was important because I have never been in a lockup. So it was a learning experience. There was nothing untoward, I was treated well. I do not know about the senior officers but the low-raking ones were quite good and I commend them for their high level of professionalism.
I was not given special treatment but I was treated well. I was in the Dangi Wangi lockup for 24 days but after contracting dengue, I was warded at the Kuala Lumpur Hospital for 11 days.
TMI: Were you put together with other inmates or separated?
Khairuddin: In my lockup there was one other guy with me. There was no mixing. But after my 19th or 20th day, my lawyer Matthias Chang was detained and he was put in my cell. So then there were three of us.
TMI: Why have you been insistent in lodging reports about 1MDB?
Khairuddin: This is about saving our country, not bringing down the government or Umno. This is a struggle and I want to fight for the truth.
TMI: There are claims that your actions were backed by (former Prime Minister) Tun Dr Mahathir Mohamad. Is this true?
Khairuddin: It has nothing to do with Tun M. In my campaign against 1MDB I have not discussed it with Tun M. This is my struggle. I was vice-chief of the Batu Kawan division. I was chosen by the Umno grassroots and the people.
As a vice-chief I was told to fight corruption, so I fought against it. I am not a lackey of Tun M. If I were his lackey, I would already be made a minister. That claim is a malicious, irresponsible view which tries to implicate  me and create a conspiracy that does not exist.
When I went overseas to make police reports I brought my lawyer with me so that I did it according to the rules, with the advice of my lawyer. My lawyer was rendering his services to me, but why was he also arrested with me? This has never happened in the history of the world. A lawyer being arrested along with his client.
TMI: The claim that you are close to Dr Mahathir is because the connection between Matthias and Dr Mahathir. Isn't Matthias also his lawyer?
Khairuddin: No, Matthias is Tun M's former political secretary, not his lawyer. My family lawyer is Hanif Khatri Abdulla. But when I was lodging the police reports, I asked him (Matthias) to come along to advise me on how to make proper reports overseas and to be my witness, so that the reports were done according to the proper channels and laws. He also has 40 years' experience as a lawyer.
TMI: If true there was no connection with Dr Mahathir, why was he at court the day you were released?
Khairuddin: I have nothing to do with Tun M. He is a statesman. To him I am nothing. Maybe he appreciates my campaign against Najib. Maybe he came to court to give me moral support after I was arrested. I did not know he was going to be there.
TMI: Recently you supported the campaign to free (former opposition leader) Datuk Seri Anwar Ibrahim from jail. Why did you change your stance since in the past, you published the book "50 reasons why Anwar cannot be Prime Minister"?
Khairuddin: That's true I published the book in 1998. When Anwar did something wrong I acted, so now when Najib did something wrong I act (against it).
We cannot be selective in our struggle. When our president did something wrong we have to admit it and think of ways to save the party. – The Malaysian Insider