This article first appeared in Personal Wealth, The Edge Malaysia Weekly, on November 4, 2019 - November 10, 2019.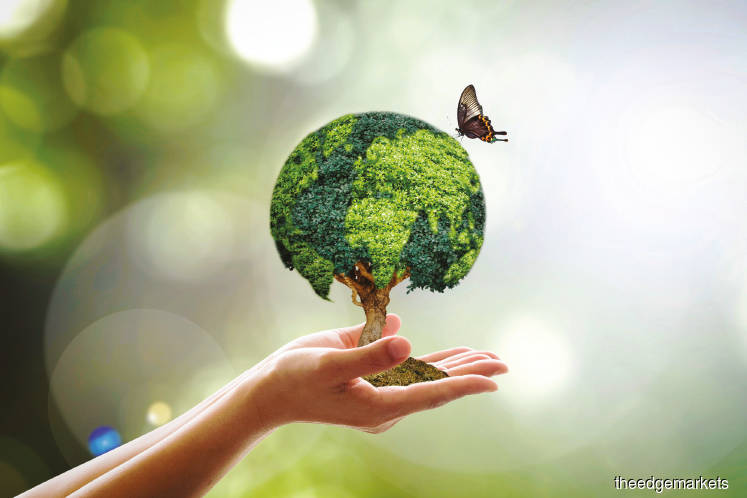 More Asian investors are beginning to include the impact of environmental, social and governance (ESG) issues in their investment decisions. However, financial markets in this region are not as concerned about these issues as those in other regions, although the gap is quite narrow, according to HSBC's Sustainable Financing and Investing Survey 2019.
The findings indicate that Asia closely follows Europe and the US when it comes to embracing sustainable finance and investing. According to the survey, 86% of investors and 84% of issuers in Asia believe that ESG issues are important considerations. This compares with 96% of investors and 97% of issuers in Europe and 100% of investors and 98% of issuers in the US.
The report says Asian investors feel less inhibited in pursuing ESG investing, with 39% saying there are issues holding them back, compared with 61% globally. On the importance of sustainable investing, 31% of investors say ESG issues are "somewhat important" to them while 55% say these are "very important", which is not far behind the global average of 30% and 64% respectively.
The number of indifferent investors stands at 14%, compared with 6% globally. "This may reflect lower external pressure to consider environmental and social factors. The demand from regulators, customers, non-governmental organisations and employees is felt more weakly in Asia," says the report.
The figures are similar among Asian issuers, 15% of which are sceptical about ESG matters or do not have a view, compared with 7% globally. "But more telling are some other differences, which show the dynamics affecting the development of sustainable finance. When it comes to action, Asia is catching up," says the report.
"[Some] 49% of investors have a firm-wide policy on ESG issues, against 62% globally. But another 35% intend to develop one, meaning that only one in six are not moving on this issue or do not know whether their organisation has a policy."
The authorities in Asian markets such as mainland China, Hong Kong, Singapore, Indonesia, Malaysia and Thailand have taken steps to encourage green and sustainable finance, particularly green bonds, says the report. However, it notes that the steps taken vary widely and that mainland China has gone the furthest in mandating the greening of its financial system.
While Asian investors say there are fewer obstacles preventing them from investing according to ESG principles compared with other regions, three of them stand out — a lack of attractive opportunities (22%), an inconsistency in ESG definitions (18%) and a lack of disclosure by issuers (18%). "The last may not be surprising, considering that Asian issuers, by their own declaration, disclose less than those in other areas," says the report.
Almost a quarter of issuers in Asia (24%) say they do not disclose ESG issues at the moment — double the number in other regions. Issuers here also feel less pressured to increase their disclosure. Meanwhile, about 10% of issuers say their present level of disclosure is too much while one-third believe that their current level of disclosure is about right and feel no pressure to increase it.
"Only 18%, compared with 28% globally, think disclosure [levels] will increase and welcome this while 15% expect an unwelcome obligation from regulators or investors to disclose more. The conclusion would appear to be that regulators and investors should crank up the pressure on issuers if they want better disclosure," says the report.
The number of issuers in Asia that expect to make no adjustment to their capital allocation in five years in response to ESG issues stands at 6%, which is lower than those in Europe or the Americas. "Among those that will shift capital, however, more issuers expect the change to be slight," says the report.
It highlights that Asian investors could do more on the disclosure aspect too. They are closer to international norms than issuers, but only 18% to 19% are disclosing the ESG characteristics of a portion of or their entire portfolio (globally, it is 24% to 26%).
The report also highlights that Asian investors' convictions on sustainable investing have more to do with risk and return compared with elsewhere in the world. Valuations are the most important driver for investors in Asia when it comes to caring about ESG issues, with 62% citing this, which is the same as the global average.
"But the share believing it can improve investment returns or reduce risk is higher [in Asia] at 58%, against 54% globally. And only 8% of Asian investors, compared with 12% globally, are convinced that responsible investing always entails accepting lower returns or higher risk. [A total of] 19% in Asia, more than the global average of 17%, see responsible investing as an attractive way of trying to generate outperformance," says the report.
However, ESG investing in Asia is not just about improving financial results, as 43% of investors — compared with 38% in Europe and 36% in the Americas — say they consider the effects of their investments on the real world.
"Among issuers, a similar pattern emerges. Values are the most important driver — as elsewhere, although less dominant in Asia — at 58% of issuers against the 65% average. The belief that paying attention to the environment and society can improve returns is held by 47% of Asian issuers, more than in any other region," says the report.
The Asian survey was done based on analysis of 175 issuers and 175 investors in markets such as mainland China, Hong Kong, Thailand, Malaysia, Singapore and Indonesia.