This article first appeared in Personal Wealth, The Edge Malaysia Weekly, on April 27, 2020 - May 03, 2020.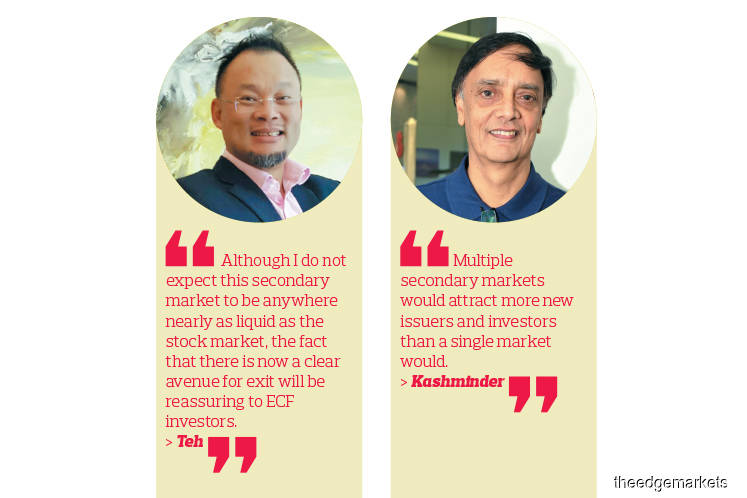 Photo by Low Yen Yeing/ The Edge Property
The recent measures announced by the Securities Commission Malaysia (SC) for the equity crowdfunding (ECF) industry will not only provide better access for issuers but also enhance ECF's viability as an asset class, say the platform operators.
On April 16, the regulator announced three key measures. It would increase the upper limit for ECF fundraising to RM10 million from RM5 million per issuer, allow platforms to operate secondary trading and double the government's co-investment efforts in ECF campaigns.
pitchIN co-founder Kashminder Singh says these have been very progressive moves on the part of the SC and he expects more investors to see ECF as a viable asset class. "Now that RM10 million fundraising rounds are possible, we are in a position to attract high-net-worth investors to the ecosystem. Naturally, this will add more diversity and depth to the growing pool of ECF investors." 
MyStartr founder Goh Boon Peng says this is very exciting news for the platform as these measures make ECF a more compelling option for issuers. He adds that the raising of the upper limit will allow issuers much more leeway to offer equity at rates that better reflect their valuations and fundamentals.
Much of the excitement went to the announcement of a secondary market, a move that will soon enable ECF investors to trade their equity holdings with others. CrowdPlus.Asia founder and CEO Max Teh says this is a potential game changer. "Although I do not expect this secondary market to be anywhere nearly as liquid as the stock market, the fact that there is now a clear avenue for exit will be reassuring to ECF investors."
Kashminder is thrilled about the announcement. "As a matter of fact, we at pitchIN have been planning our strategies for the secondary market since mid-2018. In fact, we are planning to submit an application to operate a secondary market as soon as possible this year."
Meanwhile, Ata Plus co-founder Elain Lockman tells Personal Wealth that the secondary market could be just the catalyst to encourage more investors to actively explore the ECF ecosystem. 
Another announcement was that the government's co-investment commitment — the My Co-Investment Fund (MyCIF) scheme — would be raised from an investment ratio of 1:4 to 1:2 from April 16 to Sept 30. 
"I think it is quite encouraging that the MyCIF ratio was doubled at this point in time, when our economy is facing uniquely difficult challenges. The government recognises that small businesses need to remain viable and continue employing as many people as they do. I think this move also speaks of the confidence that the government has in the small business community," he says. 
To merge or not to merge
While players welcome the move to allow a secondary market to operate, there are mixed views among industry players as to the shape and function that it ought to take. Some industry players are in favour of a joint secondary market, one that would allow all ECF platform operators to list their qualifying issuers. This has been suggested by CrowdPlus' Teh and MyStartr's Goh.
Meanwhile, pitchIN's Kashminder and Ata Plus' Elain favour an individual approach. This would entail having multiple secondary trading platforms, controlled and operated by individual platform operators.
In Teh's opinion, the question of a joint or individual secondary market will have a big impact on liquidity and market depth. Indeed, one of the principal arguments employed by ECF platform operators over the years has been that a secondary market would provide much needed liquidity for the asset class. 
"A joint secondary market — one that all ECF investors will be invited to participate — is the preferable option for me. A market that becomes a focal point for all secondary trading would arguably enjoy greater liquidity and activity than multiple secondary markets. It would also be more cost-efficient to build and operate," says Teh. 
According to Goh, the relatively new and growing ECF ecosystem has yet to develop critical mass in terms of investor numbers and trading volumes that would be able to support multiple secondary markets. "I don't rule out the possibility of having multiple secondary markets much further down the line, once ECF has gained mainstream appeal. However at present, when there are so few ECF investors to begin with, I do not see the appeal of spreading this already small number across multiple secondary markets," he says. 
He adds that he would be in favour of allowing new investors — those who have never signed up with any ECF platform operator — to participate in the secondary market as a way to shore up liquidity.
On the other hand, Kashminder believes that operators should be allowed to pursue their own strategies and goals where the secondary market is concerned. "I believe that investors will ultimately benefit from having a multitude of options to choose from. After all, there have been multiple ECF platform operators in Malaysia over the last few years, with no detriment to the market. In fact, the abundance of choice means that both issuers and investors can shop around for the ECF platform that best suits their needs and preferences," he says. 
"This is exactly how I feel about the secondary market as well. The existence of multiple secondary markets will have a strong positive impact on new issuers and investors alike. The net result is that multiple secondary markets would attract more new issuers and investors than a single market would."
Given how recently the announcement was made, Elain believes there will need to be an internal discussion among the platform operators.. To this end, the fledgling alternative financing ecosystem (comprising both ECF and peer-to-peer financing platform operators) has been organised under its own association for some years now: the Registered Digital Markets Association of Malaysia. It is currently headed by Elain. 
"With the announcement [of the secondary market] finally being made, we in the ecosystem will have to discuss the best way forward. It is important to note that each platform operator has its own long-term plans and individual requirements for fundraising," she says.
"These plans will not necessarily overlap with one another. In fact, each operator will likely have its own specific reasons and time horizons for launching a secondary trading platform. 
"While general approval has been given, the SC has also stipulated that interested parties are required to undergo an application process. The regulator has clearly defined the prerequisites that need to be fulfilled by ECF platform operators that wish to operate a secondary market, in Sections 13.27 to 13.37 of the updated Guidelines on Recognised Markets, before final approval is granted. "
She adds that the best way forward will be one where the interests of both issuers and investors are maximised.