This article first appeared in Personal Wealth, The Edge Malaysia Weekly, on January 27, 2020 - February 02, 2020.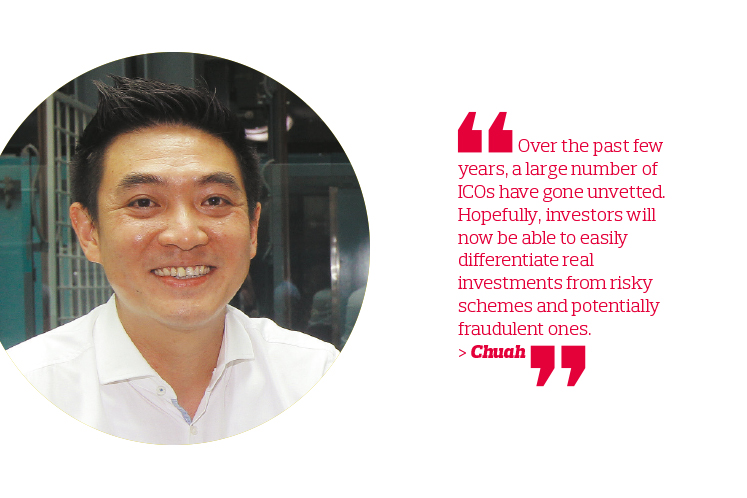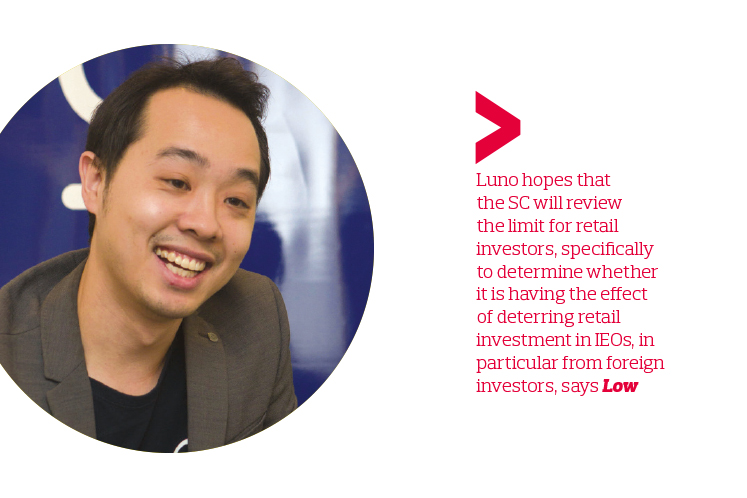 Local cryptocurrency players welcome the Securities Commission Malaysia's (SC) recent release of its Guidelines on Digital Assets as it will provide a safer environment for investors, issuers and stakeholders. The guidelines provide the framework for fundraising via digital token offerings in the country.
According to the SC, these offerings can only be carried out on an initial exchange offering (IEO) platform registered with the regulator.  This is unlike initial coin offerings (ICOs) in other parts of the world, where the tokens are sold directly to investors.
With the guidelines, investors will have peace of mind, knowing that they are putting their money into an asset issued on a regulated exchange and monitored by the local authority, says Kelvyn Chuah, co-founder of SINEGY Marketplace. "Over the past few years, a large number of ICOs have gone unvetted. Hopefully, investors will now be able to easily differentiate real investments from risky schemes and potentially fraudulent ones."
Bobby Ong, co-founder of CoinGecko, concurs. He points out that although the SC announced last year that no one was permitted to offer or issue any digital tokens in Malaysia pending the issuance of its guidelines, there were still some money game schemes that claimed to leverage blockchain technology to entice investors.
"The schemes continue to exist because people are inherently greedy. Financial literacy is also quite low among Malaysians and those who run the schemes are confident they can get away without getting caught," says Ong.
"The authorities typically act on complaints. By the time a complaint is issued, the operators of the scheme would have already gone missing, along with the money they raised. That is why I think strict enforcement in this space is necessary."
An ICO is a crowdfunding exercise where a company creates a digital coin to raise money for its projects or operations. The coins may represent a stake in the company or project, or can be utilised to acquire its products and services. Despite emerging in 2013, ICOs only took off in 2017, when the software for these offerings was standardised in the market.
ICOs emerged at a time when the cryptocurrency space was largely unregulated. As a result, the space gained a bad reputation for various problems related to scams and fraud, on top of insufficient disclosures and inadequate investor protection. Most of the ICOs were unvetted, though some were vetted by the community, not regulators.
A July 2018 study by ICO advisory firm Statis Group found that about 78% of the ICOs thus far had been identified as scams. Only 15% of the ICOs were traded on an exchange, 4% failed and 3% have gone dead (not listed on an exchange and no code contribution on software development platform Github on a rolling three-month basis).
One of the largest ICO scams was PlexCoin, issued in 2017. Promising a thirteenfold return in less than a month, the ICO managed to raise up to US$15 million from thousands of investors.
According to news reports, the sale of the tokens was based on several false and misleading statements to investors, including the size of the company's operations, amount of funds raised and how these would be spent. In its final judgment, the US District Court for New York ordered the operators of PlexCoin to pay nearly US$7 million for selling unregistered securities.
In Malaysia, some of the questionable ICOs included EcoBit, a digital token that was said to be part of a carbon credit programme under the United Nations, although the intergovernmental organisation has denied any association with EcoBit Asia Sdn Bhd, the company behind the token.
Other examples are Farad Energy, which sought to issue the first cryptocurrency backed by real economic activity but has gone quiet, and CopyCash Foundation, which was looking to launch an ICO for its
CopyCashCoin before being shut down by the SC.
IEOs, not ICOs
The global ICO landscape has evolved. Instead of issuing ICOs, companies are now issuing IEOs, or tokens that are being sold on a cryptocurrency exchange. A notable example of an IEO platform would be Binance Launchpad, owned by Malta-headquartered Binance, which is one of the world's largest exchanges by trading volume.
In Malaysia, the obligations of an IEO platform operator include carrying out due diligence and assessment of the issuer, assessing the issuer's whitepaper, ensuring that the issuer complies with the requirements of the Digital Asset Guidelines and implementing anti-money laundering policies and procedures. Those interested need to be registered as a Recognised Market Operator with the SC.
Ong says this is similar to the regulations in Thailand, where the offering of digital tokens can only be done through the country's Securities and Exchange Commission-approved portals. The portals are obligated by law to conduct due diligence and a screening process.
Applications for the licence to be an IEO platform operator in Malaysia will be open once the guidelines come into force in the second half of the year. As the eligibility requirements are similar to that of digital asset exchange (DAX) operators, SINEGY may apply to be an IEO platform operator, says Chuah. However, he acknowledges that the company may not be able to undertake the obligations set by the SC on its own. So, it may collaborate with other parties for their expertise.
"With great power comes great responsibility. Helping companies raise up to RM100 million will not be easy. It is not a small amount by any means," says Chuah.
Hong Qi Yu, founder and CEO of Tokenize Xchange, says the company is interested in applying to be an IEO operator, although its current focus is still to become a fully approved DAX operator. Last year, Tokenize and SINEGY received conditional approval from the SC. The companies are in the process of meeting all regulatory requirements to be granted full approval.
Tokenize had the experience of raising its own IEO in Singapore last year. At the time, the cryptocurrency markets were in a decline, so the response was lukewarm. The investments were mostly made by accredited investors, says Hong.
Malaysia-based gold trading platform HelloGold raised funding via an ICO in 2017. Founder and CEO Robin Lee thinks the SC's Digital Asset Guidelines add certainty to the local cryptocurrency market — something that is seen as a positive development overall. However, he does question the limit imposed on retail investors, which is RM2,000 per offering and RM20,000 per year.
"I can understand the sentiment behind the limit as companies that would issue tokens are typically start-ups with a high probability of failure. There needs to be a rule in place that protects retail investors from undue and excessive losses. However, my preference is always for investors to put in what they can afford from a risk perspective," says Lee.
There is also a limit imposed on angel investors, which is RM500,000 per year. Sophisticated investors are not subject to any investment limits.
Luno general manager for Southeast Asia David Low says the company supports the tiered limit structure and recognises that lower limits for retail investors are essential from a consumer protection perspective. However, the company hopes that the SC will review the limit for retail investors, specifically to determine whether it is having the effect of deterring retail investment in IEOs, in particular from foreign investors.
"On this point, we note that in Malaysia, equity crowdfunding platforms have a maximum limit of RM5,000 for retail investors, which may be a more effective figure," says Low.
Chuah points out that according to his interpretation of the guidelines, the limits imposed are only for the primary market. It is very likely that there will be no limit to trade the coins on the secondary market.
According to the guidelines, each token issued must be accompanied by a whitepaper, which needs to provide investors with information on the digital token, issuer and how the funds will be used.
An issuer must meet the existing requirements of the SC and Bursa Malaysia if it issues a digital asset that is an existing type of security such as unit trust funds, bonds, warrants and options. In the case of a digital token that serves as a payment instrument, the digital token may only be used in exchange for the issuer's goods and services, as disclosed in the issuer's whitepaper in what the SC terms as a closed-loop system.
Low says Luno supports the closed-loop system and recognises the benefits it may have in terms of consumer protection, at least as an initial measure. "However, the restriction could have the effect of deterring some investment, particularly in the circumstances where tokens become interoperable and investors seek a broader use case.
"We are confident that the SC intends to keep these guidelines under review and, in due course, make the changes necessary to ensure they continue to protect consumers and promote investment in the industry and Malaysia."
In any case, Felix Neoh, director of financial planning at Finwealth Management Sdn Bhd, says investors should not just jump on the bandwagon simply because the space is now regulated. Instead, they need to assess carefully whether digital assets such as cryptocurrencies are suitable to complement their portfolios, considering their risk appetite and goals.
"From a financial planning perspective, of course we are interested to know how digital assets can help our clients diversify. But the allocations have to be in line with one's risk profile. Digital assets are still very new in the country, so they will most likely be considered as riskier assets. Hence, I think investors need to be mindful of how many investable assets they are able to allocate to IEOs — perhaps a maximum of 5%," says Neoh.
He recommends that investors do not immediately invest in the first IEO issued to gain a first-mover advantage. Due to the uncertainties that are still clouding the space, he thinks investors will benefit from taking a back seat and becoming an active observer, at least in the early stages.