This article first appeared in Personal Wealth, The Edge Malaysia Weekly, on May 25, 2020 - May 31, 2020.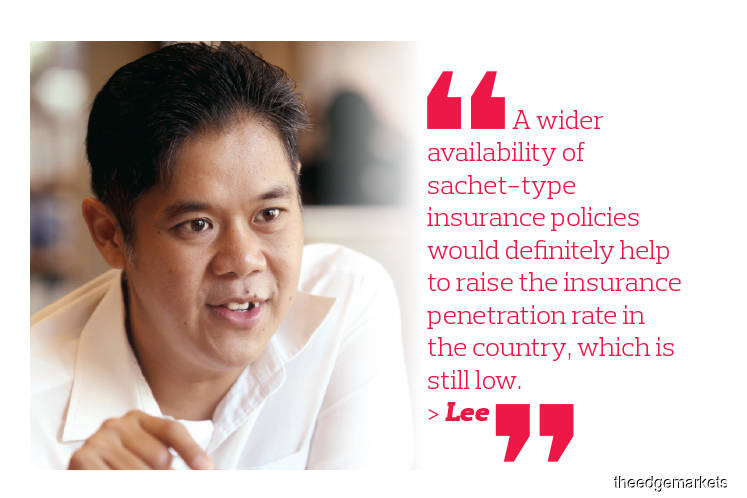 Photo by Mohd Izwan Mohd Nazam/The Edge
Malaysians have been more cautious about their expenses since the beginning of the year due to unfavourable market conditions brought on by the coronavirus outbreak. While this has seen an increase in demand for small-ticket or bite-sized insurance products that meet a specific need, the supply has yet to keep up, according to Lee Yen Ming, co-founder and CEO of insurance technology (insurtech) company PolicyStreet. 
"These 'sachet-type' insurance policies typically have lower premiums and coverage compared with traditional policies. From our observation, we know that Malaysians want more of these types of products, but there is still a lack of such products in the market. A wider availability of sachet-type insurance policies would definitely help to raise the insurance penetration rate in the country, which is still low," he says. 
In 2017, Bank Negara Malaysia set a target of increasing the national life insurance penetration rate to 75% or more by 2020. Last September, then finance minister Lim Guan Eng expressed doubt that the country would be able to achieve this target as the penetration rate was only 55% at the time. 
"Since then, there have been a lot of measures taken to increase the penetration rate, including the mySalam health insurance scheme. But we think more needs to be done to reach the goal," says Lee. 
Seeing this gap, PolicyStreet is working to introduce more sachet-type insurance policies. The firm is planning to introduce policies that either have usage-based or time-based coverage, effectively making the products more affordable to the public. "While we can have expensive and comprehensive policies for more sophisticated customers, we would also like to offer basic products that have been stripped bare for the general population," says Lee. 
"These types of products do not have to be bought using any physical human interaction anymore. When the complexity of the products is broken down, there is actually no need for any further explanation because it becomes simple and easy to digest. For example, customers can buy a policy online that provides them with coverage for dengue and they understand that they are only covered for that specific need." 
Currently, PolicyStreet can only introduce sachet-type insurance products by working with insurers. It does not meet the necessary regulatory requirements to underwrite its own insurance products, says Lee. 
"After we received approval from Bank Negara last year to conduct financial advisory, we were allowed to source, aggregate, compare and customise products and services as well as advise consumers and businesses on insurance products that best meet their needs. But we cannot underwrite and sell policies of our own," he adds.
This may change soon. PolicyStreet is one of the parties interested in applying for a digital insurance licence in Malaysia. The company has been talking with the regulator to provide early feedback on the framework which, when launched, will allow insurtech players to come up with and underwrite their own products, says Lee.
"Our vision is to be a digital insurer that is able to provide customers with sachet-sized customisable policies. For example, to provide customers with a motor insurance policy that only covers them on weekends. Usage-based policies are also possible. For example, we can reduce the premium by 10% if they travel less than 1,000km a month," says Lee. 
"Most insurers today do not want to do this because they already have a sizeable number of customers and scores of agents. The last thing they want is to rock the boat as it will impact their top line. Players such as ourselves do not have this baggage. We do not mind trying it out because we have nothing to lose. We are willing to start from scratch and underwrite our own policies." 
But if this were to happen, PolicyStreet would not be doing it alone. The firm plans to form a conglomerate with other parties such as financial institutions that can provide support when it comes to offering insurance products. 
"I don't think it will take many years before we see Malaysia's first digital insurer because there are already a few players in the more developed countries. It will eventually make its way to our country, just like digital banks. It is a matter of when, and not if, it will happen," says Lee.
PolicyStreet is backed by early-stage start-up influencer Cradle Fund Sdn Bhd and regional venture capital firm KK Fund. The insurtech player raised RM5.2 million during its recent equity crowdfunding campaign (excluding a RM2 million private placement deal) which ended on May 9, far exceeding its original goal of RM1 million on the pitchIN platform. The sum raised will be used to fund the company's expansion as well as applications for certain licences. 
As at March, PolicyStreet had sold more than 40,000 policies worth more than RM4.2 billion in sum assured. It aims to sell 235,000 policies next year.
PolicyStreet is currently focused on getting the Capital Markets Services Licence (CMSL), which will allow it to carry out capital market activities. This licence will enable it to sell investment products that complement the insurance policies it offers on the platform, says Lee. The team is preparing to submit the documents for the application of the licence. If all goes well, it hopes to obtain the licence by the end of this year.  
PolicyStreet is also looking to get an offshore insurance licence from the Labuan Financial Services Authority (Labuan FSA). This will allow the firm to get into the underwriting space prior to pursuing a digital insurance licence. 
"As per our licensing road map, we are hoping to get the CMSL by the second half [of the year]. And in the first half of 2021, we will vie for the Labuan FSA offshore insurance licence," says Lee.
"We recently brought on board two advisers to help us move things along. The first was Kamari Zaman Juhari, an ex-director of Bank Negara. The second was FinTech Association of Malaysia president Mohammad Ridzuan Abdul Aziz, who is a member of Labuan FSA's international advisory panel." 
PolicyStreet is currently the only homegrown insurtech player to have received approval to be a Financial Adviser and Islamic Financial Adviser under Section 11 and 15(1) of the Financial Services Act 2013. This allows it to work with all 47 insurers in Malaysia and provide access to more than 1,000 products.
The firm has onboarded more than 35 insurers on its platform. Through its proprietary application programming interface (API), it is able to connect with these insurers to provide customers with real-time product comparison and payment, says Lee. 
"We are also doing a plug-and-play with the API, working with players like RazerPay to allow customers to purchase insurance policies through their platforms. We are also working with a couple of other big players such as grocery store owners, car dealers and travel agencies to sell the policies that we issue," he adds.