This article first appeared in Personal Wealth, The Edge Malaysia Weekly, on June 15, 2020 - June 21, 2020.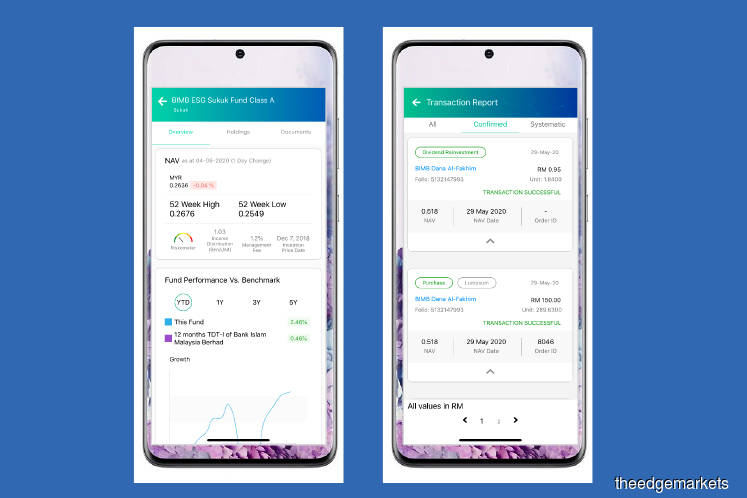 One of the easiest ways to access the capital markets is by investing in unit trust funds. But despite the many efforts to make these funds available to the masses, the instrument is still elusive to them, says Najmuddin Mohd Lutfi, CEO of BIMB Investment Management Bhd.
Technology advancements aside, the unit trust industry is very traditional when it comes to customer engagement and remains relatively costly for lay investors, he says.
The biggest hurdle that limits participation is the cost of entry, Najmuddin explains. Most of these funds have a minimum initial investment amount of RM1,000, followed by a minimum investment of RM100 for subsequent investments.
"If you look at the demography of Malaysia, there are a lot of untapped opportunities at the lower end. With minimum investments of RM500 or RM1,000, many still can't afford to participate in the capital market," he says. Most funds on do-it-yourself platforms also impose a RM1,000 minimum investment amount.
Although many efforts have been made to achieve financial inclusion — a key enabler for reducing poverty and boosting prosperity — most of the focus has been on enabling access to affordable financial products and services such as transactions, payments, savings, credit and insurance.
"When we talk about financial inclusion, we [should] look at it from the financing perspective, not so much from the angle of investing or easier access to capital markets.
"What do we really mean when we think about financial inclusion and income mobility? How does one actually increase their income progressively? This is something that hasn't really been addressed effectively.
"We need to make access to investing in the equities and capital markets easier to really help people grow their income," points out Najmuddin.
Apart from access, other pain points include seamless engagement and investment knowledge, he says.
"A lot of people are still under the impression that investing is only about buying stocks. Even then, they don't invest because they believe that they don't know anything about the stock market.
"Unit trust funds are something that not many are familiar with, but when they are given an introduction and told that there is a minimum RM500 investment to start with, they say they don't have the RM500.
"These problems have been raised in every [financial] conference for years. Most people don't have sufficient investment knowledge, such as what is their risk appetite, what funds they should buy, what return they should expect, what are the sales charges or management fees. So, there are many questions that still need clarity especially when it comes to better customer experience," says Najmuddin.
These reflections have led to BIMB Investment, a wholly-owned unit of Bank Islam Malaysia Bhd, introducing BEST Invest — a first-of-its-kind online investment mobile application platform — to enable access to sustainable funds with an initial minimum investment of RM10.
The platform, which harnesses the power of big data and robo-intelligence, offers a suite of BIMB Investment's shariah-ESG (environment, social and governance) unit trust funds across asset classes that include global equities, Asia-Pacific equities, Malaysia equities, sukuk and money market. At present, there are five funds offered on the platform.
As a Principles for Responsible Investment signatory (an organisation supported by the United Nations), it was important for the Islamic asset management firm to question how it could bridge these gaps, says Najmuddin.
The opportunity arose as more and more digital platforms began leveraging automated, algorithm-driven financial planning services with little to no human supervision, he says.
Based on investors' financial goals and risk tolerance, BEST Invest was created to assist investors digitally to construct an optimal investment portfolio driven by data and analytics, he says.
"This industry is so used to doing so much paperwork, from filling up compliance forms and questionnaires on risk profiles, to product prospectus and much more — which translates into cost. With BEST Invest, there is no need to fill up physical forms and all of the above requirements can be fulfilled in five minutes if one has access to good internet connection," says Najmuddin.
He adds that the digital fund and wealth management platform was built in such a way that investors would be made aware of the risks that come with investing when they go through the fundamental risk-profiling process on the app.
"If you are categorised as a low-risk investor, then the platform will probably not recommend that you invest in an ag­gres­sive equities fund. It is ­nuances like this that help us meet the expectation of the regulators and protect investors," he says.
BIMB's robo-intelligence me­chanism does most of the legwork. The funds are, however, still managed by human fund managers — unlike robo-advisory platforms that have little human supervision — aided by big data technologies, he says.
In a nutshell, investing should be convenient, transparent and cost-efficient, says Najmuddin.
"With the minimum investment of RM10, you can invest and withdraw around the clock. There are no exit fees and no withdrawal fees. We only impose a small management fee, which is already reflected in the price of the fund.
"For global equity funds, the management fee is 1.8%, for Malaysia equities it is generally about 1.5%, for sukuk it is usually 1.2%, and for money markets it is 0.5%. All these are annualised so that they don't take a chunk [out of] one's investments.
"Even if your portfolio is made up of a combination of funds, the impact is so tiny as it is annualised, not charged upfront," he stresses.
The idea behind launching such an app is not to destabilise the agent distribution system but to provide an alternative for investors who do not necessarily need the full suite of services offered by unit trust consultants.
"The BEST Invest app is for investors who are just starting out. But there are clients out there who want to invest RM100,000 or RM10 million, so this is where the real value of the consultant is. The targeted demographic for the app is very different.
"This is unit trust 2.0 because for the first time, we are able to reach out to a wider population. This is to reach out to people who have no access to investments that are similar to the ones available for the affluent segment," he says.
If it were not for the restrictions in place because of the Covid-19 pandemic, Najmuddin says BIMB would have embarked on a series of city-to-city roadshows to promote the new platform.
One of the main target segments are university students. "Many people aren't investing, especially the young ones who are locked in debt because it
is so easy to amass it. For younger children, parents can start investing by setting goals and guiding them through the process. It's a great learning opportunity.
"For students at tertiary institutions, with a starting point of RM10, they can easily start as early as 18 or 20 years of age. Without the right knowledge of money management, they become bankrupt by the time they are 30 years old. This endeavour is to inculcate the habit of investing and saving," he says.