This article first appeared in Personal Wealth, The Edge Malaysia Weekly, on June 17, 2019 - June 23, 2019.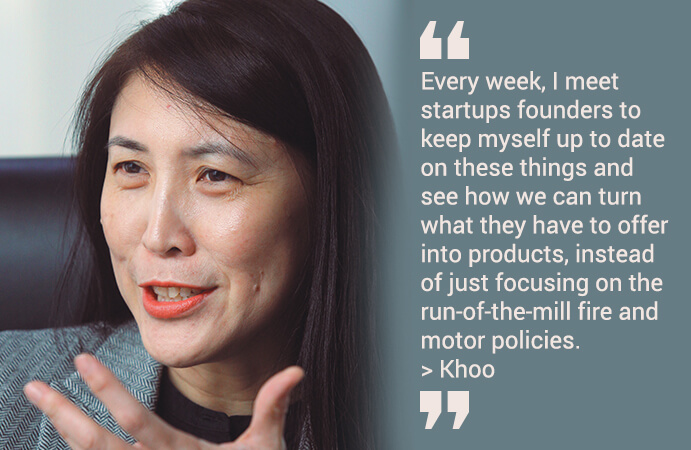 Tune Protect Group Bhd Group CEO Khoo Ai Lin was a fresh graduate just out of university when she took on a job with a bank, handling its mortgages and hire purchase accounts. She went through the work in a pretty routine manner when one day, she was involved in a case, which ultimately, altered her perspective on the role insurance plays in society.
Khoo was tasked to deliver a cheque to a grief-stricken family who had just lost their breadwinner.
"I was asked to deliver the MRTA (mortgage reducing term assurance) claims cheque to the wife. She was so grateful for it.
"But that was such an emotional experience and I finally came to realise the importance of what I was doing. Before that, I had simply been processing loans and packaging the insurance without thinking much about it.
"There I was, as a messenger facing a bereft family and helping them settle the whole outstanding house loan instead of it becoming a burden ... that is when I realise that I have been helping people without knowing the impact.
"It (life insurance) is actually the most difficult thing to sell; you sell a piece of paper with a promise to pay after the person is no longer around. You aren't selling something that the person can enjoy. But you are selling an obligation [to pay] on behalf of that person," she explains.
It was a pretty powerful lesson about the power of insurance in a moment of hardship, and one that she never forgot. A few months later, she received a job opportunity from AIA Malaysia and that marked her foray into the insurance industry.
In a career spanning 26 years, Khoo has worked for multiple insurance firms, including AIG Malaysia, Hong Leong Assurance Bhd and Prudential Assurance Malaysia, covering both life and general insurance.
"Throughout my career, while mentoring or being the head of department, I made sure that my teammates get the chance to deliver a cheque. I tell them that they won't understand meaning of insurance until they have hand delivered a claims cheque.
"Only then will you know the meaning and purpose of the insurance you're selling. Otherwise, it is just a run-of-the-mill job," she says.
It is this wonder that has kept Khoo in the industry for the last two decades.
While she started out in life insurance, Khoo says she took it upon herself to learn the ropes of general insurance.
"I spent the first seven years doing purely life insurance, and in the subsequent seven years, I worked in general insurance. After that, I felt that the next challenge was to be able to do both.
"Thereafter, I joined a composite company and was offered the opportunity to do life and general insurance concurrently. One and a half years ago, I went back to doing general insurance," she adds.
It is her inquisitiveness that left her wanting to explore options that not many companies would venture into. In 2017, Khoo joined Tune Protect Malaysia as its CEO, and has since been ardently working on growing Tune Protect in Malaysia and overseas.
In January this year she was promoted to group CEO, as she was able to spot opportunities where others could not.
Khoo explained that when she took over the helm at Tune Protect, its business was focused on growing its conventional insurance arm, mainly motor and travel insurance.
Tune Protect sells general insurance and most of its revenue is derived from the sale of travel insurance through AirAsia Bhd's flight booking portal. Its travel insurance segment contributes about 70% to group profit while its non-travel general insurance segment provides 30%.
"We asked ourselves, what is our purpose? We needed to manage the business and make sure that it would be sustainable but we also needed to grow Tune Protect and identify new areas of growth," she says.
That was when Tune Protect started concentrating on targeting the subsidiaries of the Tune Group, including the budget carrier AirAsia, mobile network operator Tune Talk Sdn Bhd and Tune Hotels Management Sdn Bhd.
"We had all of the companies readily available in the Tune Group ecosystem that we could actually leverage on.
"So, we drove the business from a partnership perspective and we basically did a tie-up with SubHomes," she adds.
SubHomes is a Malaysian home-sharing platform which is half-owned by Tune Plato Ventures Sdn Bhd, a joint venture between Tune and ECM Libra.
Tune Protect has since extended its business to cover Tune Group's other subsidiaries, such as RedCargo Logistics, Tune Talk and Epsom College.
"There is so much opportunity within the ecosystem itself but most people think it's just AirAsia but there are many more like BIG Loyalty Sdn Bhd, which we haven't touched.
"This is why we are looking at strategic partnerships within the ecosystem and partnership outside the Tune Group ecosystem because we cannot rely on just one, we should look for other opportunities," Khoo says.
One of the recent external tie-ups was with DAX Venture Sdn Bhd, which operates rentDAX — a renting platform to make home renting easy for both landlords and tenants.
Tune Protect provides the insurance coverage (rentPROTECT) for rented properties, rent and negates the need for a security deposit.
rentPROTECT covers home rentals up to RM15,000. The coverage, which is automatically applied when listing on rentDAX, includes a two-month guaranteed rent payment should there be a default, and up to RM30,000 benefits for unsettled utilities bills, cleaning services, repair and replacement of doors, locks and keys as well as theft and burglary by tenants, among others.
Tune Protect has digitalised motor insurance, where policyholders are rewarded for driving less.
"We recently launched PAYD (Pay-As-You-Drive) as part of our detariffication offerings. The liberalisation of the motor and fire tariffs is not just about reducing prices but also to encourage insurers to come out with innovative solutions.
"With PAYD, you get up to a 20% refund from your basic car premium paid upon completion of your 12-month policy. Say if you drive a Toyota Vios and you are a desk-bound person, or you just drive to the MRT or LRT stations to get to work. Your car is used to commute from home to the station and back. While another person who owns the same car model maybe be using it to travel the country.
"Without detariffication, both persons pay the same insurance premium but with PAYD, it is based on the kilometres one clocks in. To use this product, you don't even need to get telematics, all you have to do is use an app on your phone to track the kilometres," she explains.
With newer cars being outfitted with tracking capabilities, Khoo is confident that they will be able to fine tune the product using the latest data.
"Once we have more data and information on the type of vehicles, we can combine that with the driver's profile and roll out PAYD, which is still in its pilot stage, in a larger scale.
Khoo says the partnerships are focused on making Tune Protect a leading insurer in the digitally-driven insurance landscape because that is where the group's strengths lie — which is in amalgamating algorithms and data to produce on-demand, usage-based and behaviour-based products to specific customers.
Other segments that Tune Protect hopes to entice is the millennial population, she says.
"This is a group of people who are not very worried about income protection but they are people who value a certain lifestyle. They are very spontaneous and impromptu, and they want to embark on adventures before they gain other responsibilities in life. So, we want to be able to provide coverage of them. The products for this segment are short-term and on-demand type of policies versus policies with annual premiums.
Understanding that a majority of the demographics are into active pursuits, Tune Protect launched Sports+ last November. The first on-demand protection plan covers a wide range of extreme sports and provides policyholders the flexibility of selecting a cover for a day up to a year.
"Say if you are taking part in a one-off event like a scuba diving trip, and if you buy this product, you are covered if anything
untoward happens.
"Take AirAsia, for example. AirAsia is not just selling airline tickets but they are selling a lifestyle. AirAsia is opening up assess to new countries and cities, at an affordable price, triggering the explorers' instincts. One of the things people often ask us is about the new destination AirAsia is looking to open up.
"So that's we do, we provide cover for lifestyle choices," she adds.
In a similar vein, Khoo says the team wanted to introduce a number of products called "funsurance". However, the idea was scraped due to regulatory limitations.
The idea is simple, to lessen the blow of disappointment on one's travels.
"For example, if you go to Japan just to catch the sakuras in season but you don't see any or the tree has no flowers, all you have to do is take a picture of yourself with the sakura tree, send it us and we will pay you.
"But it was a bit of a challenge turning it into a product ... so, to get it out quickly, we turned it around and made it into a campaign," she says, adding that it is evident that anything can be turned into an insurance product.
"I know of this insurer overseas, where if I were travelling to a different country, I can take an on-demand insurance just before I eat. If I have a tummy ache due to food poisoning and I need to visit a clinic, I can just flash the insurance I had bought and get the treatment for free.
"This product has a great following because travellers to underdeveloped countries don't mind taking such a product or it will an extension of their current policy," she says.
Khoo hopes that Tune Protect will be able to offer such experiences to their policyholders in the future.
Keeping to the theme, Khoo also adds that she seeks to expand the scope of Tune Protect's travel reinsurance business into other retail lifestyle segments, as well as make available its insurance technology (insurtech) globally.
"At the group level, the business has always been on a reinsurance basis. As a reinsurer, we are able to penetrate into the different countries that AirAsia flies to — by the way, we have access to about 65 countries now. Basically, we talk to insurers in respective countries and that insurer fronts policies and insures it back to Tune Protect under the group.
"Tune Protect is registered in Labuan so we can do cross-border insurance. That's the business model, to each country we visit, we make deals instead of setting up our own insurance company.
"Whenever we set up this arrangement, we are bringing the technology to power the service. It is like hiring an enabler to run the reinsurance business.
"But I realise that we not only have an enabler but we have a gem in the form of insurance technology — it is an asset. Not many insurance companies have this capability but because of the sheer nature of the business that we do at AirAsia and the Tune Group, which are driven by technology that enables hassle-free processes, we have developed it in-house instead of outsourcing it to other vendors," she says.
As such Khoo says she felt that their insuretech capability could be used to forge strategic tie-ups with underwriters from various potential countries.
"We felt that instead of using our technology just as an enabler, we could add it as one of the products on our shelves, which means now we have the opportunity to monetise our insuretech platform.
"By doing this we will be able to go beyond just airlines, beyond travel insurance and beyond conventional insurance," she adds.
For starters, Tune Protect is focusing on marketing insurtech solutions, primarily into the Indonesian, Indochina and Middle Eastern markets.
Tune Protect has already signed a memorandum of agreement with PT Asuransi Buana Independent and the Association of Indonesian Tours and Travel Agencies (ASITA) East Java to give the latter exclusive rights to provide digital travel protection for ASITA East Java.
In doing so, Tune Protect hopes to achieve 42 million policies by 2022, which translates into an average of 14 million policies a year. It currently has 28,000 policies a day.
"Ultimately, this venture will be developed as a revenue stream of its own," Khoo says.
She adds that Tune Protect will be rolling policies to cover for foreign workers and small and medium enterprises (SMEs).
"These are packages that covers the employees and their factory, for example, from incidents like accidents or fire.
"We find that SMEs might have insurances but it's in bits and pieces. That's why we are coming up with packages that provide one-stop solutions," she says.
While they are working on these products in house, Khoo says she is constantly on the lookout for external partnerships.
"Every week, I meet startups founders to keep myself up to date on these things and see how we can turn what they have to offer into products, instead of just focusing on the run-of-the-mill fire and motor policies," she adds.
It is this exposure and the ability to explore new frontiers that became the reason why Khoo joined Tune Protect.
"I took up this job because I want to do something different, and this is an organisation that allows you do that. If we never try new things, general insurance will be the same thing forever," Khoo says.