This article first appeared in Personal Wealth, The Edge Malaysia Weekly, on March 9, 2020 - March 15, 2020.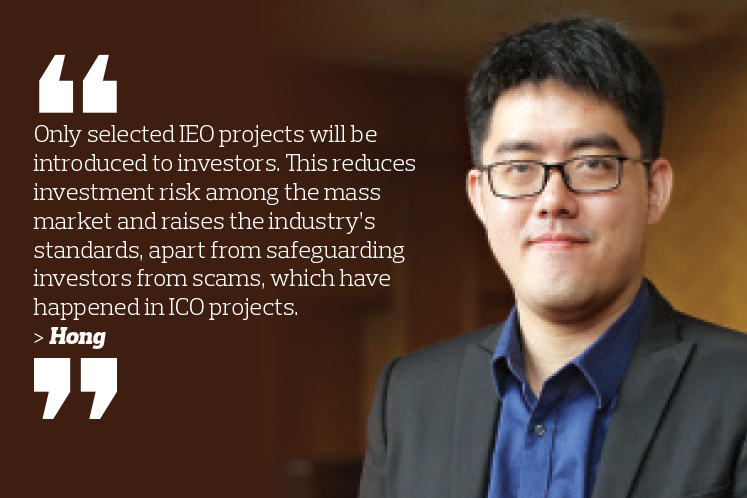 Photo by Kenny Yap/The Edge
Initial exchange offerings (IEOs) are a more attractive alternative to initial coin offerings (ICOs), says Hong Qi Yu, founder and CEO of digital asset exchange (DAX) operator Tokenize. That is because IEOs have governance and review parties to assess the projects, something that ICOs lack.
"Only selected IEO projects will be introduced to investors. This reduces investment risk among the mass market and raises the industry's standards, apart from safeguarding investors from scams, which have happened in ICO projects," says Hong. 
On Jan 15, the Securities Commission Malaysia (SC) released its Guidelines on Digital Assets, which provides the framework for fundraising via digital token offerings in the country. According to the SC, these offerings can only be carried out on an IEO platform registered with the regulator. This is unlike ICOs, the tokens of which are sold directly to investors.
An ICO is a crowdfunding exercise in which a company creates a digital coin to raise money for its projects or operations. The coins may represent a stake in the company or its project, or can be utilised to acquire its products and services. Since 2016, there has been an ICO boom, with issuers rapidly raising money from investors looking for capital gains. 
"Unfortunately, most projects never got delivered. This led to a cryptocurrency bear market between end-2018 and 2019, when new projects found it difficult to execute their ICOs. That was when IEOs were introduced," says Hong.
Cryptocurrency exchanges started to host ICOs and vet the offerings before they were released to the public. "With the endorsement credibility of cryptocurrency exchanges and their own ready audience, the IEO trend started and peaked last year," he says. 
Exchanges mainly select their prospective issuances based on several key factors, Hong explains. First, the exchanges evaluate the project idea presented on its whitepaper. Then, they assess the entire economics of the project's solution and how it flows through the token. 
The project's management and team members are also assessed. The exchanges try to determine whether they can demonstrate their capabilities to ensure the project's success. How they intend to deliver the results is equally important, says Hong. 
"[The prospective issuers] can earn the trust of investors by achieving transparency and presenting clear information on the entire workflow of the token. Projects can establish that they have designed sustainable 'tokenomics' by showing how the tokens will be used in the ecosystem, who will benefit from them and the limit to the number of tokens issued. This will set their project apart so they become more appealing to the exchanges and investors."
Singapore-based Tokenize has launched its own IEO project before. The token — Tokenize Emblem (TKX) — raised about US$12 million (in ethereum when its valuation was US$800 per coin) in less than two months. 
"Subsequently, projects that list their IEOs via our Singapore-based exchange have had quite positive results too. Other projects that fundraised via IEOs — such as BitTorrent's, which was hosted on Binance — were also able to achieve their fundraising goals," says Hong.
Most of the previous IEO projects were utility token-based. 
All forms of digital assets in Malaysia are classified as securities. This enables projects to introduce all forms of tokens, including securities-based ones. This will make it a more level playing field, says Hong. 
"Project owners can issue the tokens and provide dividends, profit sharing, debentures and even a collective investment scheme to token holders. This is definitely a powerful tool or vehicle for new project owners that want to raise funds. Also, with the governance in place and regulators involved in the ecosystem, it will definitely attract a lot of institutional funds to the scene. I am very open-minded and hopeful about this new development."
It has been more than a month since the SC released the new guidelines. Hong has spoken to other cryptocurrency players and concluded that many are taking the "wait and see" approach. 
"What is interesting here is that the arrival of [the guidelines] has ignited the interest of many local stock investors and more attention is now being given to the digital asset space. At the international level, cryptocurrency players are excited, with some believing that IEOs are more geared towards domestic trades. As IEOs have recently emerged, many of them prefer to observe how these affect the market before taking action," he says.