This article first appeared in Personal Wealth, The Edge Malaysia Weekly, on August 31, 2020 - September 06, 2020.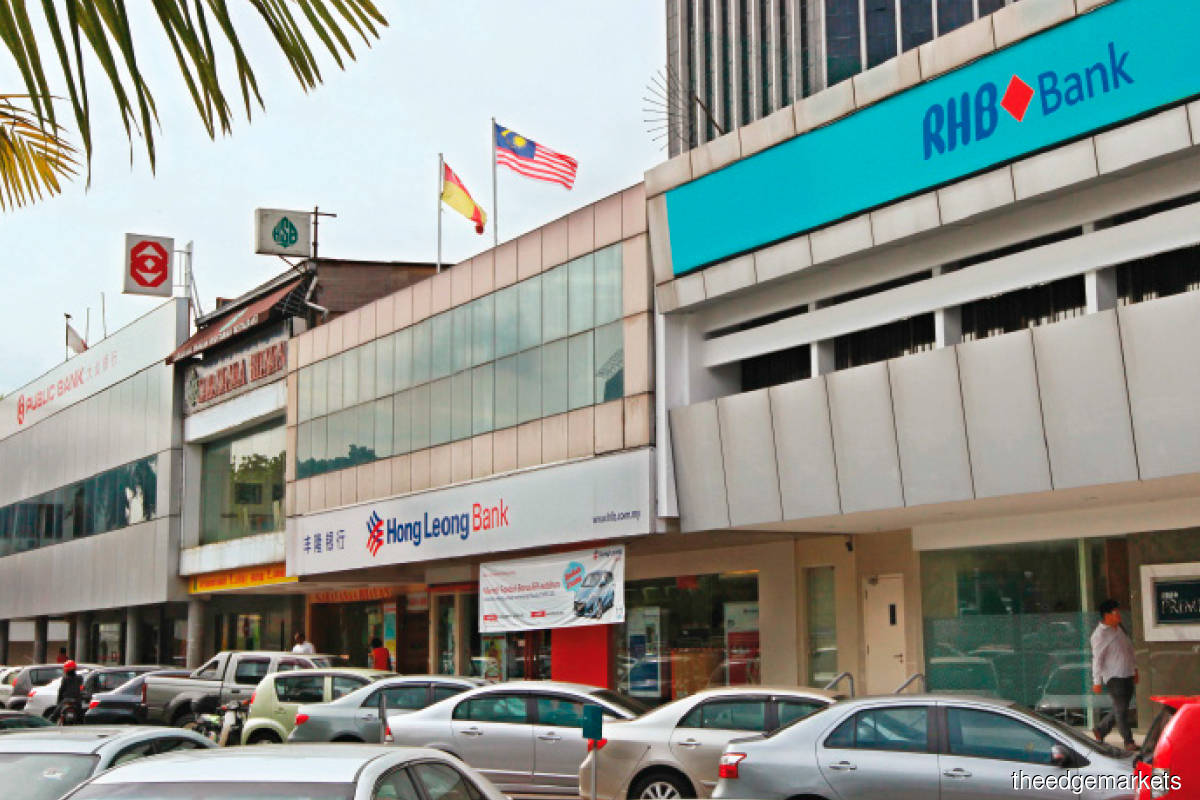 With interest rates trending lower, Malaysians who rely on fixed deposits (FD) to earn a return may be forced to look elsewhere to fund their retirement. Some banks are aware of this struggle and are offering FD promotions or alternative suggestions.
These include higher promotional rates for customers who make FD placements via banks' online portals or bonus rates for those who invest in unit trusts via the bank. Some banks recommend retirees to consider other products with similar risk levels but which may have higher returns, such as bonds.
A quick survey of the banks' websites in Malaysia show that the FD rates offered roughly range from 1.35% to 2.1% per annum.
"The average inflation rate for the past 20 years had been 2.1% and the average FD rates stood at about 3%. The real return is only 0.9% and that puts retirees at risk of depleting their retirement funds earlier than planned," says Reuben Tan, head of wealth management at OCBC Bank (Malaysia) Bhd.
"In a low interest rate environment, we expect a shift in savings via FD to alternatives such as endowments and unit trust investments [as Malaysians] seek better returns for their retirement funds."
Already, the overnight policy rate is at a record low of 1.75% in Malaysia. This has impacted FD rates as well. CIMB Group Holdings Bhd is seeing slower growth in its FD and Fixed Return Income Account-i (FRIA-i) inflows this year due to the lower interest or profit rate environment, says Samir Gupta, CEO of group consumer banking at CIMB Group.
"We observed that many Malaysians are willing to take a slightly higher-than-usual risk to maintain a decent return. Thus, in the last several months, we have seen higher growth in investment products like Term Investment Account-i (TIA-i) and fixed income products or bonds for retirees," says Samir.
This will mark a shift away from Malaysian retirees' reliance on FD due to its capital protection and income-generating features. Many older Malaysians are familiar with FD as there were not many investment options available previously, observes Hong Leong Bank Bhd personal financial services managing director Charles Sik.
Things are different now as there is a wide variety of low-risk investment options and investors are more informed. "That said, our FD base continues to be resilient and stable, while, at the same time, we are seeing a surge in investment interest, with the number of investors rising 7% in the span of six months from January," says Sik.
"We believe our customers are seeking to diversify their basket of investments while still relying on a familiar product such as FD. The key for most — if not all — investors is to diversify their investments so they have a more balanced portfolio that suits their situation and enhances their earning potential, given the historically low interest or profit rate in Malaysia."
The quest for higher rates
Some of the banks are offering higher promotional FD rates for customers who fit certain criteria, such as higher interest rates for senior citizens or customers who perform certain banking transactions.
For instance, those who have the OCBC 360 savings account can get up to 2.45% pa in interest if they meet certain stipulations like depositing RM500 monthly or paying at least three bills online every month, says Tan.
Promotions are also offered to those who purchase other investment products from the bank, he adds, which helps retirees diversify their portfolios. "If one is seeking to diversify into endowments or unit trusts to grow their retirement funds, the OCBC Booster Account provides up to 3.05% pa when purchased with any of our endowments or unit trusts."
According to its website, OCBC Booster Account holders can enjoy a base interest of 1.85% pa if they maintain a balance of at least RM30,000 for three months. If they invest in qualifying insurance and unit trust products from OCBC, they will receive another 1.2% pa on the first RM50,000 of their account balance for six months.
Promotional rates are also typically offered to customers who make use of online payment channels. For instance, OCBC launched a campaign with Financial Process Exchange (FPX) until the end of August that offers those who make an FD placement with FPX fund transfer higher rates of 2.18% pa for 10 months. The current rate for a 10-month FD placement is 1.7% pa, according to its website.
Similarly, CIMB, which is offering FD rates ranging from 1.5% to 2.1% pa, is offering e-FD promotion rates of up to 2.25% pa when customers perform the placement via its online banking platform, CIMB Clicks.
CIMB also offers other types of FD products, including FRIA-i, which allows customers to either collect the profits upon maturity, monthly or immediately after investing. The rates, however, are similar to the FD rates mentioned above.
"Customers have the convenience of placing deposits in the comfort of their own homes by using CIMB Clicks. There will be enhancements on CIMB Clicks for FRIA-i placements, and we urge customers to look out for special rates from time to time for the placement of e-FDs via CIMB Clicks," says Samir.
Meanwhile, Malayan Banking Bhd (Maybank) is offering competitive tier rates for its Premier and Privilege clients on current accounts.
"Account holders can earn interest rates without having to sacrifice flexibility and liquidity, compared with normal current accounts that pay little to no interest. This will help retirees earn extra returns from their excess cash," says Eunice Chan, Maybank senior executive vice-president, head of retail wealth management and segments.
Some alternatives to consider
FDs and similar savings or investment vehicles should only form one part of the retirement portfolio, say experts, as a diversified portfolio is required to generate passive income for retirees. With lower interest rates, retirees are advised to build a stronger and more diverse portfolio at this time.
"We are aware that retirees usually have a low risk appetite and require regular cash flow to meet their living expenses. Taking that into consideration, in our opinion, investment-grade bonds issued by quality companies normally offer better yields compared with FD and provide a predictable stream of income as well as capital preservation if investors hold them to maturity," says Chan, who suggests investors consult their financial advisers to select the right bonds.
Samir agrees. His other suggestions are for retirees to put their money in TIA-i, which invests only in diversified shariah-compliant retail assets with low-to-moderate risk and offers potentially higher returns than FDs, as well as unit trusts with diversified portfolios.
"In addition, retirees can consider principal-protected structured products or floating rate instruments of deposit. These instruments can be structured with potential returns linked to the underlying assets, which could be an interest rate instrument, specific fund or a basket of stocks. It can be embedded with the capital-protection feature," says Samir.
"Precious metals like gold also act as a hedge at times of uncertainties and perform well in low real interest rate environments. Investors can easily gain exposure to gold via our e-Gold Investment Account."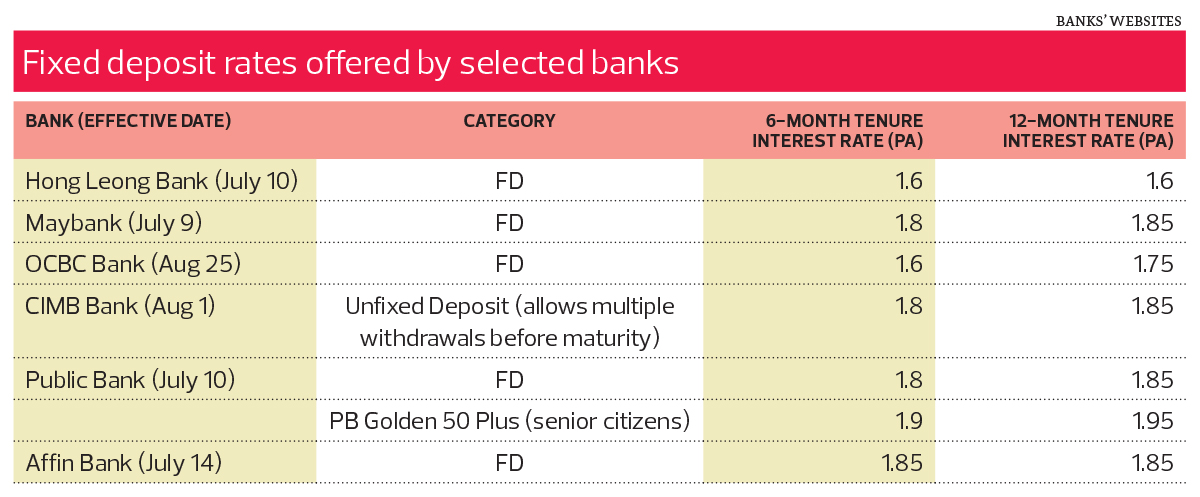 Retirees should stay away from thematic or sectoral funds that could be higher risk and more volatile, observes Sik. They should have lower exposure to equities, as this asset class could lead to capital loss during market corrections. Retirees may not have enough time to wait for the recovery.
Pre-retirees and retirees should also consider insurance solutions with endowment features as they can provide a continuous stream of payments. "Payouts from such endowment plans can be used to settle any outstanding debts or support dependents financially," adds Chan.
The universal life insurance is a product that could be suitable for retirees who intend to put aside some portion of their savings for their loved ones, suggests Tan.
"It is always advisable to speak to a qualified person about alternatives to FDs as some of these are vulnerable to market fluctuations. Timing and cash-flow planning are important considerations in this situation," Tan adds.