This article first appeared in Personal Wealth, The Edge Malaysia Weekly, on April 13, 2020 - April 19, 2020.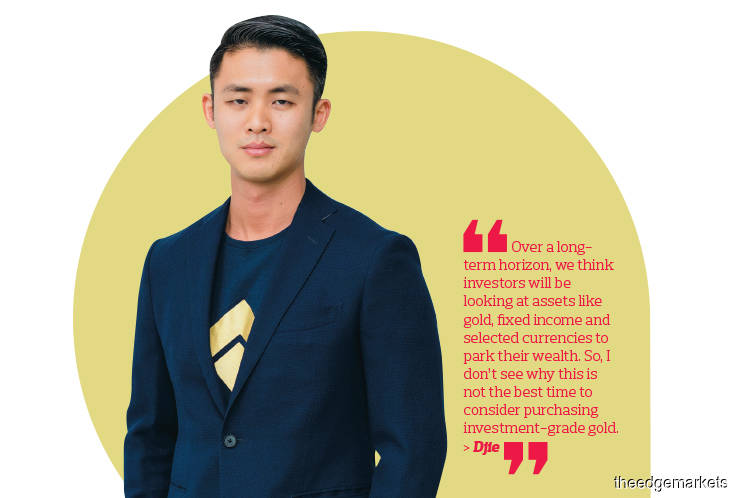 Holding gold in one's investment portfolio is not a popular practice among younger investors due to their preference for higher-risk assets. However, it is important that they do so, especially in the current economic conditions.
"I think it is important that the younger generation understands why they should include gold in their portfolios, especially in times like these, when there is so much uncertainty in financial markets. I think it won't be long before they see that when everything else is going down, gold remains a stable asset class, providing a defence mechanism to their portfolios," says Shaun Djie, co-founder and chief operating officer at Singapore-based financial technology (fintech) platform Digix.
Gold is typically included in a portfolio as a hedge against inflation or stock market crash. However, the precious metal is not popular among younger investors, who tend to gravitate towards higher-risk assets. 
"The idea of gold itself — in terms of its slow and steady price appreciation — is not appealing to younger investors. This generation generally looks for something that is riskier in nature and can provide quick returns. While there are a lot of younger people who own physical gold, it is mostly jewellery, not investment-grade gold bullion," says Djie. 
In fact, the majority of the users on Digix, which allows investors to buy its physical gold-backed cryptocurrency are in the older age brackets, he notes. These people are usually those who have gone through a financial crisis or have backgrounds in which gold plays an important cultural significance. 
Nevertheless, this does not mean the younger generation does not believe in gold. A November 2019 report by the World Gold Council indicates that the attitude of Generations Y and Z towards gold is not significantly different from that of the older generation, that 62% of Gen Y and 56% of Gen Z trust gold more than fiat currencies.
This has prompted Digix to ramp up its efforts to appeal to this age group, including completely revamping its platform to provide a simpler and more straightforward user interface (relaunched early this year) and offering targeted promotions, says Djie. Since then, the platform has seen an increase in younger users.
With the current low interest rate environment, geopolitical tensions and Covid-19 pandemic, it is important that all age groups have an allocation to gold, says Djie. "Yes, gold experienced a dip recently, but this is very normal as most people who hold the precious metal also hold stocks. So, when stock prices fall, these investors usually cut their gold holdings, either to pay their margin calls or to provide capital liquidation."
On April 7, spot gold was trading at US$1,650 per oz, up 7.69% year to date. The precious metal hit a seven-year high on Feb 24, when it broke through the US$1,680 level. According to news reports, this prompted investors to take profit as Covid-19 concerns kept them anxious about the fate of the global economy. 
"Digix takes the view that gold will continue to be a very important asset to own for several reasons. For starters, gold usually rallies during and after an economic crisis. It is currently trading at quite high levels," says Djie. 
"Over a long-term horizon, we think investors will be looking at assets like gold, fixed income and selected currencies to park their wealth. So, I don't see why this is not the best time to consider purchasing investment-grade gold."
While investors can consider other options such as gold futures, gold unit trusts and gold exchange-traded funds, Djie believes that owning physical gold is the best alternative as there is counterparty risk that comes with buying gold derivatives. 
"For these instruments, investors are just buying paper that guarantees them exposure to gold, as well as the price appreciation of gold as an asset class. If the issuer defaults in a global financial crisis, the paper will be worth nothing," says Djie. 
"Of course, the banking system has become a lot more resilient since the 2008 global financial crisis. A lot of things have been put in place to ensure that issuers will not default. Although the probability may be low, it is not zero. Hence, the only way to be truly safe is to buy physical gold and store it in your own capacity."
But buying physical gold comes with its own set of problems. For one, investment-grade gold is not as easily accessible to retail investors, who may not be able to afford an entire bar. There is also the possibility that they could end up being victims of fraud, cheated with fake gold or other metals with gold coatings by unscrupulous sources. 
These are the problems that Digix is trying to solve. Launched in 2015, the platform was born out of the idea to allow users to purchase gold digitally, without having to worry about storing the precious metal at home. 
The company develops and facilitates the selling of DGX, a commodity-backed stablecoin. Stablecoins are cryptocurrencies backed by a reserve of real assets. In Digix's case, each token is backed by 1g of gold. Spot gold was trading at US$53 per gram on April 7.
Digix's investors include Shanghai-based Fenbushi Capital and Tokyo-based Global Brain. The platform is also part of the Singapore government-supported blockchain accelerator programme Tribe Accelerator.
Digix is regulated by Enterprise Singapore under the Commodity Trade Act (Cap. 48A). The firm is also registered as a dealer by Singapore's Ministry of Law under the Precious Stones and Precious Metals (Prevention of Money Laundering and Terrorism Financing) Act 2019.
Digix is in the process of applying for a licence under the newly introduced Payment Services Act — the Monetary Authority of Singapore's (MAS) framework for the regulation of payment systems and payment service providers. Cryptocurrency payments fall under the Act, which came into force on Jan 28.
Digix is not looking to be regulated by Malaysian authorities at this point of time. "As the platform is incorporated in Singapore, it is currently focusing on obtaining a licence from MAS under the Payment Services Act. It does not operate a digital asset exchange for the trading of digital assets and does not intend to run an initial exchange offering," says Djie.
Verified investors can buy gold from as low as 0.1g directly from Digix, using ether or stablecoins such as USDt, USDC and the Dai token. The platform is working to allow people to buy the token with fiat money, says Djie. In addition to buying DGX on the platform, their tokens are also offered on exchanges such as Bitfinex, ProBit Exchange and VCC Exchange. 
"One advantage of our platform is that we allow fractional ownership of investment-grade gold. Investors can buy a few grams first to see if they like the experience and purchase more when they are comfortable doing so. As the whole process is near immediate, they can buy gold as soon as it reaches their target price," he says. 
The purchased gold is stored in vaults located in Singapore and Canada. These vaults are accredited members of the London Bullion Market Association and are fully insured, says Djie. As at March 27, Digix had 121kg of gold stored in the vaults. The asset registry information, along with the photos, audit records, insurance papers and storage receipts are available on its website. 
"Of course, these are all paperwork and documentation. But these are also proof that we did purchase all the gold. If any of our customers wants to redeem even a specific number of gold bars, we will be able to fulfil that without any problems at all," says Djie.  
Digix's initial idea was to introduce a coin with stable pricing. This was considered a revolutionary idea in 2015 as stablecoins were a new concept in the cryptocurrency industry. Today, several other companies have also come up with their own gold-backed tokens. 
"There are a few things that set DGX apart. The most important is our wide ecosystem of partnerships," says Djie. 
"There are a lot of global exchanges listing DGX today and the use cases are plenty. Our use cases include payments as well as collateral for borrowing and lending. We are currently working with a couple of non-fungible token companies to create a gold-backed avatar, which will allow investors to own art pieces that are collateralised using gold."
The Digix platform is open to investors globally, except in certain countries such as Japan, the US and those that have been sanctioned. After the purchase, the tokens are deposited into the investors' Ethereum-based cold wallets such as Trezor and Ledger. Digix does not hold custody of the tokens on the investors' behalf. 
Digix earns from the gold markup, which is between 2% and 5% of the purchase. This is far lower than other avenues of buying gold such as jewellers, says Djie. "If you buy 1g of gold from a jewellery store, you will pay a premium of 10% to 20%. For example, 1g of gold worth RM180 is sold at RM200 to RM220 at the jewellery store. On a gram-to-gram basis, that is a big difference."
DGX investors also have to pay a redemption fee when they redeem their tokens, he says. Investors can choose to redeem a minimum of 100g if they want it in physical gold. They can do so at any London Bullion Market Association-approved refiners in Singapore for a 1% fee.