This article first appeared in Personal Wealth, The Edge Malaysia Weekly, on June 3, 2019 - June 09, 2019.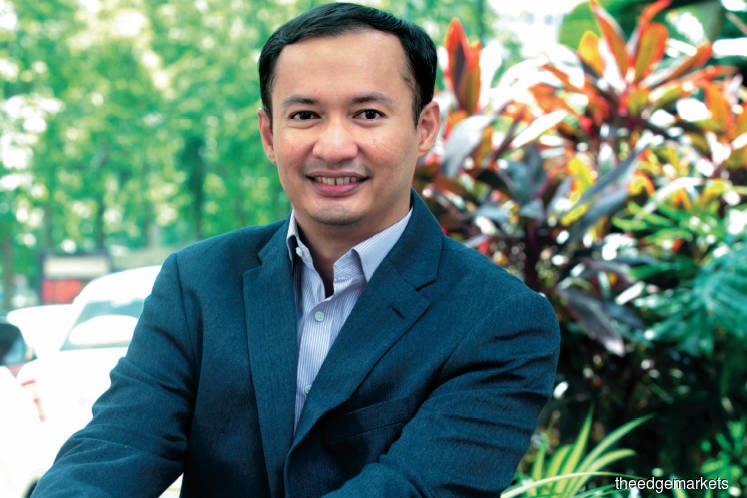 While it is exciting to get involved in new things, you need to understand the fundamentals of the technology and use cases to find out if there is something real underneath the hype or if it is still early days. - Reez
Mohd Ridzwan "Reez" Nordin, venture partner at Monk's Hill Ventures, has always been intrigued by start-ups. The fascination comes from his professional and personal journey of investing in start-ups as well as his experience of being a start-up founder.
Prior to joining the venture capital firm as its only Malaysia-based partner in February last year, Reez worked at Khazanah Nasional Bhd for 12 years in various roles. He also founded an education technology (edtech) company called Kaymbu Inc in Boston when he was doing his Master of Business Administration (MBA) at the Massachusetts Institute of Technology (MIT), for which he had taken a sabbatical from Khazanah.
One of his more memorable roles at Khazanah was being vice-president of its tech investment team.
"Khazanah has been investing in tech through SilTerra Malaysia Sdn Bhd since the late 1990s. But investments in new tech start-ups as we know it today started in 2012," says Reez.
"Khazanah invested in Alibaba Group Holding Ltd [during its pre-IPO days]. The focus was more on late-stage companies because of its private equity heritage and cheque size. Also, it did not have the expertise to evaluate young companies [at that time]."
SilTerra Malaysia is a local semiconductor wafer foundry wholly owned by Khazanah.
During Reez's time at the sovereign wealth fund, he had the opportunity to witness some exciting deals being made. One of them was an investment in US-based Palantir Technologies, which had been founded by Peter Thiel, the co-founder of PayPal.
"The company started working on artificial intelligence and machine learning before these became buzzwords. It was the one that started this space in the early 2000s, just before the global financial crisis. But the space was so new and people did not really understand the technologies. So, the bulk of its initial contracts and work was with the intelligence community," says Reez.
Palantir has since provided its services to other sectors, including the financial and pharmaceutical industries. "It is even assisting Formula 1 teams to make sense of the data they collect from sensors on their cars," he says.
While Khazanah was investing in foreign tech companies, it was also fulfilling its mandate to invest in Malaysian start-ups so as to develop the local ecosystem. This included investing in FashionValet, an e-commerce company that has been able to innovate and survive the onslaught of well-capitalised competitors such as Lazada, Shopee and Zalora. That staying power caught the attention of the sovereign wealth fund.
"Another thing that contributed to its staying power is the rise of social media, which gave rise to influencer marketing. FashionValet co-founder Vivy Yusof is a prime example of that. She can move products with a single Instagram post. Many celebrities can do that now, but she started building that audience years ago by blogging. The relationship she has built with her audience has really taken off in the last five years through social media channels," says Reez.
At about the same time, he began personally investing in start-ups through equity crowdfunding (ECF) platforms. One of his investments was through US-based AngelList, which is credited for disrupting the angel investing scene in the US by bringing it online. He also invested through PitchIn, the local ECF platform that was launched in 2012.
"I am a founder myself, so I understand that it is not easy to get things off the ground. If anything, this is my small contribution to help them get started. It is still too early to tell whether they will be successful, but at least I am giving them a chance. I think the venture capital business is similar in that it is a business of giving opportunities to others so they can realise their dreams and make an impact," says Reez.
He invested small amounts via these platforms, about US$1,000 per company. Since these are early-stage companies, there is very little information on them. This makes ECF investments riskier and requires more initiative on the investor's part to conduct due diligence.
One of Reez's first ECF investments was in a US start-up called Oh My Green. "It supplies fresh fruit and healthy snacks to companies. When I invested, the green movement was just starting. So, [this was a way of] making sure that the movement had 'legs' to grow before jumping into it," he says.
Last year, the company managed to raise US$20 million from several venture capital funds.
Through PitchIn, Reez invested in MyCash Online, an e-marketplace for foreign workers in Malaysia, which offers services such as travel tickets and mobile top-ups. He was impressed by the founder, who pitched at an event he was at.
"It is quite an underserved market, in my opinion, and there are many such communities around the world. So, there is potential for scale. One of the founders is an immigrant himself. He came here, married a local and started building the business. I thought it was something that could work," says Reez.
The lessons he has learnt from investing via ECF platforms have helped him in his day job as an investor, although he makes sure his professional and personal investments do not overlap. "These are early-stage start-ups, so you can see how they grow, pivot and react to the market, as well as how the team itself grows. This helps me at work when I am meeting people and trying to assess whether the companies or teams are investable. I draw some lessons from there," says Reez.
Following his stint at Khazanah, he joined Monk's Hill, a venture capital firm that invests in post-seed stage tech start-ups that serve Southeast Asian markets. "The founders are young, full of optimism and ideas. It is a lot more risky than Khazanah's investments, which target more mature companies with revenues and a clear path to profitability," he says.
Funding his own dreams
Reez comes from humble beginnings. His father and mother worked as a driver and stenographer for the government respectively and they lived in a squatter house in Kuala Lumpur.
"We did not have a lot as a family, so we had to appreciate whatever little we had. I value the opportunity I got to study in the US on a scholarship I received from Petronas. I am grateful to my parents because they placed a high value on education," says Reez.
He worked part-time jobs to save money during his university days. It was then that he began to hear about investing. He put his "first pot of gold" of about US$200 from his part-time job into a unit trust fund when he was 18 years old.
"At that time, there were so many funds to choose from, but I wanted to invest in a shariah-compliant fund. Then, I stumbled across Amana Mutual Funds, either through a local mosque or a news website. I was surprised to find it because this was 20 years ago. It was offered by a Seattle-based company called Saturna Capital," says Reez.
Back then, shariah-compliant funds that were open to retail investors were rare, especially in the West.
He made regular deposits into the fund. This habit paid off almost a decade later when he returned to the US for his MBA at MIT. Following his graduation, he launched his own start-up, Kaymbu. He funded his expenses with his earnings from the fund.
"It was not a lot, but it would tide me over when I was running my company. I lived within my means. Twenty years ago, when I started investing, I had no idea I would start a company. The money was meant for a rainy day," says Reez.
Kaymbu is a family engagement and classroom documentation tool for early education programmes. It allows parents to keep track of their children's performance at school. Kindergarten teachers use the app to record the children's activities during school days and add tags that connect the parents to their child. Due to privacy concerns, parents are only able to view the activities of their own child. Parents can also share photos and videos with relatives.
"Young parents nowadays use Facebook and Instagram to stay updated on their friends. But when it comes to their children, they do not really know what happens at school," says Reez.
"On the other hand, kindergartens in the US need to get certified periodically. The owner or administrator typically has to manually take photos and notes to capture what they have done in terms of the development of the children. With this app, they can use the same material for certification. This makes it easier for them."
The idea to start the company came from his business partner's personal experience with his then three-year-old daughter. At the time, Reez's wife was also pregnant, so they empathised with the parents and kindergarten teachers.
"Back then, we were the first to have such an app. Sometimes, when it comes to tech start-ups or business ideas, you need to start with areas that you have an affinity with or can relate to," says Reez.
In the beginning, Kaymbu signed up a few kindergarten companies, each of which had four or five branches. When Reez returned to Malaysia to work at Khazanah, his US-based partners continued to run the company.
Focusing on tech
Monk's Hill, which was established in 2014, is headquartered in Singapore and has a presence in five countries across the region. Reez oversees the Malaysian and Indonesian markets. The start-ups in the venture capital firm's portfolio includes Malaysian logistics technology provider Ninja Van.
"The company is small and relatively young, so I am essentially working for a start-up that funds start-ups. I think one of the biggest lessons I have learnt here is evaluating young companies, compared with the mature companies I invested in during my time at Khazanah. You can do a lot of quantitative analysis on those big companies, which have been around for six or seven years. For early-stage start-ups, it is more qualitative in nature and the main criteria is the strength of its founding team," says Reez.
In terms of his personal portfolio, he is a growth investor with a focus on tech companies. He invests in unit trusts, US equities and start-ups through ECF platforms. His investments in unit trust funds are meant for a rainy day.
"I mostly invest in tech-related companies because that is what I am familiar with. Also, it has the biggest growth potential. It is a very concentrated portfolio, but that is not for everyone. It depends on your risk appetite," says Reez.
Some of the equities in his portfolio include Amazon and Apple, which he bought nearly two decades ago after the dotcom boom. "The portfolio has been turned over several times, but these two companies have remained as my core holdings. Sometimes, I think about what I would replace them with if I wanted to sell, but I have not found any suitable replacements. I regularly review my portfolio, so the construction may change over time," he says.
One of the challenges of investing in tech companies is verifying their underlying technology. This is something Reez has learnt in his personal and professional investing journey. For instance, he has seen the hype around blockchain, cryptocurrencies and augmented or virtual reality mislead some investors.
"While it is exciting to get involved in new things, you need to understand the fundamentals of the technology and use cases to find out if there is something real underneath the hype or if it is still early days," says Reez.
Southeast Asian start-up scene
Mohd Ridzwan "Reez" Nordin, venture partner at Monk's Hill Ventures, believes that technology start-ups in Southeast Asia will move away from consumer-driven businesses and towards tackling problems faced by traditional businesses.
"I think we have seen a lot of successful e-commerce, ride-hailing and travel tech start-ups that are more consumer-facing. Now, we are starting to see more of them tackle sectors such as healthcare, logistics and, to some extent, education and financial technology that serve small and medium enterprises rather than just payments," says Reez, adding that investors should look at these areas.
"They should also look at tech start-ups that help recruit talent. That is because once you educate people, they will need to find jobs. So, how do you bridge the gap? Job recruitment platforms that help people find employment are interesting."
Another area that Reez finds interesting is logistics, particularly in hard-to-reach places in Southeast Asia. Precision agriculture is another interesting area. It uses technology to increase yield and reduce the spread of disease.
"As a region, Southeast Asia is very attractive because in some ways, it reminds us of China 10 years ago. Of course, we have six countries at different stages of development. People who are open to finding the next alpha in investments should consider investing in the region," says Reez.
Malaysia can be seen as a bridge between the developed and emerging markets in the region. Its multicultural society is a good representation of the region, he observes.
"What is good about Malaysian companies is that they may start here but can quickly go to Indonesia or Vietnam because we understand the profile of emerging markets. At the same time, they can go to Singapore because they are familiar with the market too," says Reez.
Open funds
Monk's Hill Ventures is currently seeking investments for its second fund, which had its first close last October. The venture capital firm is hoping to wrap up fundraising by the end of this year. Institutional investors, endowments and foundations, family offices and high-net-worth individuals are welcome to invest in the fund.
According to venture partner Mohd Ridzwan "Reez" Nordin, the fund's mandate is similar to that of its first fund. It is targeting early-stage companies, primarily those seeking Series A funding, across Southeast Asia. Monk's Hill is looking to raise US$150 million for this fund, according to DealStreet Asia.
The venture capital firm's portfolio includes Bot MD, an artificial intelligence-powered assistant for doctors in 60 countries; Saleswhale, an AI sales assistant based in Singapore; C88, a financial technology company operating in the Philippines and Indonesia; and Jio Health, a healthcare technology company based in Vietnam. A total of 21 portfolio companies are listed on its website.