This article first appeared in Personal Wealth, The Edge Malaysia Weekly, on April 6, 2020 - April 12, 2020.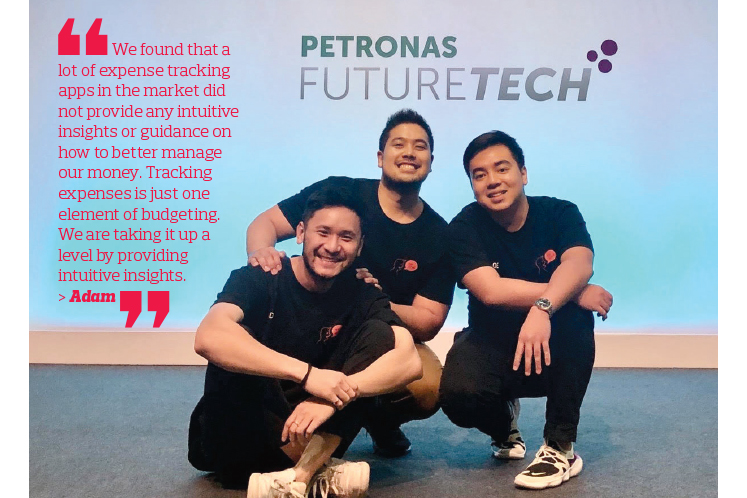 From left: Adam, Suhaimie and Tengku Muhammad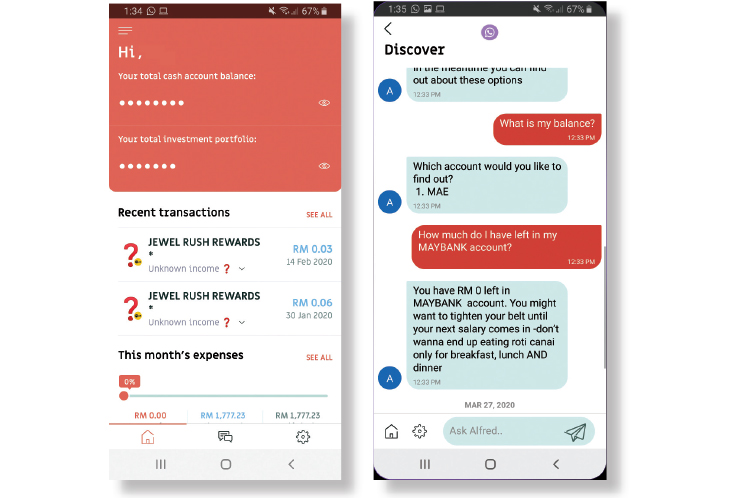 Finding the perfect budgeting app that suits everyone's needs can be a challenge as each person has his or her own way of dealing with expenditures. It also requires users to diligently key in every ringgit they spend, save or invest. 
That is what Adam Helmi and his friends realised when they started earning an income in their twenties.
"We came to realise that we would always 'have too much month at the end of our money'. So, we started looking at budgeting tools. But most of these not only required manual input but also did nothing to encourage people to [be more proactive when it comes to managing their budgets]," says Adam. 
"Just like any other person, I would log into my online banking account occasionally and look at the balance. But being vigilant about [tracking my transactions] was very difficult. Another thing that stopped me from checking my balance frequently was that there wasn't a tool that could help me visualise my budget. I could only look at my bank statement at the end of the month, and it was all just numbers."
This led Adam and two of his friends, Suhaimie Zulkifli and Tengku Muhammad Shah, to develop and launch HeyAlfred — an app that helps users keep track of their budgets and provides financial insights into their spending habits. By naming the app after the butler of Batman, the team wanted to create a personal financial assistant that was just as loyal and helpful as the famous fictional character.
"My two partners and I initially developed HeyAlfred for our personal use. But along the way, we realised that the need [for such an app] was greater than we had thought. The financial literacy rate in Malaysia is only 36%, compared with 59% in developed countries [according to the S&P Global Financial Literacy Survey in 2014]. This is contributing to higher levels of national debt," says Adam.
What sets HeyAlfred apart from other apps is its ability to integrate transactions with multiple banks and e-wallets on one platform. It also has an artificial intelligence-powered (AI) chatbot that can provide financial insights or suggestions on how users can improve the way they manage their finances.
"We found that a lot of expense tracking apps in the market did not provide any intuitive insights or guidance on how to better manage our money. Tracking expenses is just one element of budgeting. We are taking it up a level by providing intuitive insights [via our chatbot]," says Adam.
With the chatbot, users can ask questions about their budgets, balance and savings. "The chatbot will be able to give you daily or weekly reminders or tips, guides and analytics on what you have spent during a particular period. You can ask HeyAlfred questions like, 'How much have I spent on McDonald's this week?' It will provide you with an answer and perhaps even a promotional voucher for a nearby gym!" he says. 
The three founders have backgrounds in consulting, technology, entrepreneurship and investing. Adam, the chief financial officer, spent two years as an associate at equity crowdfunding platform Ata Plus prior to his current role.
Last year, the team graduated from the MyFintech Week accelerator programme, hosted by Bank Negara Malaysia and 1337 Ventures, as one of the top three start-ups. It also finished in the top 20 at the 500 Startups and Petronas FutureTech accelerator programme, according to Adam.
HeyAlfred will be officially launched this month. The beta version of the app can be downloaded for free from the App Store and Google Play.
How does the app work?
After logging into the app, users can view their cash account balance and the value of their investment portfolio, along with their monthly expenses. They can set a monthly budget and have the app prompt them if their expenses exceed their budget.
While users can manually input their expenses into the app, they can also link their online banking or e-wallet accounts to HeyAlfred. Banking and e-wallet accounts that can be linked to the app currently include those provided by 
Malayan Banking Bhd (Maybank), CIMB Bank and RHB Bank.In the future, users will be able to link other e-wallet accounts such as Boost, GrabPay and Touch 'n Go. 
The AI function of the app will analyse users' spending habits and provide tailored recommendations, prompting them to make adjustments to improve their overall financial situation.
In the first phase, HeyAlfred will focus on providing budgeting and planning tools and insights for users. As the team strengthens the app's AI function, it will also educate users on savings and investments.
The team at HeyAlfred plans to collaborate with solution providers such as robo-advisors, financial technology (fintech) investing platforms and cryptocurrency wallet providers to recommend their products to users. They also intend to work with financial planning firms to provide relevant financial advice to users. As an intermediary, the company will guide users to solutions that meet their criteria.
"We are able to target the right people with the right products. Basically, it is your personal financial assistant. Every insight or tool is tailored to build your financial health. We engage with industry partners and recommend the right products to you," says Adam.
"We are trying to help the average Joe access financial literacy, financial empowerment and digital investment products. We want to inspire people to start learning about these new products."
The HeyAlfred app adheres to the Personal Data Protection Act and only receives information with the users' permission, according to Adam. The only data that the app receives is one's username and password.
When users link their banking or e-wallet account to HeyAlfred, the details are encrypted. The app cannot obtain the username and password, nor can it initiate any transactions.
"We direct you to your bank's platform and we only reflect transactional data [of expenses and income]. This data is only stored in your phone. We use bank-level encryption for the app," says Adam.
Going forward, the HeyAlfred team plans to continue making improvements to the app. "Our full version with a more powerful chatbot will come out soon. It will be a gradual improvement. It is a challenge for us as well because this chatbot needs to be able to understand 'Manglish', or Malaysian English. We built all of this from scratch," he says.
Investing in start-ups
Adam Helmi, co-founder and chief financial officer of HeyAlfred, started learning more about investments after he finished his studies abroad and returned to Malaysia. He joined his late father in managing the family's investments, most of which were in traditional financial products such as stocks, unit trusts and properties.
Then, Adam became intrigued with the rise of start-ups in Malaysia. "I thought I may take a different route [from traditional investments] and started exploring this trend. In my personal capacity and with [the family's investment holding company] Helmigreen Sdn Bhd, we invested in TRIBE Boxing Studio and the Fish Club, among others. I acquired my Accredited Angel Investor Certification and joined Ata Plus as an associate. It was the perfect avenue to learn what it would take to build a business from the ground up," he says.
TRIBE Boxing Studio is a boutique gym in Kuala Lumpur that focuses on group boxing, personal training and kickboxing classes. The founders are Adam's friends, who approached him three years ago.
"I had never seen this concept in Malaysia before. I also noticed the fitness trend in Malaysia. Now, we are an established boxing gym in the country," says Adam.
The Fish Club sells fresh seafood and provides a home delivery service. It is more of a passive investment that provides steady returns, he says.
This inclination for investments stems from Adam's curiosity about start-ups and various investment opportunities. Along the way, he also learnt to manage his finances.
Initially, Adam did not have a structured savings plan. "I knew that I wanted to save a fixed amount. But I put my savings in investments because I was more predisposed to investments than savings. I ended up with no liquidity, which was also a problem," he says.
Nowadays, Adam makes sure that he separates his savings and investment pots of money. He also ensures that he saves before he spends.
"Basically, my strategy is to set aside 20% of my income for investments and 30% for savings. The rest is my spending money. I want to make sure I have enough money at the end of every month that I can spend on other things," he says.