This article first appeared in Personal Wealth, The Edge Malaysia Weekly, on March 23, 2020 - March 29, 2020.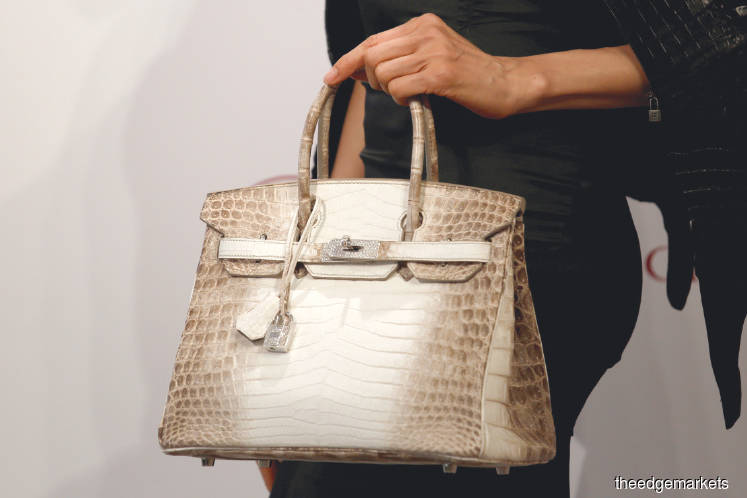 The Himalaya Birkin Niloticus Crocodile 30 is the most expensive handbag ever featured at a European auction
Photo by Reuters
Asia is expected to be the world's second largest wealth hub by 2024, with the number of ultra-high-net-worth individuals (UHNWIs) in the region forecast to grow by 44% in the next five years, according to The Wealth Report 2020.
The report, published by Knight Frank earlier this month, says Europe is currently the second largest wealth hub in the world with 110,868 UHNWIs. However, Asia is closing the gap with 103,335 UHNWIs. It defines UHNWIs as wealthy individuals with a net worth of more than US$30 million.
In the report, Citi Private Bank chief investment officer David Bailin describes Asia as an "unstoppable trend". "In terms of demographics, the region is best placed for economic and wealth growth, and there is significant scope for expansion in investment markets. Asia's capital markets are one-fifth the size they need to be to support the growth," he says.
The region's political power is expanding as well, with China leading the way. The report points out that the US-China trade disputes have increased the global influence of the Chinese, which has resulted in the country forging closer links with Latin America, Africa and Europe.
This is coupled with other measures that China has implemented to consolidate its power, such as its anti-corruption campaigns, the Belt and Road initiative, Artificial Intelligence 2030 and Made In China 2025, says the report. "As [China's] influence spreads, companies may find themselves more strategically aligned with Chinese systems, which could create a level of conditionality such as buying more Chinese goods. As China will remain a driver of economic growth and wealth, countries that link with it should be able to ride the next wave of growth."
The US accounts for almost half the global UHNWI population, with a total of 240,575 individuals — more than that of Europe and Asia combined, says the report. However, Asia's projected five-year growth is double that of North America (22%), with high growth expected in India (73%), China (58%) and Indonesia (57%). Nevertheless, Asia's UHNWI population will still be half that of North America in 2014.
On a global level, more than 31,000 UHNWIs were created last year. This represented a 6.4% growth, bringing the total UHNWI population to more than 513,200. The report forecasts that this number will increase by 27% in five years, bringing the total to 649,331.
Real estate remains as the key driver of UHNWI wealth, representing the highest asset allocation at 27% of their portfolios. This is followed by equities and fixed-income assets such as bonds at 23% and 17% respectively. Precious metals such as gold as well as cryptocurrencies make up the lowest allocations in their portfolios at 3% and 1% respectively, according to the report.
"The expansion of wealth during 2019 is unsurprising, given the strong growth seen in many asset classes. Equity markets — including stock exchanges in the US, Germany and Australia — have seen double-digit growth, although the UK and Japan saw more modest returns," says the report.
"Commercial real estate attracted US$333 billion of private capital in 2019, despite being under the threat of a global economic slowdown, trade wars and geopolitical upheavals during that period of time."
The US remains the No 1 destination for residential property purchases among Asian UHNWIs, according to the report. Figures from the National Association of Realtors show US$78 billion of overseas investments coming into the US residential property market in 2019, with the biggest contribution from China at US$13.4 billion.
Commercial real estate investing now more sophisticated
The report notes that the methods of investing in commercial real estate are growing more sophisticated and an increasing number of UHNWIs have found themselves involved in structures and funds that they could not easily extract themselves from, such as during the 2008 global financial crisis. Thus, many of them are building family offices with sufficient monetary firepower to dwarf that of their institutional competitors.
"In the past 12 months, we have seen staff joining family offices from leading global private equity investors and they have become much more competitive. If you want to compete globally for major real estate assets, you need key people, expertise, great governance and the ability to transact quickly," Alex James, head of private client commercial advisory at Knight Frank, says in the report.
Anthony Duggan, head of global capital markets research at Knight Frank, notes that investors are taking a much more hands-on approach when it comes to their own investments. "Rather than going to a private equity (PE) fund and handing it US$200 million, investors are saying, 'We can own and manage these things ourselves'."
He adds that the movement extends beyond direct investing via family offices. "The wealthy are putting far more resources into property funds, whether directly or indirectly, while also funding property companies and putting more money into PE funds."
Investors are also diversifying into new markets and locations. This push for diversification has led them to alternative sectors, such as rental property that includes student housing, co-living, built-to-rent and senior living, which gives UHNWIs exposure to demographics spanning the entire human life cycle, says the report.
There is a big push towards the luxury investment segment such as classic cars, wine, art and coloured diamonds, with a third of UHNWIs interested in increasing their allocation to this segment last year, according to the report. Of all the luxury investment items surveyed by Knight Frank, rare whisky provided the highest returns over a 10-year period, growing 564% in value. However, the value of this segment only increased 5% last year.
"Significant oversupply and a softening in values for the market leader, The Macallan, made for a challenging start to the year, reflected in a half-year fall of 2.67% in our Knight Frank Luxury Investment Index. As supply eased, 2H2019 fared much better and the index finished the year up 5%," says the report.
"Significant trends included the emergence of challenger brands in the secondary market and growing interest in sherried Scotch. Collectors continued to seek out the oldest, rarest examples from iconic distilleries such as Dalmore, Springbank, Ardbeg, Lagavulin, Bowmore and Brora, and casks remained in huge demand."
The new world record for the most expensive bottle of whisky sold was set in October last year, when Sotheby's sold a bottle of Macallan Fine & Rare 60-Year-Old 1926 for £1.5 million.
Luxury handbags were the most profitable luxury investment items in 2019, which grew 13% in value during the period. A matte white Hermès handbag named the Himalaya Birkin Niloticus Crocodile 30, embedded with 18-carat white gold and diamond hardware, was auctioned by Christie's for HK$2 million in December last year. It was the most expensive handbag ever to be featured in a European auction.
"As with other investments of passion like rare whisky, whose value has risen sharply in recent years, handbags are increasingly being seen as an investment class in its own right, as well as highly desirable fashion accessories. Although bags made by other luxury brands like Chanel and Louis Vuitton are also highly collectable, it is those made by Hermès that attract the highest prices and are considered the most desirable," says the report.