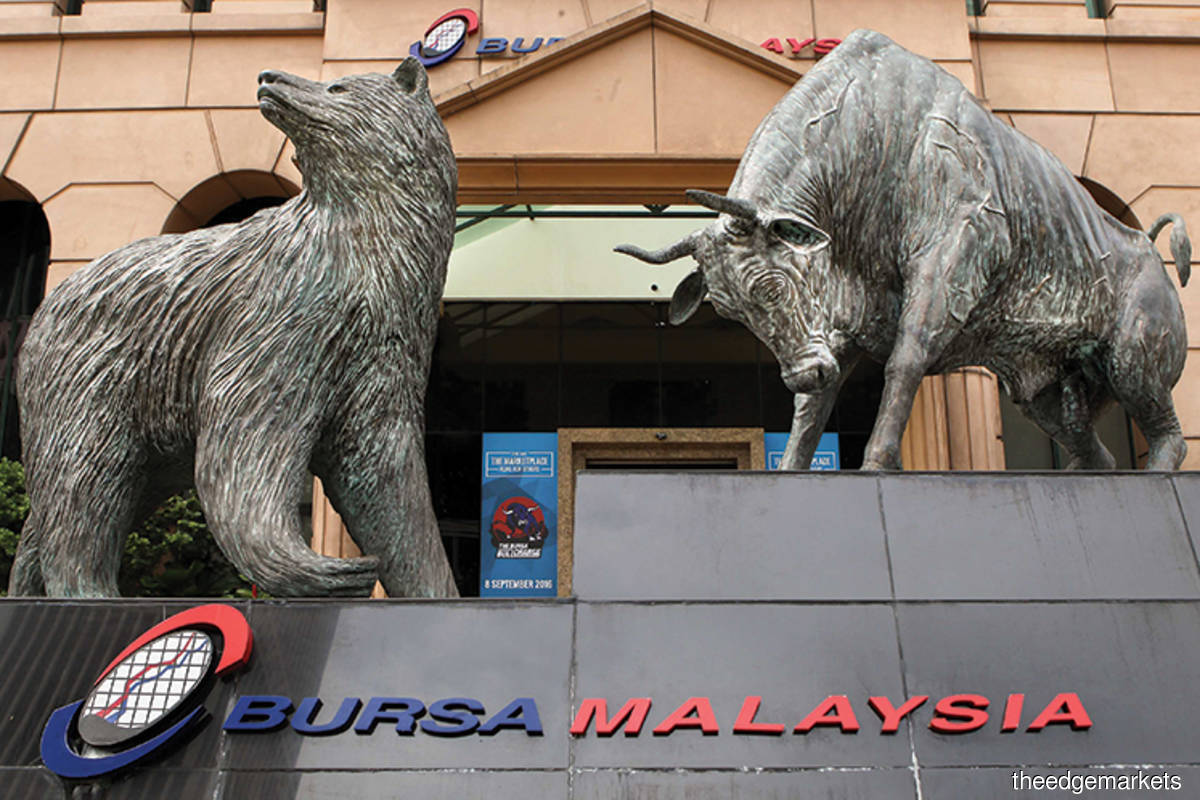 KUALA LUMPUR (Dec 31): Although the battle with Covid-19 pandemic is still ongoing, Bursa Malaysia certainly has good reasons to celebrate the year 2020.
Firstly, the local market has outperformed its neighbouring bourses with its benchmark index ending the year in the positive zone, except for Vietnam. The FBM KLCI gained 3.5% year-to-date (YTD) to reach 1,644.41 points on Dec 30, while Vietnam's VNINDEX has climbed 14.2% YTD. It is worth noting that the FBM KLCI had declined for two consecutive years since 2017.
In contrast, Singapore's Straits Times Index dropped 11% YTD, followed by the Philippines' PSE Composite Index -8.6%, Thailand's SET Index -8.3%, and Indonesia's Jakarta Composite Index -5.1%.
Share prices went higher in the broader market, as reflected by the bigger gains on Bursa Malaysia Small Cap Index, which went up 10.09%, while FTSE Bursa Malaysia ACE Index, which exceeded the 10,000 mark, has soared 103.5% YTD.
The market capitalisation of all listed entities has ballooned as much as RM104.74 billion against end-2019's, according to Bloomberg data.
Secondly, the stock exchange should also cheer for the return of retail investors who have been absent for over a decade, if not longer. Given the surge in retail interest, the exchange's daily trading volume ballooned to an all-time high of 27.8 billion in August compared with last year's high of 2.51 billion shares.
Bursa's total trading volume swelled to 1.81 trillion as at Dec 30, nearly triple of 2019's annual volume of 613.59 billion. This speaks well for Bursa Malaysia Bhd's earnings.
Rubber glove makers, semiconductor-related counters and vaccine distributors — these are the main theme plays in 2020.
The Edge is taking a closer look at this year's top winners and top losers, which have been grouped according to market capitalisation.
Super big cap (market cap of more than RM10 billion)
There are 37 companies in this category. Supermax Corp Bhd and Kossan Rubber Industries Bhd were not in this category last year. Likewise, so was not the newly listed Mr DIY Group (M) Bhd.
The top four best performers are the big four rubber glove makers, namely Supermax (+802% YTD), Top Glove Corp Bhd (+291% YTD), Kossan (+130% YTD) and Hartalega Holdings Bhd (+120% YTD). They would have recorded higher gains this year if it were not for the news about the roll-out of Covid-19 vaccines most recently.
They have collectively gained RM79.42 billion worth of market cap, which is equivalent to 76% of the total market cap increases from all the stocks listed on Bursa Malaysia.
Mr DIY shot up some 98% in less than two months against its initial public offering price of RM1.60 to close at RM3.17. Press Metal Aluminium Holdings Bhd is another star performer with 81.7% gain to close at RM8.50 amid the soaring aluminium price in the international metal market.
Among the banks, Public Bank Bhd, which recently proposed a four-for-one bonus issue, has recouped all its losses in the first quarter of 2020. The banking stock increased 6.4% YTD to close at RM20.70. Public Bank's comeback is noteworthy especially since it fell to the low of RM12.66 this year in March.
The other bank that recorded gains this year was Hong Leong Bank Bhd (+7.4%).
Top losers were companies that were affected by the lockdown and cross-border travel restrictions due to Covid-19, particularly tourism-related firms. Genting Bhd fell by 25% YTD and Genting Malaysia Bhd (-17.3%).
National utility giant Tenaga Nasional Bhd was the second top laggard, which was down by 21% amid concerns over rising unpaid electricity bills and slowdown in power consumption.
Big cap (RM 1 billion to RM10 billion)
For the big cap space, office furniture manufacturer Euro Holdings Bhd leads the gainers and is up 5,064% YTD to close at RM2.88 from a mere 5.5 sen. This company, whose share price had never gone past 15 sen since its IPO in 2005 up until end-March this year, saw the emergence of a new largest shareholder SPA Furniture (M) Sdn Bhd in February this year.
This is followed by rubber glove makers Careplus Group Bhd (+1,213%), Rubberex Corp (M) Bhd (+672%) and Comfort Gloves Bhd (+282%).
In line with the technology sector's rally, semiconductor-related firm UWC Bhd grew by 365% to close at RM9.90, while Greatech Technology Bhd rose 278% and JF Technology Bhd was up 216%.
Other semiconductor-related firms that have chalked up handsome gains include Unisem (M) Bhd (+178%), Malaysian Pacific Industries Bhd (+116%), Mi Technovation Bhd (+107%), ViTrox Corp Bhd (+87%), Pentamaster Corp Bhd (+66%), and Inari Amertron Bhd (+63%).
Pharmaceutical companies Duopharma Biotech Bhd and Pharmaniaga Bhd also saw stellar growth of 143% and 144% respectively.
Oil and gas (O&G) counters dominate the top losers list, namely Velesto Energy Bhd (-63.2%), Sapura Energy Bhd (-53.7%), and Dayang Enterprise Holdings Bhd (-52.2%).
This is in contrast with crude oil refiners Hengyuan Refining Co Bhd which climbed 33.6% and Petron Malaysia Refining and Marketing Bhd, which is up 2.19%.
Mid cap (RM500 million to RM1 billion)
In 2020, companies' share prices could just soar by announcing their plans to hop on the vaccine distribution bandwagon. Share prices of 15 companies under this segment have more than doubled.
Other notable counters are GETS Global Bhd (+1,181% YTD), a loss-making bus operator which has ventured into the rubber glove business, and Hong Seng Consolidated Bhd (+692% YTD), also a new entrant to the rubber glove manufacturing industry. Meanwhile, HLT Global Bhd, which specialises in producing glove dipping lines for manufacturers, grew by 522%.
AT Systematization Bhd, which is likely the most traded stock of 2020 with daily trading volume exceeding one billion shares, gained 363%, has also thrown its hat into the rubber glove ring.
Top losers in this category are also O&G firms, namely Malaysia Marine and Heavy Engineering Holdings Bhd (-48%) and KNM Group Bhd (-44%).
Small cap (below RM500 million)
A similar trend was spotted among the small caps. INIX Technologies Holdings Bhd (+500% YTD), which is in the midst of setting up a rubber glove manufacturing plant, is the top gainer in this category.
Solution Group Bhd, which has announced vaccine-related ventures, tops the list and grew by 1,132% YTD. Likewise, Bintai Kinden Corp Bhd and Ho Wah Genting Bhd grew by 435% and 495% respectively.
Other notable companies that have announced healthcare-related ventures are MQ Technology Bhd (+460%), which has announced its venture into the manufacturing of personal protective equipment, and LKL International Bhd (+567%), which has been awarded a glove supply contract by a China-based company.
Vivocom Intl Holdings Bhd, which intends to acquire property development assets from its major shareholder, shot up by 463%.