This article first appeared in The Edge Malaysia Weekly, on August 20, 2018 - August 26, 2018.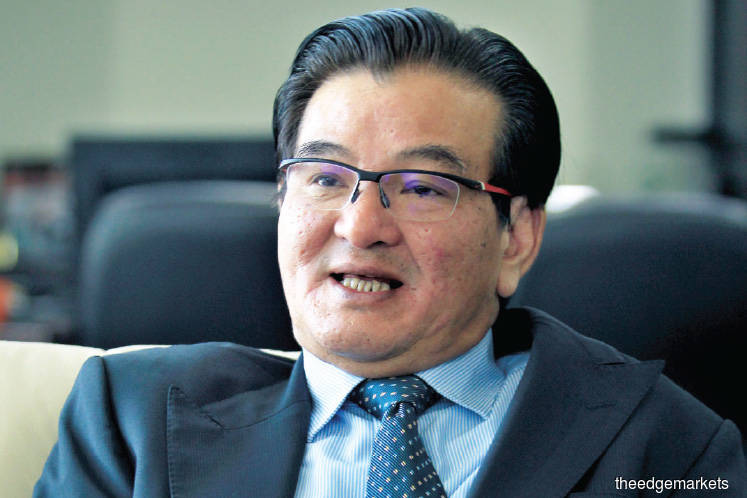 RIDING on industrial production expansion and manufacturing sector growth over the past decades, Samchem Holdings Bhd has established itself as one of the largest distributors of industrial chemicals in the Asia-Pacific.
However, it has remained largely under the radar of investors despite boasting a compound annual growth rate (CAGR) of 55% in earnings from the financial year ended Dec 31, 2014 (FY2014) to FY2017, when profits ballooned from RM5.96 million to RM22.4 million.
In fact, Samchem's operations have expanded to such an extent in Vietnam that it is in the midst of spinning off its Vietnamese business unit on the Ho Chi Minh City Stock Exchange.
"We would like to think that our shares are undervalued. In terms of price-earnings ratio (PER), we are only trading at about 10 times. For a growing company like us, I think we deserve a higher stock valuation," Samchem founder and executive chairman Ng Thin Poh tells The Edge in an interview.
Its competitors Nylex (M) Bhd — a unit of Datuk Dr Siew Ka Wei's Ancom Bhd — and Luxchem Corp Bhd are trading at PERs of 7 times and 15 times respectively, although it may not be an apple-to-apple comparison. It is learnt that Samchem focuses mainly on making liquid chemicals whereas Luxchem mainly produces solid powder chemicals.
Ng founded Samchem in 1989 and listed it in June 2009. Today, the 60-year-old remains the single largest shareholder with a 44.59% direct stake.
Based in Shah Alam, Selangor, Samchem supplies about 500 different petrochemicals and services more than 7,000 clients — from industries such as automotive, paints and inks, oil and gas, and agriculture — across the region.
It represents ExxonMobil Chemical, Shell Chemicals, Petronas Chemicals and BASF, which are some of the largest global producers of petrochemicals in this region.
Samchem chief operating officer Eugene Chong Wee Yip says after more than 20 years of collaborating with these principals, the group expanded to Asean countries and acquired a wider range of products for distribution, including speciality premium chemicals.
"We are a distribution house for all these well-known brands. We gather all their strong products, package them and sell them to our customers," he says.
Among others, it supplies raw materials to pesticide manufacturers Imaspro Bhd and Hextar Holdings Sdn Bhd and agrochemical and fertiliser specialist Halex Holdings Bhd.
Chong explains that Samchem is akin to a marketing arm for the likes of ExxonMobil, Shell, Petronas and BASF, as these multinational corporations would rather focus on their research and development work, identify new market trends and deliver innovative products.
In FY2017, Samchem posted a 35% increase in revenue to RM937.5 million from RM697.2 million a year ago, while its earnings grew to a record RM22.4 million.
Malaysia is the largest contributor to the group with a revenue of RM500 million but Samchem also has operations and strong business presence in Vietnam, Indonesia and Singapore.
In FY2017, its overseas operations registered strong growth owing to the rising demand for petrochemicals in Asean.
Vietnam, which has been Samchem's most successful overseas expansion, contributed significantly with revenue increasing 38% to RM303 million from RM220 million. Meanwhile, Samchem Indonesia charted a 28% increase in revenue to RM124 million while Singapore's revenue contribution almost tripled to RM11 million.
Ng says Samchem's turnover could hit the RM1 billion mark in FY2018 and its earnings will continue to grow.
Spin-off listing in Vietnam
While Ng declines to share the details of the initial public offering (IPO) in Vietnam, he says the Vietnamese firm will implement a 50% dividend policy after the spin-off listing. Based on the RM10 million profits the Vietnamese operations made in FY2017, RM2.5 million to RM3 million will be effectively distributed back to Samchem as dividends.
"Currently, Samchem has 63.25% equity interest in the Vietnamese firm. We will enlarge our share capital by 20% during the IPO. Subsequently, our shareholding will be diluted to over 50%, but it is still a controlling stake," he says.
Ng says the Vietnam IPO is likely to be held as early as the first quarter of next year if market conditions are good. "We have submitted all the applications. We hope to put everything in place by the end of this year. We should be able to get the approval by September or October. We had an investor briefing last month. We have not announced the IPO price, but it is not a big IPO."
He points to the Vietnamese population, which is almost three times Malaysia's. Based on Samchem's product portfolio, the size of the chemical market in Vietnam is twice the size of Malaysia's.
"We want to enhance the confidence of our customers and suppliers. We want to be a local player. We will bring some money into the company to expand to other Indochina countries such as Myanmar, Cambodia and Laos."
In other words, says Chong, Vietnam will be the regional hub and be central to Samchem's investments in Indochina.
"Our Vietnam operations can be self-funded. They will be relying less on Malaysia so that we can focus on growing the Indonesia and Singapore businesses, as well as the Philippines and Thailand in the future."
Save by subscribing to us for your print and/or digital copy.
P/S: The Edge is also available on Apple's AppStore and Androids' Google Play.