This article first appeared in The Edge Malaysia Weekly, on April 15, 2019 - April 21, 2019.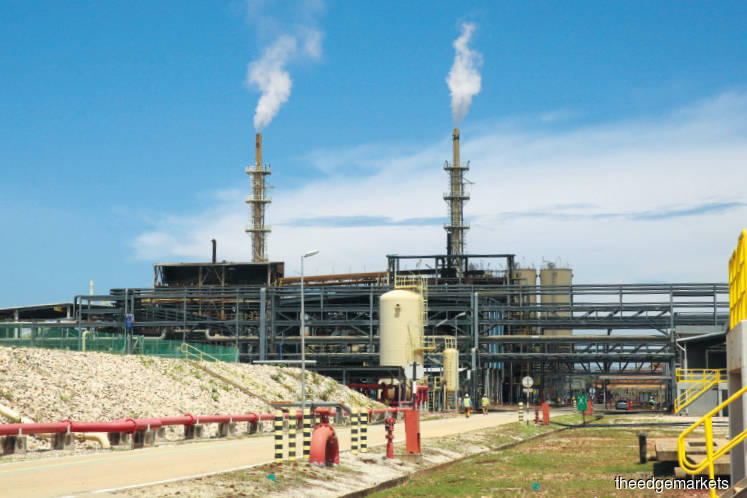 Lynas is the only significant rare earths miner and processor outside China. Photo By Sam Fong/The Edge
THE drama surrounding Lynas Corporation Ltd's rare earths processing facility in Kuantan continues unabated as the Australian miner seeks clarification on the statements made by Prime Minister Tun Dr Mahathir Mohamad regarding its operability in Malaysia.
The immediate question is whether Lynas will still be required to ship out the water leached purification (WLP) residue that has been piling up at the Lynas Advanced Material Plant (LAMP) in Gebeng Industrial Park, Kuantan, Pahang. WLP residue is a by-product of the cracking and leaching of rare earth ores.
During a press conference on April 5, Mahathir said the government would allow Lynas to continue operating on the condition that it conducts cracking and leaching of its radioactive ores prior to bringing them into the country. "…With regards to Lynas, we have imposed [an] extra condition, that is, they must take away the waste. But [if] they want to take away the waste, to where? They want to take it to Australia, but Australia doesn't want to accept it, so they can't do it anyway.
"… There are other companies who are willing to … acquire Lynas, [and] they have given us a promise that in the future before sending the raw material to Malaysia, they will clean it up first," said Mahathir.
Says an observer, "It is unclear whether the government will allow Lynas to store the WLP residue in Malaysia. If it still requires the residue to be shipped out of Malaysia, it will take almost three years for the entire 450,000 tonnes of residue to be removed, notwithstanding the need to identify a destination."
"Meanwhile, Lynas' temporary operating licence will expire in September. Will the government extend it for another three years and will it still require Lynas to ship the WLP residue out of Malaysia?" he asks.
To recap, Mahathir made the statement a few days after a meeting was held between Wesfarmers Ltd, an Australian conglomerate with interests ranging from retail to industrial and safety products, and the Malaysian government, to find out the conditions that Lynas has to fulfil to secure an extended operating licence.
Wesfarmers made an unsolicited, indicative, non-binding, highly-conditional proposal to acquire 100% of Lynas' shares for A$2.25 per share on March 26. However, the proposal was rejected by Lynas' board of directors the next day.
Among the conditions that must be fulfilled by Lynas is that it has to ensure that its relevant operating licences in Malaysia are in force and will remain in force for a satisfactory period following the completion of the transaction.
While the outcome of the meeting was not disclosed by Wesfarmers or the government, observers think the statement made by Mahathir on April 5 indicates what Lynas needs to do to continue operating in Kuantan.
"Lynas might have to bite the bullet and build a cracking and leaching facility elsewhere, preferably in Western Australia near its Mt Weld mines, to remove the radioactive content of its ores, before shipping them to Kuantan.
"However, this would only be for new supply of ores. Does the company still have to ship out the mounting WLP residue that it has kept in its temporary disposal facility in Kuantan? To do so, Lynas might need up to three years to clear the residue," says another observer.
Earlier, the Executive Review Committee on Lynas' Operations had recommended that the company immediately identify suitable sites for a permanent disposal facility (PDF) to dispose of its WLP residue.
If no suitable sites are identified or if the proposed sites are not approved by the government, Lynas must be prepared to remove the WLP residue and ship it out of Malaysia. So far, it has not made any arrangements to do so.
Lynas says the recommendation by the executive review committee is consistent with the company's licence conditions and international best practices, which it is willing to comply with.
The company says it had received approval for its PDF site selection plan and PDF framework from the Atomic Energy Licensing Board (AELB) in 2013. "Additional processes related to site selection are being progressed in accordance with the IAEA Safety (regulations)," Lynas told The Edge last Friday.
As for its neutralisation underflow (NUF) residue — which is non-toxic, non-carcinogenic and non-radioactive — Lynas says it has submitted an action plan to the Department of Environment for the management of the residue, including plans related to commercialisation and disposal.
However, last December, Minister of Energy, Science, Technology, Environment and Climate Change (MESTECC) Yeo Bee Yin disclosed that two new preconditions had been imposed on Lynas for its licence renewal.
These are the export of WLP residue before the licence renewal on Sept 2 and the submission of an action plan on the disposal of the NUF residue.
At the same time, Mahathir's statement that Lynas must crack and leach its ores outside Malaysia to "decontaminate" it from radioactivity means another condition has been imposed on the rare earths mining company.
Lynas corporate secretary Andrew Arnold  says the company sees value in carrying out cracking and leaching processing close to its location in Western Australia.
Lynas CEO Amanda Lacaze says the cracking and leaching facility outside Malaysia will be in addition to LAMP and will not replace the current facility. This indicates that Lynas is steadfast on its licence conditions.
Some analysts say for Lynas to build another cracking and leaching facility in Australia, the company will need to invest A$100 million. Can it afford to do so?
For the first half of the financial year ending June 30, 2019 (1HFY2019), its reported revenue fell 10.5% y-o-y to A$179.8 million while net profits fell 62.6% to A$19 million from A$50.8 million.
As at Dec 31, 2018, Lynas had A$241.2 million of total borrowings compared with A$53.7 million of cash and cash equivalents. The company had accumulated losses of A$917.3 million compared with its shareholders' funds of A$1,395.4 million.
Does Lynas need a white knight to solve its issues with the Malaysian authorities and is Wesfarmers the said rescuer?
In its announcement of the indicative proposal to the Australian Securities Exchange (ASX), Wesfarmers said it would support Lynas through further capital investment in its downstream processing assets and realise the full potential of the Mt Weld ore body.
The Perth-based conglomerate also said it has a track record of working well with diverse governments and other stakeholders to deliver sustainable, positive outcomes for local communities. It added that an investment in Lynas leverages its unique assets and capabilities, including in chemical processing, and will deliver an attractive premium and certain cash returns to shareholders.
Lynas' board rejected Wesfarmers' indicative proposal as it believes the offer undervalues the company's unique and strategic assets. It said Lynas has a unique position as the only significant rare earths miner and processor outside China, and that it has substantial in-house capability.
The A$2.25 per share cash proposal was at a premium of 44.7% to Lynas' last closing price and 36.4% to the 60-day weighted average price of Lynas' shares on March 25, 2019. It values Lynas at an enterprise value of A$1.7 billion.
However, a Deutsche Bank Research report dated March 26 says the cash proposal does not really constitute a premium to Lynas' share price levels prior to Dec 4, 2018, when the executive committee report was made public.
"The offer is broadly in line with the level the stock traded at in early December 2018, ahead of the sharp fall resulting from the Malaysian government's order to remove residual waste product from Malaysia as a precondition to its licence to operate," the research firm states.
JP Morgan in a research note dated March 27 states that while a new voice to engage with the Malaysian government regarding LAMP may be preferred, whether the specific shortcomings in Lynas would improve under Wesfarmers are unclear.
"We are unaware of any history it (Wesfarmers) has in operating in Malaysia or the reasons it would be better to engage with the Malaysian government, while its efforts in Australia are mixed. Despite active participation in the Business Council of Australia, it has arguably been less effective than it would like in influencing the public debate and government actions," the research firm says.