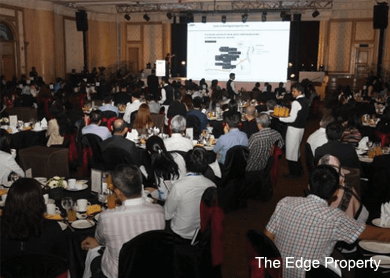 KUALA LUMPUR (May 7): The Edge Media Group has launched the all-new property portal theedgeproperty.com to level the playing field of the real estate market in Kuala Lumpur.
About 300 people witnessed the event, including representatives of 10 launch partners: Gamuda Land, IJM Land Bhd, IOI Properties Group Bhd, Mah Sing Group Bhd, MKH Bhd, Sime Darby Property Bhd, S P Setia Bhd, Sunway Bhd, Tropicana Corp Bhd and UEM Sunrise Bhd.
"theedgeproperty.com will democratise and level the playing field by creating transparency in the dissemination of information that is most relevant to property investment decision-making. It will help every property buyer and seller make better decisions," said The Edge Media Group publisher and CEO Ho Kay Tat.
He added that the portal, first introduced at The Edge Investment Forum on Real Estate 2015 on April 25, is a "one-stop centre for anything and everything on property". The portal is also accessible on mobile devices such as smartphones and tablets; theedgeproperty.com app is available for free from the Apple Store and Google Play.
"Today, we are taking a quantum leap forward by launching a property portal that offers news, data, analytics and tools that are currently not available on any other property portal in Malaysia, and all for free," said Ho.
Among the portal's features is The Edge Fair Value, an algorithm that generates indicative values based on the most recent real transacted prices; advanced analytics by area and property type of price per square foot; absolute price, historical price and transaction volume; and advanced analytics based on projects.
Also available is a compilation of sale transactions, rental rates, surrounding amenities and comparisons with nearby projects. A hot spot tracker will highlight trends, property news, and latest research. An interactive section on Feng Shui allows users to have their geomancy concerns addressed, and there are sections dedicated to legal issues and home fixes.
Property listings on theedgeproperty.com are free.
"As a media organisation, it is our responsibility to promote social and economic inclusion. Part of our job is to level the playing field for the public, which means we have to democratise information, data, analysis and tools while also educating the public about investments," said The Edge Media Group executive chairman Datuk Tong Kooi Ong.
He said the website is a comprehensive, agnostic, inclusive and free platform. "You will find the portal is a comprehensive free site to use anywhere, and this includes listing information, tools, news and research reports."
"It is agnostic [in that] it's a channel platform that is open to all in the industry, such as real estate agents, developers and banks.
"We are inclusive, because we serve all stakeholders in the industry without replacing anyone. Instead, we aim to add value to all the industry players," Tong said.
In jest, Tong suggested the portal could also be used "to do a background check on how well off your future in-laws are". drawing laughter from the crowd.
The Edge Media Group also introduced a new weekly property pullout at the event – The Edge Property – which comes free with The Edge Financial Daily on Fridays, starting tomorrow.
An additional 200,000 copies of the first edition of The Edge Property have been printed and will be distributed in the Klang Valley, Penang and Johor Baru this Friday.
The Edge Property pull-out and theedgeproperty.com are mutually complementary platforms. The Edge Property caters for those interested in real estate, and will feature a mix of industry and home improvement news and tips.
"With theedgeproperty.com, The Edge Property pull-out in The Edge Financial Daily and the City & Country pull-out in The Edge weekly, we will have complete coverage of the sector, so you don't need to look anywhere else," Ho said.