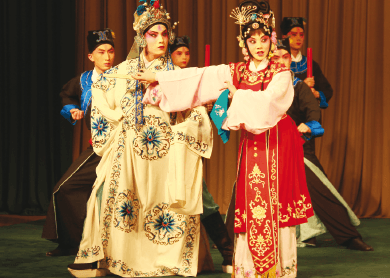 THE extraordinary art of the Beijing Opera makes its way to Malaysia with the debut of Dama Orchestra's Chinese Opera Series — Beijing Opera Excerpts from May 1 to May 3.
Hailing from the world renowned one-of-a-kind Beijing National Academy of Chinese Theatre Arts, academy alumni Ge Shanshan will perform alongside Jiao Jingge, a well-known practitioner in the art of "chou" (comedy). Jiao is also an assistant professor at the National Academy.
Accompanying them as artistic adviser is Wu Yanqiu, who holds the title of China's "First Class Director".
The dramatic traditional Chinese theatre art form will be presented in a more intimate and up close setting, featuring excerpts from three different operas.
The Jade Bracelet is a popular excerpt that is designed to entertain the audience in a lively routine featuring the huadan (young female role), mainly relying on dramatic technique. It paints a romantic scene of two youths at the cusp of romance, helped by a matchmaker.
Continuing the theme of romance, Autumn River is set in the Song Dynasty, where a scholar, Pan Bizheng, falls in love with a young and educated nun, Chen Miaochang. When the old nun finds out, Pan is forced to leave. His departure causes Chen to run away from the nunnery in pursuit of him, aided by an elderly boatman. Lastly, a young monk who was forced to be one by his parents runs away in Escape From The Temple.
The Beijing Opera performance is a combination of song (chang), dialogue (nian), pantomime, (zuo)) and acrobatic fighting and dancing (da). Its repertoire is often derived from tales of the past — important historical events, legends of emperors and generals, geniuses and beauties. There are four major roles — sheng (male), dan (young female), jing (painted face, male) and chou (clown, male and female) where each can be divided into more roles. Ge will be playing the dan roles for each excerpt.
Presented by Malaysian music and theatre company Dama Orchestra, Beijing Opera Excerpts will be playing at the Theatre Lounge Café, Plaza Damas 3. There will be a cover charge of RM100 (standard seat) or RM167 (sofa seat). To book, call (03) 6730 7982 or visit www.theatreloungecafe.com. Show starts at 9pm for all three nights.
This article first appeared in The Edge Financial Daily, on April 27, 2015.