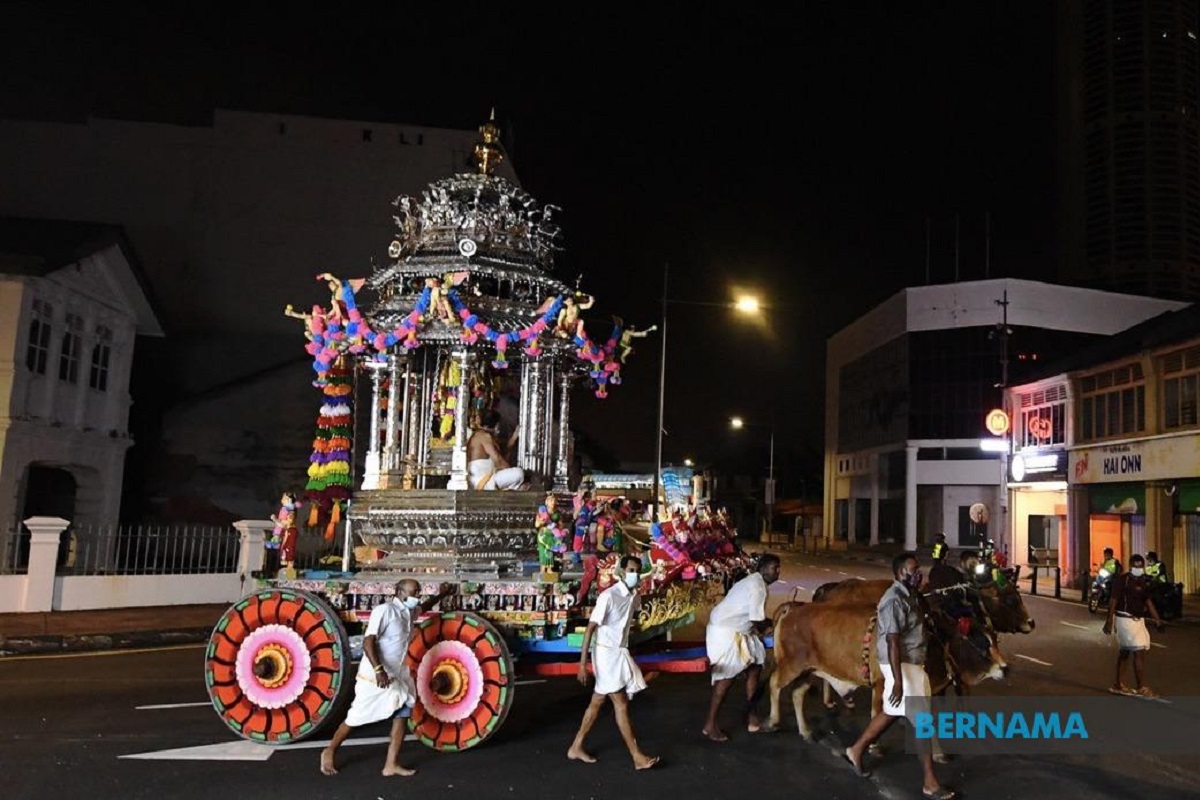 GEORGE TOWN (Jan 27): The silver chariot ferrying the statue of Lord Murugan began its journey in conjunction with the Thaipusam celebration early this morning, in compliance with the strict standard operating procedures (SOPs), and reached the Nattukottai Chettiar Temple in Jalan Air Terjun here at 5.45am.
Nattukottai Chettiar trustee Dr A Narayanan said the chariot, which was towed by two bulls, left the Kovil Veedu Temple in Lebuh Penang at 3.30am after the temple received permission from the National Security Council (MKN) to go ahead with the journey by adhering to the SOPs stipulated for the current movement control order (MCO) period.
"We applied to the MKN for the chariot's journey and it was approved. Police escorted us throughout the journey, which was shorter this time at just 7km compared to 9km previously.
"Police also set the route to be taken by the chariot and we followed all the SOPs stipulated, including not stopping at any place and heading straight to the Nattukottai Chettiar Temple to ensure there is no possibility of Covid-19 transmission," he said.
Previously, the seven-tonne chariot would take more than five hours to reach the Nattukottai Chettiar Temple as thousands of Hindu devotees would line the streets to pray and break coconuts.
This time, only 10 people, mostly temple officials, were allowed to accompany the chariot, with policemen on motorcycles following in tow.
The chariot will return to the temple in Lebuh Penang on Friday.
Thaipusam is a festival celebrated by Hindus worldwide in the month of "Thai", namely, the 10th month in the Tamil calendar. It is a day when Lord Murugan received the divine Vel (spear) from his mother, Goddess Parvati, to eradicate the evil force, Soorapadman, and restore peace and prosperity to humankind.
Earlier, the Penang government had announced the cancellation of the journey to be taken by the chariot following the enforcement of the MCO to curb the spread of the pandemic.