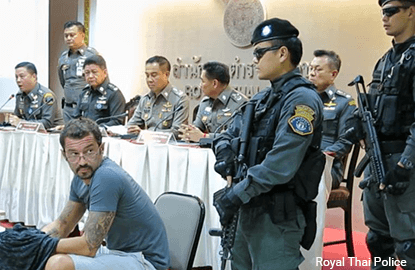 (Oct 21): Malaysian police can now interview Xavier Andre Justo as early as this week over the 1Malaysia Development Berhad (1MDB) scandal, following permission from the Thai authorities last week, Inspector-General of Police Tan Sri Khalid Abu Bakar said today.
Khalid said the permission was obtained following a meeting with Thai police.
"We will be sending our officers within the week.
"This is to assist out probe into the leak of banking documents," he said at a press conference today.
Justo, 49, was a PetroSaudi International employee who was sentenced to three years' jail by a Thai court on August 17 for blackmailing his former employer with information on 1MDB.
The jail term, without suspension, was backdated to his arrest on June 22.
Thai police arrested Justo on June 22 on charges of blackmailing PetroSaudi, the Saudi-based firm linked to the controversy surrounding 1MDB, of which Prime Minister Datuk Najib Razak is its advisory board chairman.
Justo, who quit PetroSaudi in 2011, demanded 2.5 million Swiss francs (RM4.4 million) from PetroSaudi's chief executive in 2013 for not divulging information he held on the company.
The firm had paid him off once before but refused to pay him again, and instead filed a complaint with Thai police in May this year. – The Malaysian Insider