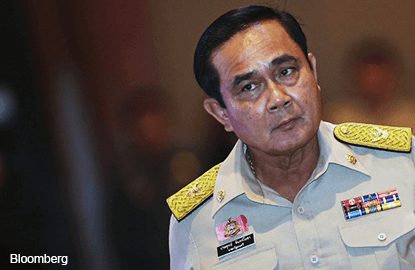 This article first appeared in The Edge Financial Daily, on September 23, 2015.
AFTER taking power nearly 16 months ago, Thai coup leaders sought to banish all traces of former leader Thaksin Shinawatra from public life. It's more than a little ironic that they're now embracing his economic policies.
Thaksin was removed in a 2006 coup after five years in power. But his political machine continued to control Asia's seventh-biggest economy off and on for years after, with his younger sister, Yingluck Shinawatra, serving as prime minister from 2011 to 2013.
In May 2014, a new band of military leaders rolled into Bangkok determined to restore order after a long-running political stalemate and hoping to drive the Thaksin crowd out once and for all.
Initially, general-turned-premier Prayuth Chan-ocha won reasonably broad support from a Thai public exhausted by political infighting. Many Thais figured that if democratically elected leaders couldn't boost living standards, perhaps the generals could.
But as the economy's struggles have deepened, the government's support rate has sunk along with the Thai currency. To prop up those numbers, Prayuth is turning to the same spendthrift economic policies — dubbed Thaksinomics — that he once derided.
Last month, Prayuth hired Somkid Jatusripitak, Thaksin's former finance minister and architect of his economic programme. Somkid is already pushing similar policies, including pumping waves of money into villages to shore up political support.
That's exactly what Thailand doesn't need. One can appreciate the pressure Prayuth is feeling. Even though the Thai baht is down 9% this year, exports contracted in each of the last seven months.
Domestic demand is equally weak amid high consumer debt and a lack of confidence (something unlikely to be bolstered by news that beloved King Bhumibol Adulyadej is back in hospital).
A deadly bomb blast in Bangkok last month threatened to inflict further damage on the vitally important tourism trade and repel already-scant foreign investment.
Yet Prayuth was right to criticise Thaksin's strategy of lavishing piles of cash on rural communities in exchange for loyalty. Reverting to mass handouts now will do nothing to improve economic fundamentals and may well deepen the nation's malaise.
For one thing, such populism distracts the government from polices more likely to encourage long-term competitiveness, such as infrastructure upgrades. Plans to spend roughly US$92 billion (RM394.68 billion) on such projects — including high-speed rail networks between Southeast Asia and China — are progressing glacially.
So are efforts to move Thailand up the skill-and-production value chain. As Indonesia, the Philippines and Vietnam lobby to host Toyota and Samsung factories, Thailand doesn't have this kind of time to waste.
There's also the next phase of Thailand's development to consider — the need to integrate into the global information economy. If the junta is going to ply rural communities with billions of dollars, the money should be put into education, training and productivity-enhancing research and development projects.
Unfortunately, the junta's recent actions may curb the capital inflows needed to finance such human capital investments. On Sept 11, for example, it failed to pass a new constitution that critics said would have legalised similar coups. The upshot: An election in 2016 now looks impossible.
Thailand has just seen a record 17 days of outflows from debt. Further capital flight is likely as growth slows and global volatility continues. All this would be less worrisome if Prayuth and his men seemed to have a coherent plan to revive the economy.
Now that two interest rate cuts have failed to boost demand, the onus is on the government to combat the effects of a Chinese slowdown (including through a US$6.5 billion stimulus package).
Amid such uncertainty, a detour toward Thaksin-like short-termism is troubling to say the least. Thailand needs bold structural reforms to strengthen government institutions — like the judiciary — reduce the role of exports, curb corruption, increase transparency and cut red tape to encourage both domestic start-ups and foreign investment.
Confidence could be restored by offering a coherent and proactive revival programme with specific goals and deadlines — including a timeline for when the generals will restore civilian rule. The last thing the country needs is a return to the past those same generals claimed to be fighting against. — Bloomberg View
William Pesek is a Bloomberg View columnist.