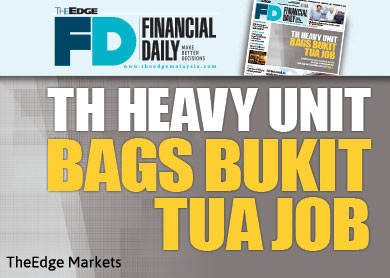 KUALA LUMPUR: TH Heavy Engineering Bhd's (TH Heavy) 30%-owned unit Berlian McDermott Sdn Bhd has bagged a contract from PC Kelapang II Ltd, a unit of state-controlled Petroliam Nasional Bhd (Petronas), for transportation, installation and pre-commissioning works at the Bukit Tua Development in East Java, Indonesia.
Berlain McDermott's main asset is a 128-metre derrick lay barge known as the DB 30. The DB 30's main selling points are its crane capacity of about 3,000 tonnes, and its ability to install pipes of up to 60 inches (1.5m) in diameter.
While details of the job, such as the value of the contract, are not clear, TH Heavy officials confirmed the awarding of the contract. United States-based McDermott International Inc, which owns the remainder 70% of Berlian McDermott, announced the award of the job last month.
McDermott said the contract is expected to be completed by the end of the first quarter next year. There is no mention of an option for an extension.
Industry players said that the Petronas contract at Bukit Tua could be worth as much as RM600,000 a day (at the lower end of the scale). Assuming a five-month charter period, the contract works out to about RM90 million.
Judging by 20% margin on earnings before interest and tax of TH Heavy's competitors, Berlian McDermott could make about RM18 million. This, in turn, would mean that TH Heavy's 30% equity stake in it would rake in about RM5.4 million.
This could be significant for TH Heavy, which is facing challenges to replenish its order book.  
For the six months ended June 2014, TH Heavy suffered a net loss of RM4.5 million, or 0.9 sen per share, on revenue of RM206.8 million. 
The bleeding is the result of RM9 million in provisions for the company's fabrication arm amounting to RM6 million, and 92-day dry-docking for DB 30 valued at RM3 million.
TH Heavy's order book stands at about RM1.5 billion, out of which some 78% comes from its floating, production, storage and offloading (FPSO) vessel, Deep Producer 1.
Deep Producer 1 bagged a RM1.2 billion FPSO contract from JX Nippon for Block SK10, offshore Sarawak, for a tenure that can stretch for as long as 10 years. 
Recently, TH Heavy sought to raise RM450 million via a rights issue for a conversion of Deep Producer 1, which is likely to cost some US$150 million (RM502.5 million). However, with the selldown in oil and gas stocks, its shares have fallen considerably. Year to date, the stock price has shed 47% to a 19-month low of 46.5 sen. 
As at end June this year, TH Heavy had cash balances of RM101.8 million, while it had long-term debt commitments of RM274.5 million and short-term borrowings amounting to RM39.1 million.
This article first appeared in The Edge Financial Daily, on November 17, 2014.