This article first appeared in The Edge Malaysia Weekly, on September 2, 2019 - September 08, 2019.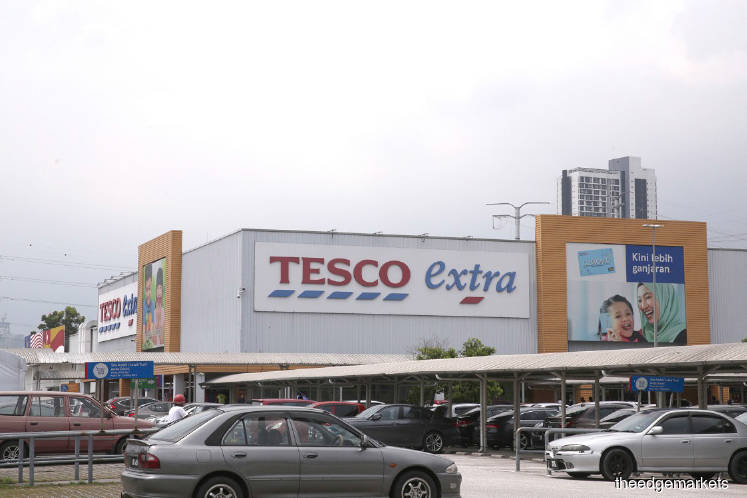 BRITISH retailer Tesco Stores (M) Sdn Bhd (Tesco Malaysia) has seven months to find a new local partner for its convenience store (c-store) chain in Malaysia after Perbadanan Perwira Niaga Malaysia (Pernama), a wholly-owned subsidiary of Lembaga Tabung Angkatan Tentera, pulled out of the collaboration that was aimed at helping ex-servicemen participate in the c-store retail segment.
The Ministry of Domestic Trade and Consumer Affairs has given Tesco Malaysia — a 70:30 joint venture (JV) between the UK's Tesco PLC and Sime Darby Bhd — until March 31 next year to bring in a new local partner for its c-store chain.
Acknowledging Pernama's withdrawal, Domestic Trade and Consumer Affairs Minister Datuk Seri Saifuddin Nasution Ismail says Tesco Malaysia has decided to continue running the existing nine c-stores and has applied to his ministry to be exempted from the ruling. "The ministry has given a conditional approval for Tesco Malaysia to operate the existing c-stores until March 31, 2020," he tells The Edge.
In the interim, however, the retailer is barred from adding new c-stores until a new local partner is found.
"Our action seems very fair in protecting the consumer, existing business and policy," adds Saifuddin.
Malaysia has strict guidelines governing the entry of foreign hypermarkets into small-format stores. Despite having a shareholder in Sime Darby, Tesco Malaysia is still required to have a local partner with a 70% stake in its c-store venture.
According to independent market research firm Euromonitor International, Malaysia's c-store industry saw a nearly 50% jump in sales to RM5.05 billion last year, from RM3.37 billion in 2014. The retail value of the business is expected to hit RM5.4 billion this year and RM5.73 billion by 2020.
In an email reply to The Edge, Euromonitor says the top five c-store brands in Malaysia are 7-Eleven, 99 Speedmart, KK Super Mart, myNEWS.com and MyMydin. Euromonitor carries out market research ranging from consumer products to commercial industries and demographic trends to consumer lifestyles.
"We worked with them (Pernama) for the last couple of years to understand if there was an opportunity to move forward in a partnership," Tesco Malaysia CEO Paul Ritchie tells The Edge in an interview. However, the collaboration fell through earlier this year.
"It (Pernama) had a change of board of directors, which has taken a different direction in terms of how it wants to manage the stores. So, that partnership (between Tesco Malaysia and Pernama) has concluded. The c-stores are currently trading as Tesco Express stores," he adds.
Pernama, set up in 1983 to undertake retail activities, distribution, wholesale and import-export, had joined forces with Tesco Malaysia in 2014 and opened the first three c-stores in early 2015.
"The collaboration was established in 2014 to set up 300 Tesco Pernama Ekspres convenience stores. Half of these stores were earmarked to be managed by the Malaysian Armed Forces Veterans, with the caveat that the said 150 stores produce positive results," a Pernama spokesperson says in an email reply to The Edge.
"An initial 20 trial stores were planned but after three years (2017), only nine stores were set up, with only five stores producing favourable results," the spokesperson adds.
In comparison, Pernama says its partnership with 7-Eleven Malaysia Holdings Bhd has proved to be successful.
"In 2010, Pernama had entered into a similar arrangement with 7-Eleven Malaysia and 50 stores were passed to Pernama to manage and provide to military veterans as part of a franchise arrangement. Pernama now has 100 7-Eleven stores for the veterans.
"Due to the delay in the progress of setting up Tesco Pernama Ekspres, the collaboration was mutually terminated in 2018. This is also to enable Pernama to focus on the arrangement made with 7-Eleven," the spokesperson explains.
Although the decision to terminate the collaboration between Pernama and Tesco Malaysia was made last year, the latter had requested for an extension until March this year, which Pernama accommodated.
Pernama also operates the Navy, Army and Air Forces Institute's retail business and a chain of sundry shops that provide goods at affordable prices to assist the army, retired armed forces personnel and their volunteers. It has also ventured into food court, petrol station and shopping complex management.
A question, however, arises over the fate of Tesco Malaysia's c-store business if it fails to find a partner within the stipulated time frame. The retailer could request for another extension from the ministry for its c-stores. Alternatively, it may choose to shut down the c-stores if the model fails.
Under the Guideline on Foreign Participation in the Distributive Trade Services Malaysia introduced in 2004, c-stores are defined as those that operate 24 hours a day or have extended operating hours. An online search reveals that Tesco Express stores operate from 8am to 11pm. Five of the stores are located in USJ, Shah Alam and PJCC in Selangor and Bandar Sri Permaisuri and Jinjang in Kuala Lumpur.
Apart from the need for a local partner, the c-store JV is also required to franchise the stores within three years. Stores have to be the size of one shoplot, which is about 150 sq m.
Until late last year, foreign hypermarket operators were not allowed to operate stores below 3,000 sq m. The ruling has since been relaxed to not below 2,000 sq m, in line with the change in consumer shopping trends. Accordingly, Tesco Malaysia plans to open a 2,000 sq m store at Wangsa Walk Mall in KL.
The guidelines were introduced after the government received numerous complaints that the foreign hypermarkets were threatening the livelihoods of traditional mom-and-pop stores, which tend to be family-owned.