This article first appeared in The Edge Malaysia Weekly, on October 12, 2020 - October 18, 2020.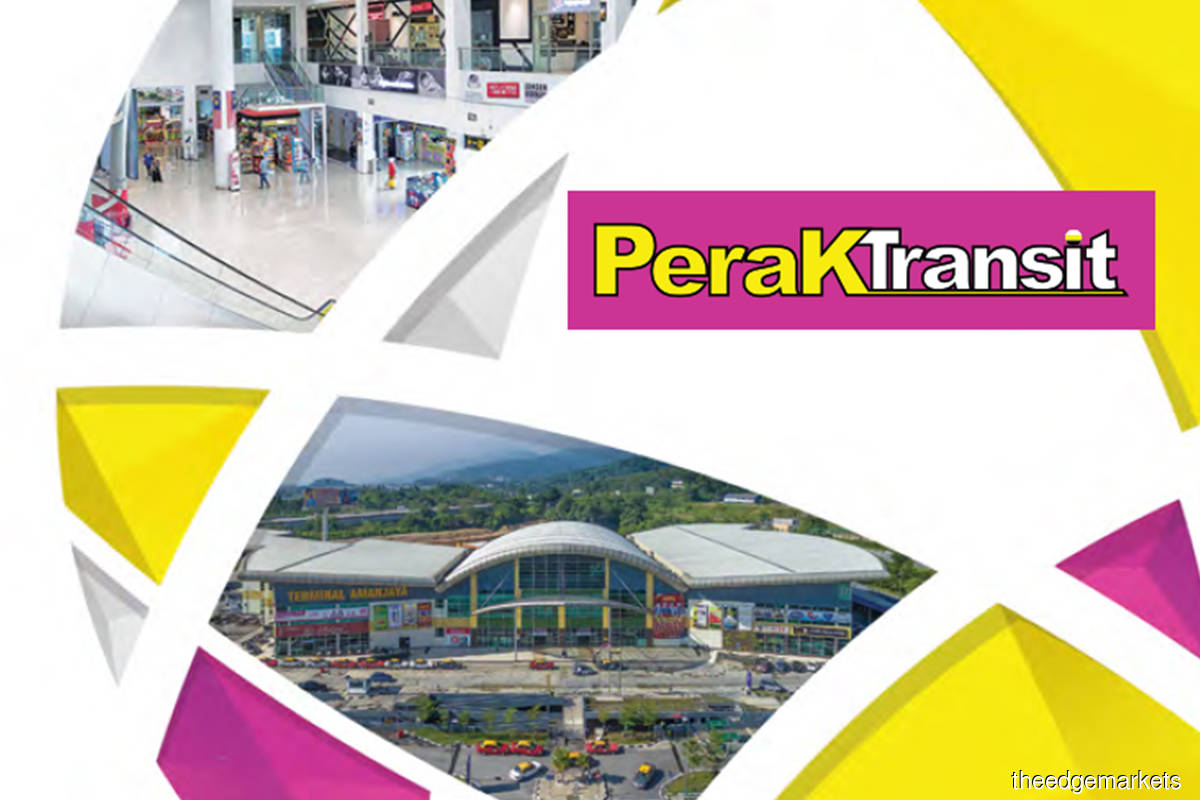 WHO would have thought that operating a transport terminal could yield high profit margins?
Given what it has achieved since its listing on Bursa Malaysia four years ago, Perak Transit Bhd appears to have the local transport terminal business figured out.
Chief financial officer Jennifer Chin Yi Teng says last year, 45% of Perak Transit's revenue was derived from Terminal Meru Raya — formerly known as Terminal Amanjaya — in Ipoh. And because the bulk of its cost had been capitalised, the transport operator realised a whopping gross profit margin of 86%, she reveals.
Buoyed by its success, the company will continue to embark on expansion plans, which include building Bidor Sentral and Terminal Tronoh in the state. Its plans for Terminal Kampar Putra are on track following the receipt of a full certificate of completion and compliance on Aug 7.
Founded by its managing director Datuk Seri Cheong Kong Fitt, Perak Transit started in 2009 as a bus company — a consolidation of three bus services in Ipoh — and began operating its maiden terminal, Terminal Meru Raya, in September 2012.
"Although we are a bus operator, it is just a platform for us to tap into terminal operation. Most of our income comes from the terminal operation," Chin tells The Edge in an interview.
Executive director Datuk Cheong Peak Sooi, who is Kong Fitt's brother, says the advertising and promotional (A&P) income from the terminal — particularly outdoor advertising — has helped mitigate the impact of the Covid-19 pandemic on the company.
Even so, he sees continued resilience in domestic travel despite weak consumer sentiment. "Our bus services were only halted for 1½ months during the MCO (Movement Control Order) period. Unlike airports, the impact is likely just 20%. People are still doing domestic travel and schools have reopened. There is not much impact on our terminals," Peak Sooi says.
Chin points to income certainty from the new Terminal Kampar Putra, which was built at a cost of RM128 million.
"We signed contracts with two advertising agencies; one is in charge of advertising and the other, promotional. We gave them exclusive rights to rent out all the spaces. We only charge them fixed monthly rentals. So, we have a revenue guarantee."
Terminal Kampar Putra, which has a gross lettable area of 409,000 sq ft, comprises a one-storey bus terminal, five-storey business centre and 11-storey hotel and car park, with facilities such as retail and grocery outlets, a cinema, badminton courts, a bowling alley and a gym.
Tapping the student market in Kampar, the terminal is expected to make its full contribution to the company next year. The 30,000 students in the university town has boosted the population in Kampar and the surrounding areas to 100,000.
Chin explains the different strategies taken for its various terminals: "The focus is different for Terminal Meru Raya and Terminal Kampar Putra. Meru Raya is focused on passengers because we have 55 express bus operators, but for Kampar Putra, the target is students because there is no supermarket, entertainment centre and sports centre in Kampar."
For the upcoming Bidor Sentral and Terminal Tronoh, construction work is expected to start in 2021 and 2022 at costs of RM165 million and RM180 million respectively.
Perak Transit provides three different bus services — public stage bus (covering Ipoh and around the city), express buses to towns across the peninsula and chartered bus services. However, contribution from the bus services segment was thinner as it only accounted for 27% and 13% of revenue and gross profit respectively last year. The company also operates four petrol stations in and around Ipoh, but the segment's contribution was only 1% of gross profit.
Overall, net profit margins have grown, from 24% in 2016 to 32% in 2019. Last year, the company recorded a net profit of RM39.76 million, or a 10.9% increase from the RM35.84 million achieved in 2018.
For the first half of the year, net profit fell 11.8% to RM16.66 million against RM18.89 million in the same period a year ago, owing to the MCO and lower rental income as tenants were given discounts.
However, it is worth noting that Perak Transit's financial performance was aided by a lower effective tax rate of 10% as its terminals were built under private funding initiatives to help the government improve state infrastructure.
Chin adds that Terminal Kampar Putra has received the government's approval in principle for an RM8 million grant. A similar grant of RM9.98 million was awarded for Terminal Meru Raya.
Given its experience, Perak Transit is seeking opportunities to manage transport terminals owned by local councils.
"We can help them to upgrade and refurbish the terminals. We will also handle the management and system for them, and charge them a monthly management fee. We are in talks with some local councils, including those in Seremban, Kuala Kangsar and Sungai Nibong," Peak Sooi shares.
Another business model could be to build a terminal next to a mall in order to create an integrated mall, Chin adds.
Project financing for expansion is not an issue for Perak Transit, which, in September 2019, issued a RM500 million sukuk, of which RM300 million has been drawn down. The balance of RM200 million has been earmarked for the Bidor Sentral project.
Moreover, it received RM120 million from the conversion of 96.71% of warrants to mother shares before their Sept 18 expiry date. The warrants were issued in September 2017 as part of its bonus issue exercise and the proceeds are intended to be utilised for the partial early redemption of sukuk, construction cost of Bidor Sentral and working capital.
As at end-June, its cash and cash equivalents stood at RM16.98 million while gross borrowings amounted to RM291 million.
Kong Fitt is Perak Transit's largest shareholder with direct and indirect stakes of 13.57% and 16.76% respectively. Some 20% of the company's investors are institutional funds.
Since its listing in October 2016, its share price has nearly doubled to 28 sen last Friday, valuing the company at RM541.9 million.
Although the company has committed to a 25% dividend payout, Chin points out that it has been more generous. "Based on our track record, we have been paying around 35%. Recently, we also proposed a quarterly dividend to reward our shareholders."