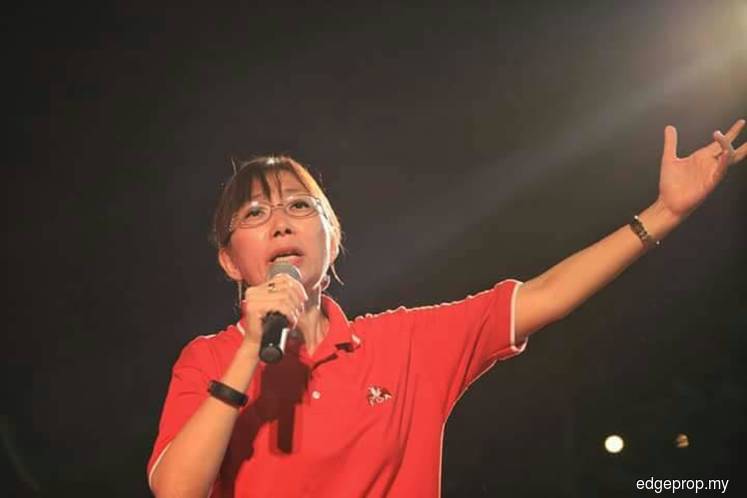 PETALING JAYA (May 28): Seputeh MP Teresa Kok has refuted accusations by the Protect Taman Desa coalition that she had ignored them as "baseless and wholly untenable".
The group had alleged that she was unsupportive and unwilling to take a stand on the overdevelopment of Taman Desa.
"The negative statements against me were initiated by certain disgruntled activists in Taman Desa, namely Frank Yeh, Philip Phang and M. Gunasekar," she said in a statement posted on her Facebook page.
She added that she had been the most outspoken MP against overdevelopment in Kuala Lumpur (KL) by raising issues at meetings between MPs, the Federal Territories Minister and the Mayor of KL, as well as holding protests and press conferences, as well as issuing statements and making speeches on the matter.
"Despite all the above that I have strived and which speaks for itself over the years for the Taman Desa residents, I note, with deep regret that the three coordinators of the 'Protect Taman Desa from Over-Development' Facebook page (Frank Yeh, Philip Phang and M. Gunasekar), for reasons best known to them, never seem to be happy nor appreciate all my efforts.
"They have constantly rained much untruths and unsubstantiated allegations against me - via the Protect Taman Desa from Over-Development Facebook page. Sadly, it appears to be as if they a personal agenda against me," she said.
She added that she reserved all the legal rights to commence legal proceedings in defamation, if necessary, to protect and preserve her reputation and issued a final warning to Yeh, Phang and Gunasekar, who operate the "Protect Taman Desa From Over-Development" Facebook page, to "cease and desist from continuing their despicable acts".
The coalition had posted several screenshots of the conversation between them and Kok via WhatsApp on the "Protect Taman Desa From Over-Development" Facebook page on May 26.
According to the images, Yeh – who is also chairman of the coalition – told the MP that they hoped to see her "taking an aggressive and undivided stand in the matter" while asking about what will be done to stop a high-rise residential development on a 132ft-wide TNB reserve land in Taman Desa.
When Kok responded that she will organise a town hall meeting after the new Federal Territories Minister is appointed, Yeh questioned why she was holding back.
"Taman Desa residents are getting disappointed and frustrated. Protect Taman Desa Coalition has been ignored by Seputeh MP since the day it has been formed. She has not attended any protest or media conference organised by the coalition.
"Attempts to get her to organise a town gall session failed. She is not willing to state her stand with regards to the overdevelopment and land grab issues in Taman Desa," Gunasekar, who is the group's media coordinator, told EdgeProp.my via WhatsApp on May 26.
Meanwhile, Taman Desa Residents' Association (TDRA) had come to the lawmaker's defence today, claiming that the Protect Taman Desa coalition had in fact ignored her help when it was offered earlier.
"This group of people was saying that they didn't want politicians involved.
"They told Kok directly that they didn't want politicians," TDRA vice-president Yap Biow Hwee told The Malaysian Insight.
He refuted the coalition's accusations, adding that the lawmaker had always been focused on fighting overdevelopment in the neighbourhood.
"To say Kok was not involved in all of this is very unfair.
"She is taking step after step to make the picture right, but you want to come and meet her and be so hostile. Of course she can't say anything.
"Why be so hostile? First you said you didn't want her, now you say you want her to take the lead," Yap said.