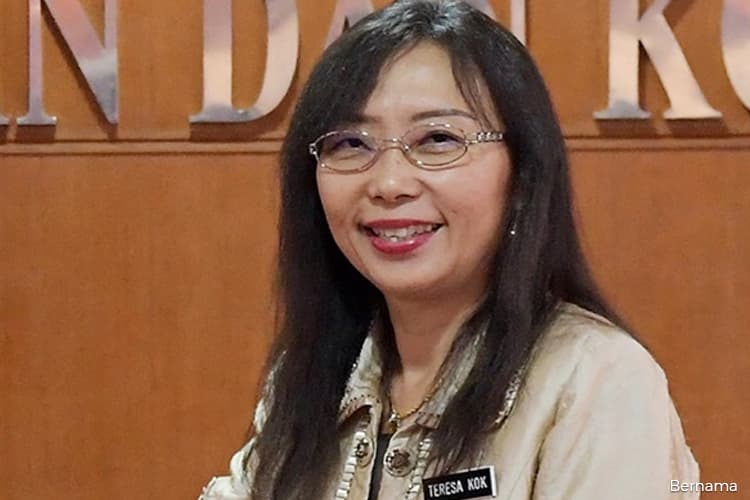 KUALA LUMPUR (April 26): Pricing should not be a key concern hindering players within the industrial sector from adopting the higher biodiesel blending percentage, Primary Industries Minister Teresa Kok said as the B7 programme is set to kick off in about two months.
Kok was speaking to reporters after delivering her opening speech at a biodiesel seminar co-organised by the Federation of Malaysian Manufacturers (FMM) and Malaysian Palm Oil Board (MPOB) here today.
In her speech, Kok acknowledged that while pricing is a concern for the industrial use of biodiesel blended fuel, it is important to note that the B7 biodiesel at present is only slightly higher priced compared to fossil-based fuel, by 0.41 sen — less than one sen — per litre.
"The price of B7 is volatile just like petroleum diesel, and the industry will realise that prices of biodiesel and fossil diesel will average out eventually.
"And if the biofuel price keeps going up, we can always reduce the blend. This is a way to mitigate the price change… We can always adjust accordingly by that time," said Kok.
According to Kok, the introduction of the B7 programme in the industrial sector, starting July 2019, will utilise 230,000 tonnes of palm biodiesel per year and annually mitigate 690,000 tonnes of carbon dioxide equivalent.
"Biodiesel does not only offer significant and impactful environmental benefits, notably by way of reducing greenhouse gas in our pursuit of a greener carbon footprint, but it also yields tremendous positive industrial, commercial, and social benefits for the country as a whole.
"With the biodiesel phenomenon continuing to make a greater impact worldwide, it would be irrational for us to ignore and not capitalise on these enormous benefits. This is especially as it will also encourage domestic consumption of our palm oil," she added.
Meanwhile, commenting on Malaysia's RM4.56 billion palm oil deal inked with China, Kok said the additional supply of at least 1.9 million tonnes of palm oil to China over five years starting this year will be a "big help to smallholders" here.
She said the ministry will also be working towards more concrete signings hopefully in her visit to China end of next month.
It was reported yesterday that Primary Industries Ministry secretary-general Datuk Dr Tan Yew Chong signed on behalf of Malaysia a memorandum of understanding (MoU) related to palm oil, whereby China agreed to buy an additional supply of at least 1.9 million tonnes of the edible oil from Malaysia over five years starting 2019.
The volume is valued at RM4.56 billion, based on an average price of US$600 per tonne.
This is in addition to the four purchase contracts signed in March for the export of 1.62 million tonnes of palm oil from Malaysia to China, with a combined estimated worth of US$891 million (RM3.64 billion).
China was Malaysia's second biggest importer of palm oil and palm-based products in 2018, when Malaysia exported 3.07 million tonnes of palm oil and palm products valued at RM8.38 billion to China — up 7.3% from the 2.86 million tonnes (worth up to RM9.39 billion) recorded in 2017.
Malaysia's annual palm oil export volume to China shrank to below three million tonnes after 2015. The volume was at 3.76 million tonnes in 2011, which was more than Indonesia's 2.04 million tonnes to China. But since 2015, Indonesia has overtaken Malaysia in terms of export volume of palm oil to China, with the former exceeding three million tonnes, while Malaysia's dropped to 2.44 million tonnes.
At 12.51pm, the benchmark third month palm oil contract was last traded RM34 lower, at RM2,123 a tonne.