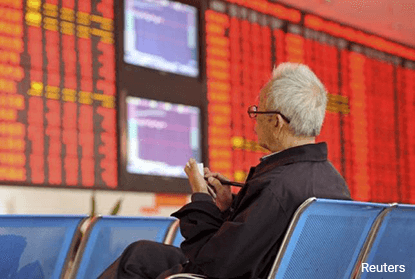 BENGALURU (Feb 28): Most Southeast Asian stock markets moved sideways in thin trade on Tuesday, as investors remained watchful of U.S. President Donald Trump's speech later in the day to a joint session of Congress, in which he would lay out plans for tax reform and infrastructure spending.
Markets have been awaiting more details on Trump's proposed stimulus plans to judge if they would boost inflation and economic growth, and add to the case for higher U.S. interest rates.
Analysts have warned that a lack of clarity and details on the proposed plans may end Wall Street's record-setting run.
Philippine shares were the biggest losers in Southeast Asia, falling more than 1% in their third straight losing session, dragged down by political uncertainties
following Friday's arrest of a Senator, who is a staunch critic of President Rodrigo Duterte's war on drugs.  
The arrest has "created some political tension, which I think is being used as a reason for lightening up on assets like equities," said Jose Vistan, an analyst at Manila-based AB Capital Securities.  
The total approved foreign direct investment (FDI) to the Philippines fell 10.7% to 219 billion pesos (US$4.36 billion) in 2016, DBS Group Research said in a note on Tuesday.
The amount of FDI into the Philippines as a percentage of the gross domestic product (GDP) is still relatively low, compared to its regional peers, DBS said.
Real estate stocks led the decline in Philippines, with Ayala Land falling 2% and Robinsons land shedding 2.5%.
The Thai index rose marginally, as investors awaited January trade data due later in the day. Thailand's industrial output rose for a third straight month in January, but missed expectations, the Industry Ministry said on Tuesday.
Singapore stocks lost 0.3%, on track for a third straight session of declines. Oil and natural gas sector led the losses, with Keppel Corp and Sembcorp Industries falling more than 1%.
SOUTHEAST ASIAN STOCK MARKETS:
Change at 0458 GMT
| | | | |
| --- | --- | --- | --- |
| Market | Current | Previous Close | Pct Move |
| Singapore | 3099.17 | 3108.62 | -0.30 |
| Bangkok | 1560.24 | 1558.03 | 0.14 |
| Manila | 7164.55 | 7232.47 | -0.94 |
| Jakarta | 5401.386 | 5382.874 | 0.34 |
| Kuala Lumpur | 1693.7 | 1693.84 | -0.01 |
| Ho Chi Minh | 716.02 | 717.44 | -0.20 |
Change on year
| | | | |
| --- | --- | --- | --- |
| Market | Current | End 2016 | Pct Move |
| Singapore | 3099.17 | 2880.76 | 7.58 |
| Bangkok | 1560.24 | 1542.94 | 1.12 |
| Manila | 7164.55 | 6840.64 | 4.7 |
| Jakarta | 5401.386 | 5296.711 | 1.98 |
| Kuala Lumpur | 1693.7 | 1641.73 | 3.17 |
| Ho Chi Minh | 716.02 | 664.87 | 7.7 |
(US$1 = 50.2580 Philippine pesos)