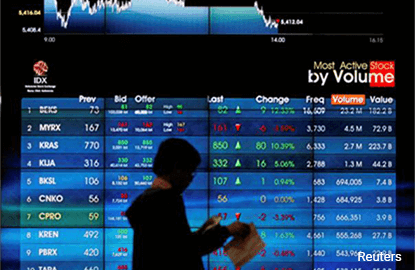 (Jan 17): Southeast Asian stock markets were tepid on Tuesday, ahead of British Prime Minister Theresa May's speech outlining plans to exit the European Union as worries of a "hard Brexit" and uncertainty over Donald Trump's policies pulled back risk appetite.
Philippines, which has become Asia's best performing market this year on foreign buying, were on track for their fifth straight session of losses as foreign investors offloaded shares.
Investors are on risk-off mode ahead of May's speech later in the day and Trump's upcoming inauguration, said Victor Felix, an analyst with AB Capital Securities.
Britain will not seek a Brexit deal that leaves it "half in, half out" of the EU, May will say later in the day, according to her office, in a speech setting out her priorities for impending divorce talks with the bloc. 
Those priorities will include leaving the EU's single market and regaining full control of Britain's borders, media reported, reinforcing fears of a "hard Brexit," sending the pound to some of the lowest levels in more than three decades.
Markets are also wary about U.S. President-elect Trump's stimulus and reflationary measures post his inauguration, on Friday.  
"Media reports over the weekend mentioned that she was prepared to make a "hard" exit; maybe they want more specifics on that. In  last week's speech, Trump didn't really flesh out economic policies, so hopefully post inauguration he will flesh them out further," Felix said.
Philippine shares fell as much as 0.8%, dragged down by financials and telecom stocks.
"Yesterday's turnover was much lower than the average. There was net foreign selling and we continue that trend today," Felix added.
"There is net foreign selling of 100 million pesos (US$2.0 million) as of now in the Philippines market."
Property developer SM Prime Holdings Inc fell as much as 3.1%, while telecom services provider PLDT Inc dropped 2.1%.
Singapore fell 0.3%, pulled down by industrials and consumer goods. Palm oil producer Wilmar International Ltd fell as much as 1.1%.
SOUTHEAST ASIAN STOCK MARKETS
Change at 0427 GMT
| | | | |
| --- | --- | --- | --- |
| Market | Current | Previous Close | Pct Move |
| Singapore | 3004.87 | 3013.12 | -0.27 |
| Bangkok | 1575.37 | 1571.80 | 0.15 |
| Manila | 7196.65 | 7238.45 | -0.58 |
| Jakarta | 5277.904 | 5270.011 | 0.14 |
| Kuala Lumpur | 1663.85 | 1658.84 | 0.30 |
| Ho Chi Minh | 682.41 | 677.94 | 0.66 |
Change this year
| | | | |
| --- | --- | --- | --- |
| Market | Current | End 2016 | Pct Move |
| Singapore | 3004.87 | 2880.76 | 4.31 |
| Bangkok | 1575.37 | 1542.94 | 2.10 |
| Manila | 7196.65 | 6840.64 | 5.2 |
| Jakarta | 5277.904 | 5296.711 | -0.36 |
| Kuala Lumpur | 1663.85 | 1641.73 | 1.35 |
| Ho Chi Minh | 682.41 | 664.87 | 2.6 |
(US$1 = 49.9090 Philippine pesos)