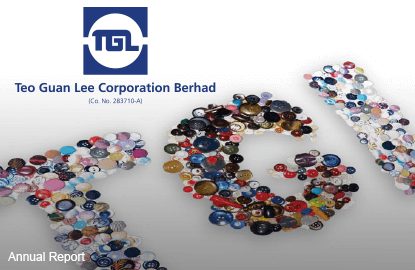 This article first appeared in The Edge Financial Daily, on March 14, 2016.
KUALA LUMPUR: Teo Guan Lee Corp Bhd, the maker of the well-known "Kiki Lala" brand of baby apparel, is in an expansion mode, but has ruled out acquiring another garment company.
The garment manufacturing segment is no longer cost-effective, according to the company's newly appointed managing director, Toh Kian Beng.
"We are a small-sized company and manufacturing is no longer viable for us given the rising manufacturing cost due to increasing manpower cost," said Toh, who took over from her father Datuk Toh Peng Hoe on Feb 25. The senior Toh remains as the major shareholder of the company, with a 69.19% equity interest.
The Penang-based children wear maker chalked up a debt of more than RM69 million soon after the 1998 financial crisis. It has since cleared its debt and is building its war chest with a view to acquiring another business.
"We were forced to forgo a chance to venture into a new business 20 years ago as our company was in bad shape.
"At the time, we were facing financial constraints. It took us many years to recover and now we are ready for [a] new business venture that could generate new income for the group," Toh told The Edge Financial Daily in an interview recently.
"We aim to acquire a company within two years," she said, adding that the preference would be a company that is involved in a sector that they are familiar with, which may also include retailing.
"The new business may not necessarily fall under the same industry. As long as it can generate and provide good synergy with our current core business, we will consider it," Toh said.
"We will venture in a prudent way, as our main priority is to maintain our gross profit margin at 40%, so that we can continue to pay dividends back to our shareholders," she said.
The group's balance sheet shows that the company has deposits, cash and bank balances of RM1.72 million, while borrowings stand at about RM1 million. On top of that, it has receivables amounting to RM21.89 million.
Toh explained that the borrowings are attributable to its 53%-owned subsidiary Syarikat Perniagaan Bingel (M) Sdn Bhd, which is engaged in clothes and garment manufacturing.
"At the group level, we are actually debt-free," she added.
The children's wear market is reported to be one of the most lucrative segments in the global apparel industry, and was not affected by the meltdown in the global economy. The industry is expected to hit US$173 billion in sales value by 2017.
But Toh begs to differ.
"We expect the operating environment to remain challenging, at least for the next one to two years. This is due to consumers' spending has yet to recover after the imposition of the GST (goods and services tax)," she said.
To mitigate the impact, Toh said the group will continue to strengthen its position by upgrading its brand image, and improving the quality and design of its products.
"We will continue our quest to become a major force in the retailing of branded baby and children apparels in the country," said Toh, adding that the group will continue to introduce more value-buy products to capture the middle-end market.
"We can't afford to slash our prices further. Hence, we will price our items between RM30 and RM50, which we think is affordable to the public," she explained.
In the long term, Toh remained positive on the children wear business as the population is still growing.
Established in 1934, Teo Guan Lee was first engaged in the dealing of general merchandise before evolving into manufacturing, distributing and retailing of branded apparels in major departmental stores throughout the country.
For the second financial quarter ended Dec 31, 2015 (2QFY16), Teo Guan Lee swung back to profitability with a small profit of RM263,000, compared to a net loss of RM1.2 million for 2QFY15. Revenue eased 4% to RM19.41 million from RM20.22 million.