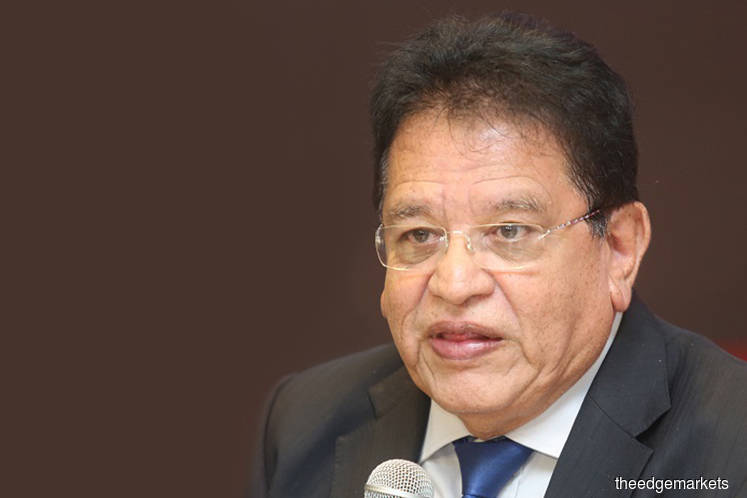 KUALA LUMPUR (March 4): Datuk Seri Tengku Adnan Tengku Mansor had today applied for in-camera proceedings involving his RM2 million corruption trial at the High Court here because sensitive information on his asset declaration will be revealed.
The application by Tengku Adnan's lawyer Datuk Tan Hock Chuan has to do with Tengku Adnan tendering documents for his asset declaration.
Tan told High Court judge Mohamed Zaini Mazlan today : "The documents are sensitive but they are important for our defence case."
In-camera proceeding is a private hearing with the judge in the absence of the public and reporters.
Tan made the application on the basis of sensitive information will be revealed about former federal territories minister Tengku Adnan's private life apart from his assets.
"We are making this application because we don't want sensitive information about my client's private life to be out in the public.
"The public does not need to know that my client has had a previous marriage, among other things," Tan said.
Tan argued that the tendering of four documents are important in Tengku Adnan's defence as they will prove that the Tengku Adnan did not need the RM2 million bribe considering his financial status. 
Zaini then reasoned that a person's wealth is public knowledge. 
"A persons wealth is a matter of public knowledge these days, it's not difficult to access," Zaini told Tan.
Zaini also sought clarification from Tan about the tendering of the documents. 
"Am I to understand that the statutory declarations will only be tendered in-camera, if not, they won't be tendered?," Zaini asked.
Tan said yes in response to Zaini's question. Tan said : "We submit that he will be denied a full opportunity to mount his defence if this application is not allowed."  
After hearing submissions from the defence and prosecution on the issue, Zaini informed the lawyers that he will make his decision after lunch today.
The trial will resume at 2:30pm.
Tengku Adnan has been charged under Section 165 of the Penal Code for accepting the RM2 million from Aset Kayamas Sdn Bhd managing director Tan Sri Chai Kin Kong via a Hong Leong Islamic Bank cheque belonging to his company.
It was reported that the cheque was deposited into the CIMB Bank account of Tadmansori Holdings Sdn Bhd on June 14, 2016, when it was known that Aset Kayamas had links to Tengku Adnan's official duties as the then federal territories minister.
Tengku Adnan owns Tadmansori. If found guilty, Tengku Adnan faces up to two years in jail or a fine, or both.
See also:
Ku Nan rages in court over RM900m asset revelation after private hearing bid rejected
Ku Nan used own money first to fund Umno before receiving RM2m 'donation'