This article first appeared in The Edge Financial Daily, on December 21, 2017.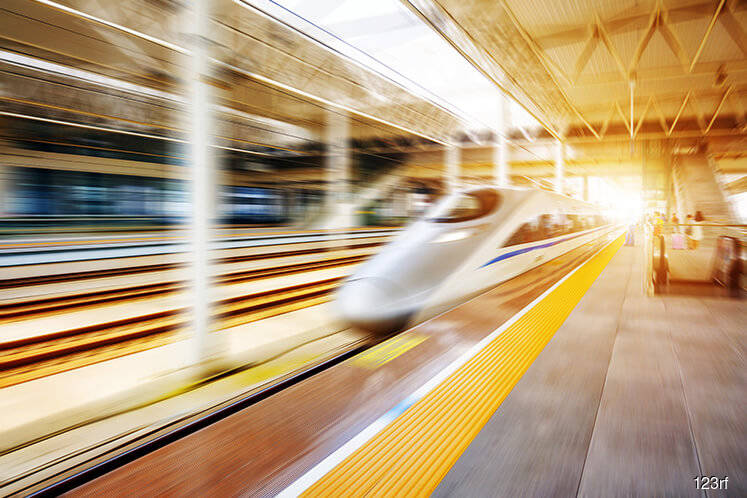 KUALA LUMPUR: Malaysia and Singapore have jointly called for the much-anticipated tender to appoint the assets company (AssetsCo) for the Kuala Lumpur-Singapore high-speed rail (HSR) project. The tender closes on June 29 next year.
The AssetsCo will be responsible for designing, building, financing and maintaining the rolling stock, and designing, building, financing, operating and maintaining rail assets such as trackwork, power, signalling and telecommunications for the project.
It will also coordinate the system's network capacity for operations and maintenance needs.
In a joint statement yesterday, MyHSR Corp Sdn Bhd and SG HSR Pte Ltd, a wholly-owned subsidiary of Singapore's Land Transport Authority, said a tender briefing will be held here on Jan 23, 2018. The tender submissions would be evaluated for their technical solution, commercial robustness, financial sustainability and price.
"The tender aims to identify an AssetsCo that would provide a solution that prioritises safety and security, availability and reliability, proven technology, operations flexibility, customer centric design, value for money, and collaborative project implementation with MyHSR and SG HSR," they said.
"Through this open, fair and transparent procurement process, both the Malaysian and Singapore companies would select a qualified bidder by the end of the year," they added.
Every bid will be assessed on their own merits. MyHSR and SG HSR said interests of all companies, be they based in Malaysia, Singapore or overseas, are welcomed.
MyHSR chief executive officer Datuk Mohd Nur Ismal Mohamed Kamal expressed satisfaction with the progress to date including the submission of the Section 4 Land Acquisition Act, ongoing public inspection for alignment within Malaysia, and the launch of the project delivery partner.
SG HSR managing director Rama Venkta said he was pleased with the feedback at two industry briefings as they helped design the parameters of the AssetsCo tender. "We look forward to receiving high-quality competitive bids in the coming months," he added.
Slated to be in operation by the end of 2026, the 350km KL-Singapore HSR is estimated to cost RM60 billion and is expected to cut travelling time between the two cities to under 90 minutes.
Eight stations are currently planned for the HSR project, namely the Bandar Malaysia, Bangi-Putrajaya, Seremban, Melaka, Muar, Batu Pahat and Iskandar Puteri stations in Malaysia as well as the Jurong East station in Singapore.