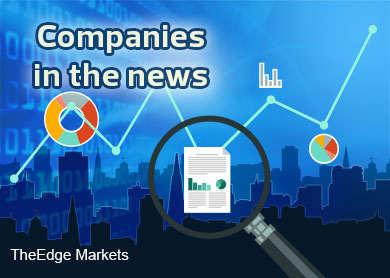 KUALA LUMPUR (Oct 31): Based on news flow and corporate announcements today, the stocks that may be in focus on Monday (Nov 3) could include the following: Tenaga Nasional Bhd, Malaysia Pacific Corporation Bhd, Protasco Bhd, SILK Holdings Bhd, WZ Satu Bhd and Asia Knight Bhd.
 Tenaga Nasional Bhd 4Q net profit surges 46% year-on-year to RM1.36 billion from RM927 million. Revenue came in 23.37% higher at RM11.72 billion from 2013's RM9.5 billion.
 Earnings per share has improved to 24.03 sen from 16.65 sen.
 In an announcement with Bursa Malaysia today, TNB said the quarter recorded sales of electricity of RM11.2 billion against RM9.43 billion for the same period last financial year.
 "The increase was mainly from sales of electricity in the Peninsula and Sabah, which recorded an increase of 18.3% and  21.5% respectively, attributed from the increase in the average electricity tariff," it said.
 Tenaga has declared a dividend of 19 sen for the financial quarter.
 Tenaga's share price climbed 2% to close at an all-time-high of RM13.36 today, giving it a market capitalisation of RM75.4 billion.
 Malaysia Pacific Corporation Bhd (MP Corp) has proposed to dispose 163 sub-divided lots in Johor to a dormant company Temokin Development Sdn Bhd for a total sale consideration of RM9.35 million or RM35.8 per square foot.
 In a statement with Bursa Malaysia today, MP Corp announced that its wholly-owned subsidiary Lakehill Resort Development Sdn Bhd, had entered into a sale and purchase agreement (SPA) on Oct 30 with Temokin on the proposed disposal.
 MP Corp share price gained 2.5% to settle at 41 sen today, giving it a market capitalisation of RM116.5 million.
 Protasco Bhd's boardroom tussle has stepped up to another notch today. The board of the construction outfit has rejected a resolution to remove its managing director Datuk Seri Chong Ket Pen. Meanwhile, Protasco insists to call for an extraordinary general meeting (EGM) to remove two of its non-executive director, Tey Por Yee and Ooi Kock Aun.
 In a statement today, Tey said Protasco' board has decided to convene an EGM to remove him and Ooi from the board. The EGM will be held two days before the shareholder meeting he requested to oust Chong on Nov 28.
 According to the statement, Protasco's board today refused to have Chong to explain on any of the allegations of RM10 million personal financial gain from two contracts in the company's investments in Indonesia. "The resolution to suspend Chong until disciplinary action can be taken was also not allowed to be tabled," Tey said.
 Its counter has closed 1.92% lower at RM1.53 today, giving a market capitalisation of RM512.77 million.
 Jasa Merin (Malaysia) Sdn Bhd, a 70%-owned subsidiary of SILK Holdings Bhd, has entered into an agreement with Muhibbah Marine Engineering Sdn Bhd to acquire two vessels for RM219 million.
 In a filing with Bursa Malaysia this evening, SILK Holdings said both vessels are expected to be delivered by the end of the second quarter of 2015.
Silk has settled 4.94% higher at 85 sen today, translating to a market capitalisation of RM596.3 million.
 Lembaga Tabung Haji emerges as a substantial shareholder in WZ Satu Bhd, which is in the midst of venturing into the oil & gas industry, with an 8.33% equity stake.
 According to the latest filing with Bursa Malaysia this evening,  the pilgrim fund had on Tuesday  acquired 19 million shares through private placement at 84 sen apiece, or RM15.96 million in total.
 The transacted price transacted was 67% lower than WZ Satu's closing price of RM2.57 on that day.
 Its counter has increased 0.41% to end at RM2.44 today, translating to a market capitalisation of RM556.32 million.
 Particle board manufacturer Asia Knight Bhd has fallen into Practice Note 17 today as the company auditors have expressed disclaimer opinion in the company's latest audited financial statements for the 18 months financial period ended June 30, 2014.
 Asia Knight said in an announcement today that it is an affected listed issuer as it has triggered PN17 of the main market listing requirements of Bursa Malaysia.
 In a separate announcement today, the external auditors Messrs Nexia SSY said it was unable to carry out appropriate audit procedures to obtain sufficient and appropriate audit evidence over the estimates.
 "We have not been able to obtain sufficient appropriate audit evidence to provide a basis of an audit opinion," said Messrs Nexia SSY in the auditor report.
 Asia Knight closed 1.85% higher at RM1.10 Friday, giving it a market capitalisation of RM58.13million.