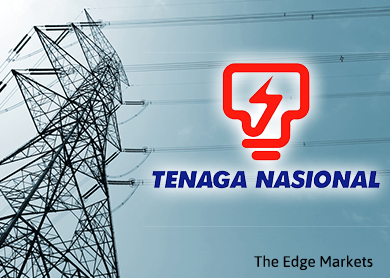 Tenaga Nasional Bhd
(July 31, RM12.20)
Maintain buy with an unchanged target price (TP) of RM15.20. We maintain our "buy" rating premised on promising power demand and improving earnings visibility arising from the incentive-based regulation framework.
Our RM15.20 TP is based on discounted cash flow valuation. Tenaga Nasional Bhd (TNB) is trading at a reasonable 11 times forecasted financial year ending Aug 31, 2015 (FY15F) earnings per share.
TNB  reported third quarter ended May 31, 2015 (3QFY15) core net profit of RM1.8 billion, after excluding RM1.36 billion imbalance cost pass-through (ICPT) over-recovery recognition (RM1.82 billion before tax) from January 2014 to May 2015, RM172 million foreign exchange translation gains, and estimated RM200 million over-recovery for 3QFY15.
Third quarter FY15 reported revenue came in lower at RM9.9 billion as the RM1.82 billion ICPT recognition offset the increase in electricity sales.
The 3QFY15 electricity sales in Peninsula Malaysia grew 2.1%, taking nine months (9M) FY15 electricity sales growth to 2.5%.
However, 4QFY15 electricity sales is expected to come in seasonally stronger.
Gas-fired generation mix increased to 51% (46% in 2QFY15, 56% in 3QFY14) due to power outages at several coal plants.
However, gas usage for 9MFY15 was lower at 1,186 million standard cu ft per day (mmscfd), compared with 1,370 mmscfd for 9MFY14.
TNB will benefit from lower liquefied natural gas (LNG) prices going forward which we understand have been fixed at RM37 per million British thermal units (mmbtu) for the third quarter of calendar year 2015 (3QCY15) — the lowest since TNB started to purchase LNG via the Malacca regasification terminal.
TNB has spent RM7.7 billion capital expenditure in 9MFY15 (versus RM6.4 billion in 9MFY14), of which 49% was utilised for generation capacity. Nevertheless, its balance sheet remains healthy at 31% net gearing.
TNB announced the government will maintain the ICPT rebate of 2.25sen per kWh for July to December 2015.
Also, the price of piped gas for the power sector was raised by RM1.50 to RM16.70 per mmbtu effective July 1, 2015.
Therefore, the average tariff will remain at 36.28sen per kWh, and the ICPT implementation will have a neutral impact on TNB.
This supports our view that the government is committed to the energy reform that was started on Jan 1, 2014.
More importantly, the increase in the piped gas price has quashed concerns over the government's commitment to address the gas subsidy rationalisation issue given the staggering discount for the local gas price against the international price.
More coal-based power generation is likely to be despatched to capitalise on the weak coal price (US$67 [RM256]) per tonne in 9MFY15 versus US$77 per tonne in 9MFY14) as we understand the outage issues at some of the coal plants have been resolved. — AllianceDBS Research, July 31
This article first appeared in Digital Edge Daily, on August 3, 2015.