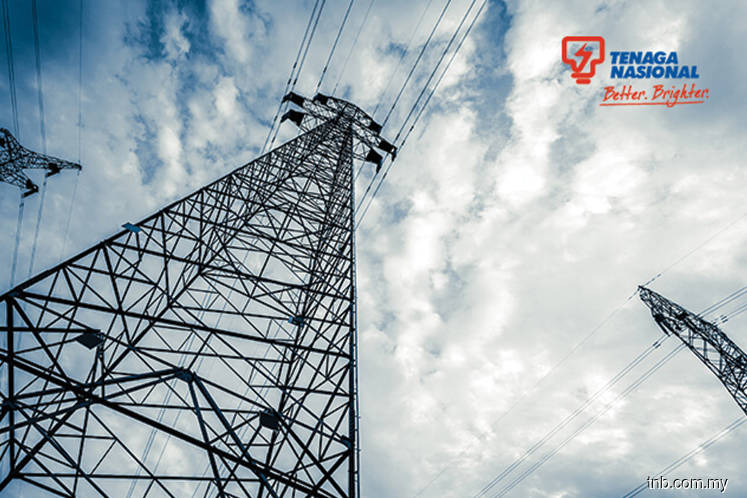 KUALA LUMPUR (March 1): Tenaga Nasional Bhd's share price fell as much as 3.9% or 52 sen to RM12.90 so far today after the utility giant reported a RM134.3 million net loss in the fourth quarter ended Dec 31, 2018 (4QFY18) on revenue of RM12.55 billion.
Yesterday, Tenaga said cumulative full-year net profit and revenue for FY18 stood at RM3.72 billion and RM50.39 billion respectively. The group said due to the change in its financial year from Aug 31 to Dec 31, the performance of the current year of 12 months ended Dec 31, 2018 is not comparable against any comparative period previously reported.
At 12:30pm today, Tenaga shares settled at RM13.04 among Bursa Malaysia's top decliners with some six million units exchanging hands.
Hong Leong Investment Bank Bhd (HLIB) analyst Daniel Wong wrote in a note today Tenaga's FY18 core profit after tax and minority interests (PATMI) of RM5.4 billion was below the investment bank's and consensus expectation.
Tenaga's FY18 core PATMI at RM5.4 billion accounted for 78.4% and 84.7% of Hong Leong's and consensus forecast for FY18, said Wong, adding that HLIB cut its Tenaga earnings forecast by 22.3% for FY19 and 25.8% for FY20.
"Following the earnings adjustment, we downgrade our recommendation to HOLD (from Buy) on Tenaga with lower DCFE (discounted cash flow to equity)-derived TP (target price) of RM13.10 (from RM16.40)," he said.
MIDF Amanah Investment Bank Bhd analyst Hafriz Hezry wrote in a note today Tenaga reported 4QFY18 core net profit of RM896 million, bringing FY18 core earnings to RM5.89 billion.
Hafriz said the FY18 core earnings at RM5.89 billion is in line, accounting for 97% of MIDF's and consensus estimates.
"A final dividend of 23 sen was declared bringing full-year dividends to 53.27 sen, in line with our 53.7sen forecast. At 56% payout ratio, this is at the higher end of the 30%-60% payout policy. Given the slight adjustments to forecasts, our TP is adjusted lower to RM14.40 (from RM14.60). Nonetheless, our BUY call is reaffirmed," Hafriz said.